Returning to Campus 2022
Many classrooms have been upgraded with new presentation equipment since January 2020.  Some have also seen furniture upgrades and physical renovations. There has been a movement towards standardizing equipment, increasing user-friendliness and modernizing equipment to blend the in-person and virtual learning environments.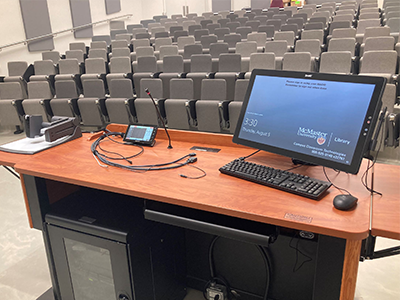 ​
Use the Campus Classroom Directory to preview photos of your room, investigate the presentation equipment and personal device connections available to you, and to determine if the room equipment is supported by Campus Classroom Technologies or an independent department on campus. 
Campus Classroom Technologies (CCT) is responsible for the design, installation, and ongoing support of audio-visual equipment in classrooms controlled and booked by the Registrar's Office. This accounts for approximately 140 classrooms across campus. The remaining seminar rooms, labs, and instructional spaces are controlled and supported at a departmental level. 
Instructors can book a virtual or an in-person consultation with Campus Classroom Technologies (CCT) through cct@mcmaster.ca. It is recommended that instructors visit their classroom prior to their first class to test compatibility between the presentation equipment and their own personal devices and laptops. 
The "Technology" tab of CCT's website includes how-to videos and documentation for each piece of audio-video presentation equipment.  
*If you have reset your MacID password you will need to forget on campus Wi-Fi networks in order to connect*
---