Cast of Characters
Mask Up With Maud!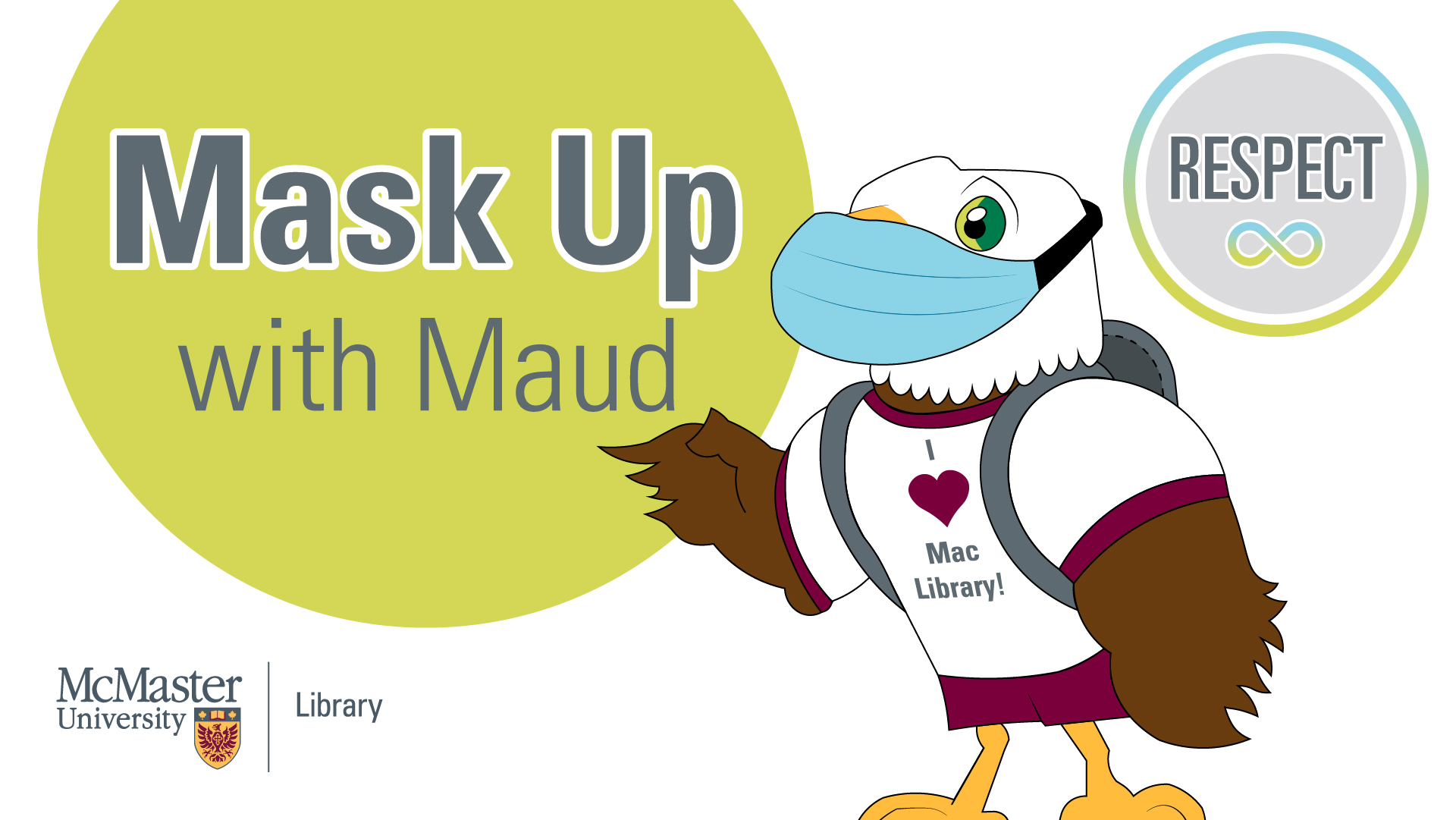 Mask Up with Maud
In light of the current  situation with the COVID-19 pandemic, the Respect campaign has been re-branded and re-worked to focus on pandemic-related issues.
The biggest issue that has been identified revolves around continuing to wear masks around campus, as well as the proper way to wear said mask.  And Maud is here to show everyone how to wear it! 
Will you #MaskUpWithMaud on social media?
Are you wearing your mask like Maud, or like one of the others?

Maud the Great Role Model
Likes: McMaster Library! McMaster University campus! Anything McMaster!
Dislikes: Book defacing.
Quote: "GO MAC GO!"
Mask Use: Wears her mask properly, over her (beak) nose, mouth and chin.

The Rhino
Likes: Books, books, and more books.
Dislikes: Noise
Quote: "Re-reading a book is like visiting an old friend."
Mask Use: Wears mask covering its chin and mouth but its nose/nostrils are visible above the mask.

The Rabbit
Likes: As many sports as possible.
Dislikes: Standing still for any length of time.
Quote: "I've got to keep going, you know? Too much energy, not enough time."
Mask Use: Mask seems to end up partially unhooked and hangs off an ear.

The Raccoon
Likes: Dressing in costumes even when it's not Halloween and being dramatic.
Dislikes: Anything boring.
Quote: "Arrrr, matey!"
Mask Use: Often works mask into their costume-of-the-day, usually as a headband or bandana.

The Rooster
Likes: Punk rock from the 70s and 80s. And parties.
Dislikes: Not much. Maybe kiwi fruit.
Quote: "Hey, where's the party, mate?"
Mask Use: Lowers mask under chin to eat or drink or to be heard better, then forgets to pull it back up.
Did you know about...?
The University's Student Guide to September webpage states, "As per provincial regulations, non-medical masks or face coverings continue to be required in all indoor spaces, and in outdoor settings when 2 metre distance cannot be maintained."
As such, masks are required to be worn in all library spaces, even study rooms.
Everyday Respect
Ways to Promote Respect
Treat others the way you want to be treated. Model the behaviour you would like to see in others.
 
Always remember to say pleas and thank you, and do the small things every day, like holding the door for someone.
 
We all get stressed, but don't take your stress out on others. Use the counselling resources for students and employees.
 
Be a respectful listener and respond kindly. Don't interrupt, or act like someone is inferior to you.
 
Remember that you are not always right -- and others are not always wrong!
 
Take time to learn more about a background or culture you are not familiar with to expand your own perspective and interpersonal skills.
 
Understand your triggers or "hot buttons". Knowing what makes you angry and frustrated enables you to manage your reactions and respond in a more appropriate manner.
 
Be patient -- with others and yourself.
 
Recognize the contributions made by others. Show appreciation for contributions at all levels.
 
Be kind. You don't know what kind of day someone is having, or the issues they may be dealing with.
 
Respect the various different silent study areas throughout the library and familiarize yourself with the usage guidelines for each.
 
Keep the library a welcome space for everyone. Tidy up after yourself, please.
 
Ask before doing. The library is a public space so before assuming it is okay to do something, please take the time to ask.
 
Perform a Random Act of Kindness each day.
 
Smile! It's contagious and the world becomes a better place when everyone smiles. :)
Past Respect Events
Respect Week 2019
The week of March 11-15, 2019 the library held a Respect Week campaign. Each day had a different focus: Respect others ; Respect the space ; Respect the environment ; and Respect Yourself.
MONDAY, MARCH 11
Respect Week begins!
Make sure to check out the Respect Week info booth in Mills Library to learn more about respectful behaviour in the Library and the McMaster community. While you're there, don't forget to share what respect means to you on the giant banner and grab some free stickers!
TUESDAY, MARCH 12
Respecting others.
To spread some kindness to others, we will be handing out free lollipops in Mills, Thode and Innis today! Make sure to stop by the Respect Week info booth to learn ways to give back to the community by volunteering in the Hamilton area.
WEDNESDAY, MARCH 13
Respecting the space.
You may notice some Messy Desks in Thode and Innis today. These installations act as reminders to clean up the space for the next person. Make sure to stop by the Respect Week info booth in Mills to learn about the Library's Study Zones and the difference between conversational, quiet and silent spaces.
THURSDAY, MARCH 14
Respecting the environment.
Did you know McMaster has a Bring Your Own Container (BYOC) program? Come to Mills Library to discover how you can reduce waste (and cost!) by participating in the BYOC initiative! Come learn about the compost bins in Mills Library and participate in the Where does that go? waste-sorting game.
FRIDAY, MARCH 15
Respecting yourself.
Make sure to stop by the Respect Week info booth in Mills and check out a collection of books on self-care, as well as Energy Lights that can help improve your mood, focus and energy levels. Also, learn how you can borrow board games, unwind in the Zen Zone, and use the exercise bikes in the Library.