In 1967, fifty-one years ago this month, the International War Crimes Tribunal concerning the Vietnam War– a private body which had been established a year earlier by Nobel laureate, philosopher and peace activist Bertrand Russell – rendered its latest verdict.
Its conclusions were damning. Investigators had uncovered evidence of atrocities and systematic "acts of aggression" committed by the American military against Vietnamese civilians, leading the tribunal to conclude that the United States had deliberately violated international law and was, in effect, perpetrating a genocide.
From the beginning, the tribunal was highly controversial. Organized by Russell and presided over by philosopher Jean-Paul Sartre, its members – including former heads of state, scientists, lawyers, and academics – had focussed solely on American activities and opted not to investigate alleged war crimes committed by the North Vietnamese, or the South Vietnam National Liberation Front, leading critics to dismiss the tribunal as biased.
Still, the verdict – though not legally binding – resonated world-wide, helping to invigorate the anti-war movement and exert pressure on the United States government.
Now, newly acquired records are providing insight into the International War Crimes Tribunal, and also shedding light on many other aspects of Bertrand Russell's life, work and legacy. They are part of the latest acquisition of materials to be added to McMaster University Library's Bertrand Russell Archives, the university's largest and most heavily used research collection.
"The bulk of these materials deal with Russell's activities in the 1960s, when he was in his nineties, but was still incredibly politically active," says Archives and Research Collections Librarian, Rick Stapleton. "This acquisition adds layers and nuance to the collection we already have, as well as more in-depth materials on the campaigns and activities Russell was involved in toward the end of his life."
Considered among the greatest intellectuals of the 20thcentury, Russell was a renowned analytical philosopher and mathematician, as well as a life-long advocate for peace who was imprisoned during the First World War as a result of his anti-war writings.
Read: Newly digitized Bertrand Russell Prison Letters reveal private thoughts of a public intellectual
Russell spent much of the 1950s and 60s deeply involved in a range of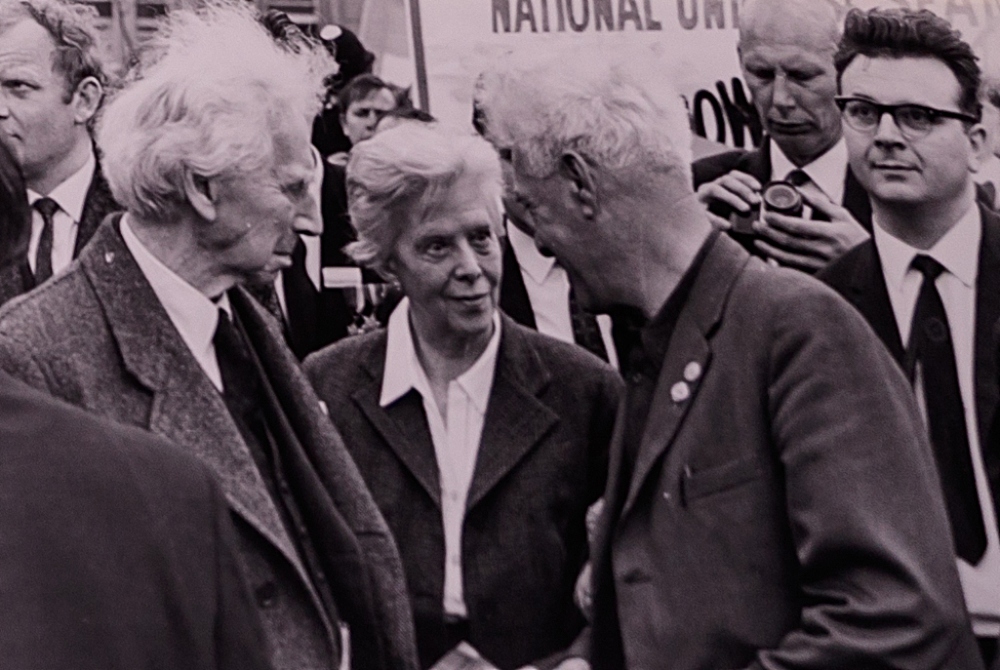 political activities, primarily as a central figure in the Campaign for Nuclear Disarmament and as a key opponent of the Vietnam War. He was even once again briefly imprisoned in 1961, at the age of 89, for his anti-nuclear activism. In 1963, he established the Bertrand Russell Peace Foundation, an organization still in existence today, which he founded to further causes related to peace, social justice and human rights.
The new materials feature a host of items that provide new insight into many of these activities, including extensive records and correspondence related to the establishment and operations of both the International War Crimes Tribunal and the Bertrand Russell Peace Foundation. The acquisition also contains a host of personal artifacts such as awards he received, as well as a number of photographs including rarely-seen images with his family and half a dozen photos with actor and comedian Peter Sellers.
A tremendously influential global figure and prolific letter writer, Russell exchanged correspondence with world leaders and important cultural figures until his death in 1970. Many of these letters are contained in the new acquisition, including letters he exchanged with; author, Graham Greene; counter-culture icon and poet, Allen Ginsberg; and former heavy weight champion and activist, Muhammad Ali.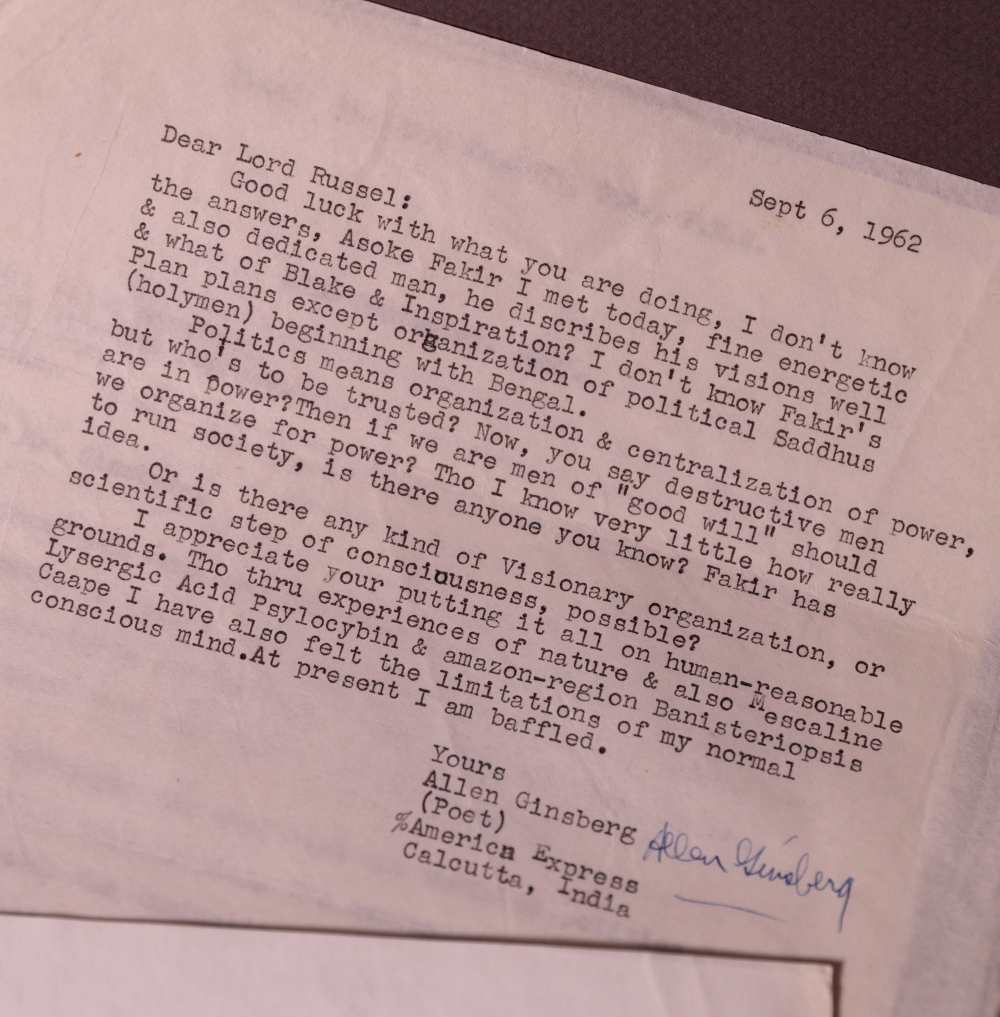 "The materials in this acquisition show that Russell wasn't living in the past – he was actively working right up until the end," says Honourary Russell Archivist, Ken Blackwell who has worked with the Russell Archives since they arrived at McMaster in 1968.
"They also highlight Russell's influence," continues Blackwell. "By this time, he had a huge reputation and he didn't squander it – he put it to use in trying to convince the world of the dangers of war."
Blackwell says the collection also features a unique series of letters that provide new insights into the "enigmatic friendship" between Russell and his aide Ralph Schoenman, a key figure in the Bertrand Russell Peace Foundation, the International War Crimes Tribunal, and other activities supported by Russell, and sheds light on their ultimately fractious relationship.
The materials join those in McMaster's vast Bertrand Russell Archives, which include hundreds of manuscripts with hand-written notations, 100,000 letters, both published and unpublished, as well as Russell's personal library of more than 3000 books, hundreds of photographs, his writing desk, audio tapes, films and his Nobel medal.
"The new acquisition is a wonderful complement to the extensive materials already contained in this world-class collection," says McMaster University Librarian Vivian Lewis. "It will no doubt provide scholars with new research questions to pursue and help enhance our understanding of the remarkable life and work of Bertrand Russell, one of the intellectual giants of the past century."
The collection, by far the largest on Russell in the world, has inspired a wealth of scholarly activity in a number of areas including peace and religious studies, philosophy, history, political science, literature and mathematics.
2018 marks the 50thanniversary of McMaster's acquisition of the Bertrand Russell Archives. In commemoration of this milestone, McMaster University Library recently celebrated the opening of the new Bertrand Russell Archives and Research Centre, a space dedicated to Russell scholarship.