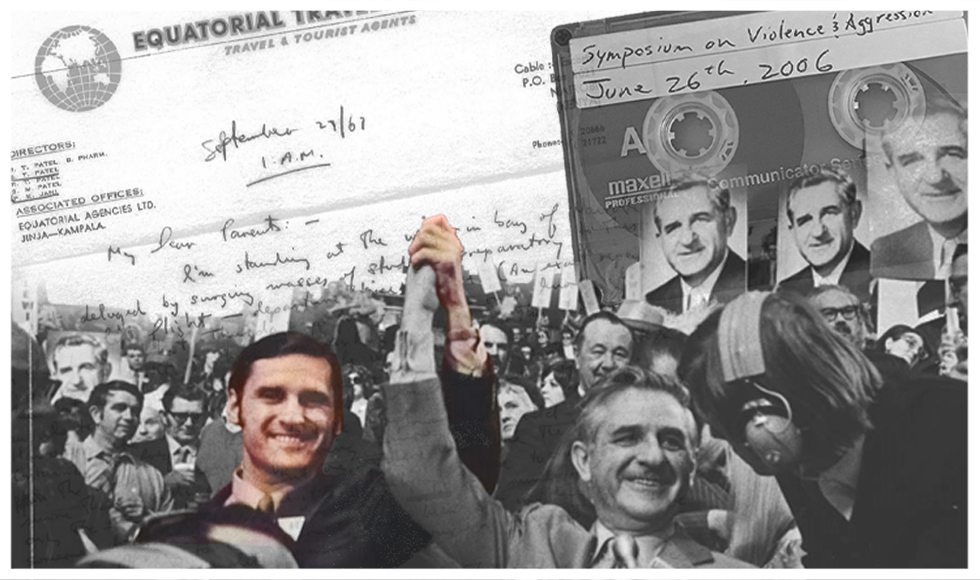 It was May 25, 1979, when globally renowned humanitarian, diplomat and activist Stephen Lewis first became a part of the McMaster University family. 
During the convocation ceremony that day, Lewis, who was receiving the first of his 42 honorary degrees, spoke to graduates and their families with his trademark eloquence. 
"This is a stunning moment of gratification for me," he said. "Scarce to be believed that an infidel, resisting the enveloping shrouds of obscurity, can still enter the kingdom of heaven." 
In 2006, Lewis returned to McMaster, this time as the inaugural scholar-in-residence in the Faculty of Social Sciences. Now, 42 years later, almost to the day, Lewis continues to make history at McMaster with the formal announcement of the significant gift of his archive to the William Ready Division of Archives and Research Collections at McMaster University Library. 
"I'd like to turn this archival ceremony on its head," said Lewis, who continues to call his beloved Toronto home. "In normal circumstance, it's the university that expresses appreciation. That will doubtless follow. But as much as McMaster may luxuriate in another archive, I'd like to say what a thrill it gives me to have McMaster's stamp of approval. I've lived my adult life seeking academic legitimacy. Now, finally, it comes by way of the McMaster archives. I'm palpitating with joy." 
McMaster President David Farrar said the university is honoured to house and preserve this important archive. 
"Mr. Lewis is a long-time friend and supporter of McMaster University, so we're delighted to be able to give back in this small way by ensuring his life's work is carefully archived and available for study," said Farrar. "We can all learn from this tremendous Canadian who has devoted his life to public service and to changing our world for the better." 
Included in the vast collection are campaign materials, professional and personal correspondence, press releases, position papers, photographs, media clippings, and much more. A renowned orator, Lewis' storied career is also captured in more than 1,500 individual speaking notes, as well as recorded versions of his speeches.
Chris Long, archives processing librarian at McMaster University Library, has spent months carefully sorting, describing and storing these incredible items. 
"It is difficult to describe the thrill of being the first person to look upon the long documentary history of Mr. Lewis's extraordinary life and career as a politician, humanitarian and activist," said Long, who vividly recalls being entranced as a teenager while hearing Lewis speak at a Peterborough lecture hall in 2006. "It is no doubt that much of this rich archival resource will continue to inspire and educate generations of students and researchers here at McMaster." 
Stephen Lewis is a household name not only in his native Ontario, but across Canada and in many countries around the world. Lewis is the co-founder and board co-chair of the Stephen Lewis Foundation, and he is the co-director of AIDS-Free World, an international advocacy organization. Lewis's work with the United Nations spanned more than two decades. He was the United Nations secretary-general's special envoy for HIV/AIDS in Africa from 2001 until 2006. 
From 1995 to 1999, he was deputy executive director of UNICEF at the organization's global headquarters in New York. He was Canada's ambassador to the United Nations from 1984 through 1988. 
He is the also the author of the best-selling book, Race Against Time, which came from his inspiring 2005 Massey Lectures that focused on raising awareness and promoting a message of hope during the AIDS epidemic in Africa at the time.
Lewis was leader of the Ontario New Democratic Party from 1970 through 1978, during which time he became leader of the Official Opposition.
Peter Graefe, associate professor of political science in McMaster's Faculty of Social Sciences, said Lewis's life has been one of working in the interests of the public good.
"There is so much in what Stephen Lewis has accomplished that speaks to our immediate challenges," said Graefe. "Global health and pandemics? His papers when UN special envoy for HIV/AIDS. Black Lives Matter? His papers around his Report to the Premier on Racism in Ontario. Canada at the UN? The future of the NDP and Canadian social democracy? These papers promise to provide a wealth of insight in our understanding of the past, but also to animate our understanding of pressing public questions." 
Susan Watt, professor emerita of McMaster's School of Social Work, says the availability of Lewis's private and public records will provide a rich source of material to better understand a plethora of issues, from Canada's role in international humanitarian aid to the emergence of Africa as an economic and political force of the next century. Watt adds that among Lewis's many accomplishments, the most significant is his ability to open hearts and minds, especially those of young Canadians. 
"While he was a McMaster scholar in residence in the Faculty of Social Sciences, students had an opportunity to engage with him in both structured and spontaneous ways on a range of social and political issues and found him to be an inspiring and demanding scholar," Watt said. "He demonstrated that scholarship could be both meaningful and provocative; that disagreement need not be malevolent, and that principles are worth fighting for." 
Among the many significant materials contained in the Stephen Lewis collection, are the papers of Stephen's father, David Lewis. Like his son, David left an indelible mark on Canadian political life as leader of the federal New Democratic Party and a tireless voice for working Canadians. 
The Stephen Lewis archive continues to be prepared for its formal debut. Staff at the library look forward to making the archive available, said McMaster University Librarian, Vivian Lewis. 
"We are diligently working towards the day we can unveil the incredible items housed in the Stephen Lewis archive for research and study," Lewis said. "The value of making this vast array of material representing his life's work open to the McMaster community and beyond cannot be overstated. Our archives are enriched because of this important gift, and we thank Mr. Lewis for entrusting us with keeping his work available to generations to come."