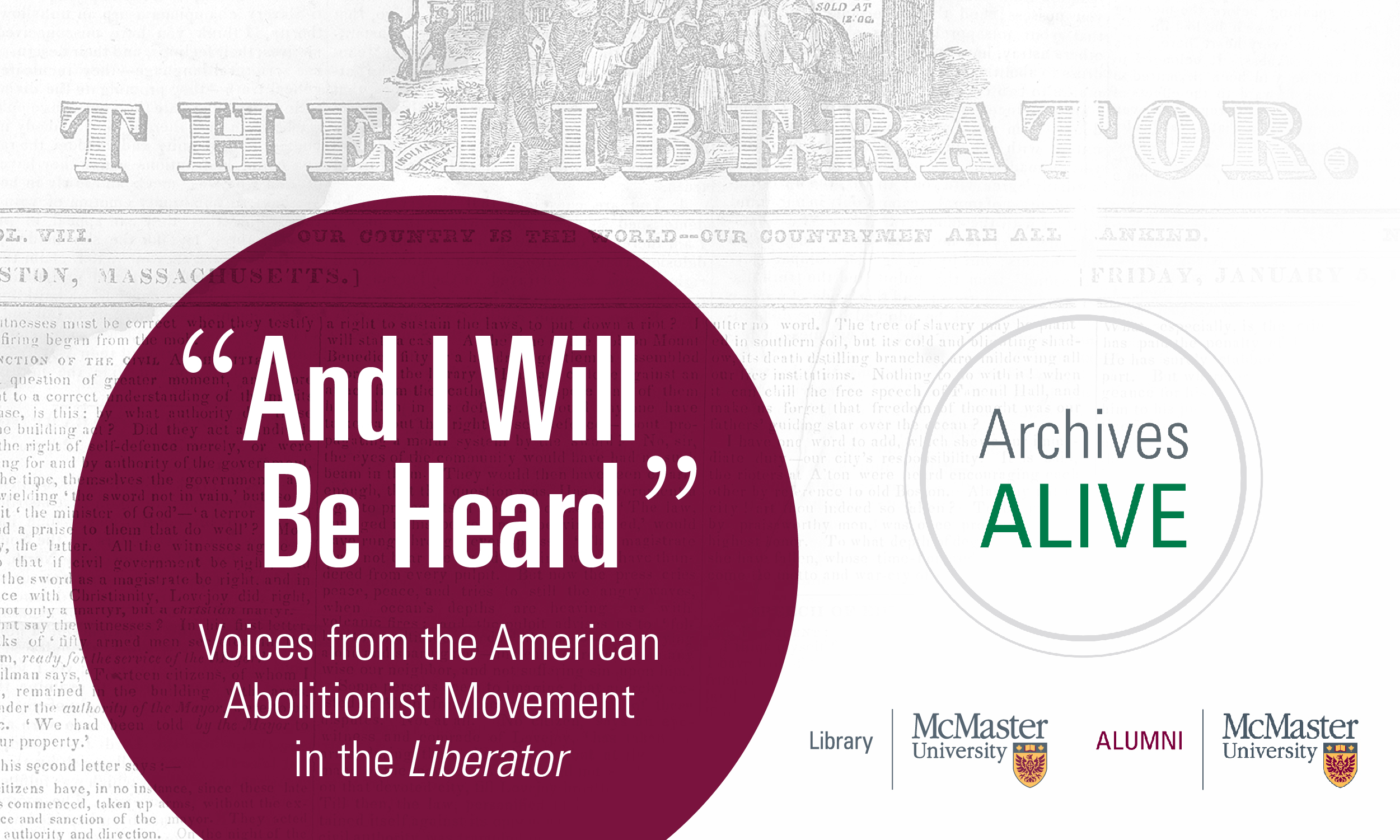 An upcoming Archives Alive event, presented by McMaster University Library and McMaster Alumni, is giving audiences an in-depth look at one of the most famous abolitionist newspapers in history.
The virtual talk takes place on May 6 at 1 p.m. and is entitled, "And I will be heard": Voices from the American Abolitionist Movement in the Liberator. Presented by Sarah Whitwell, the event focuses on the impact of the Liberator and how it provided space for Black narratives from 1831-65.
"Today, the Liberator endures as one of the most famous antislavery publications," said Whitwell, an educational developer with the Paul R. MacPherson Institute for Leadership, Innovation & Excellence in Teaching at McMaster. "It garnered support for immediate abolition and, perhaps more importantly, provided a platform for Black men and women to act in their own defence."
Whitwell recently completed her PhD in history at McMaster. Her research explores how Black men and women experienced racialized violence during the transition from slavery to freedom and in the decades immediately following emancipation. As part of this research, she draws attention to the narratives and experiences of marginalized people that are sometimes difficult to access within the historical record.
The William Ready Division of Archives and Research Collections at McMaster University Library is home to many issues of the Liberator.
"The Liberator is an important resource for researchers seeking to better understand the struggle for emancipation," said Gillian Dunks, archives arrangement and description librarian at McMaster University Library. "Archives and research collections is delighted to have this newspaper among its holdings and is promoting its use by anyone who may be interested."
The event is free of charge. All are welcome. 
Register in advance at: https://zoom.us/webinar/register/4916164227237/WN_2HDooAUgQoC_mqj10WKgIw
Archives Alive showcases the unique holdings of McMaster University Library's William Ready Division of Archives and Research Collections. A wealth of resources exist which will delight and inform, from rare books created before 1800 to contemporary writers' archives. Recognizing that archives can feel intimidating, these talks allow staff and researchers to share their knowledge with the community and introduce collection items housed within the library. Archives Alive is presented by McMaster University Library and McMaster Alumni.