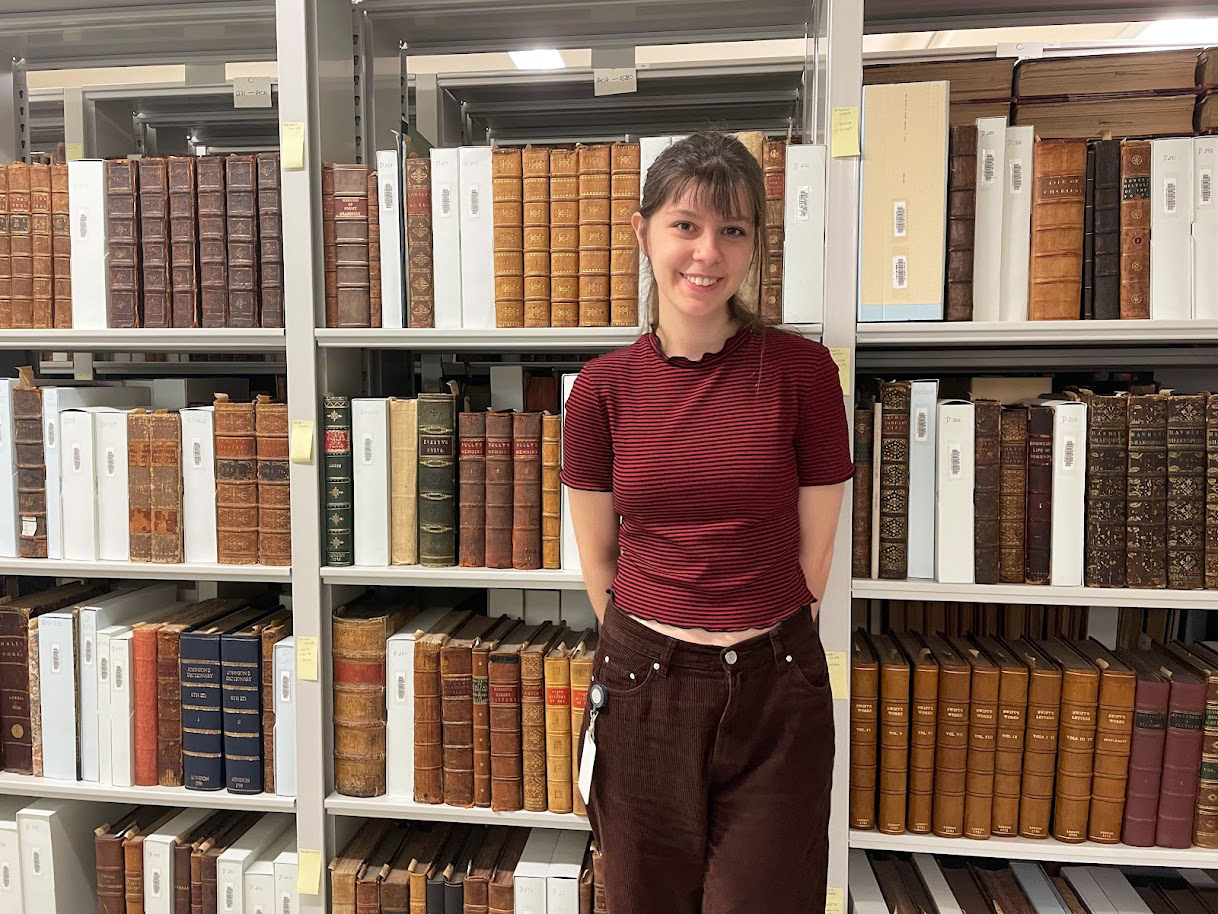 By Krisha Mehta, Special to McMaster University Library
Kate Oruc says working at McMaster University Library has given her the opportunity to foster her interest in history, as told through rare materials.
Oruc, who is going into her fourth year of a combined major in anthropology and society, culture & religion, has worked at the library since summer 2022. She started off as a library digitization assistant and is now working as an archives and research collections assistant.
"I am interested in library work as a career and now I have experience in two different departments, which is great exposure," said Oruc. "I like what the archivists or rare books librarian do, so I would probably do something similar."
As a former library digitization assistant, Oruc's role involved digitizing hard copy, typing theses into searchable pdfs, as well as scanning old photographs. Her current role as an archives and research collections assistant sees her shelving material, making photocopies, scanning photographs, and working with metadata.
"I have been scanning World War II photographs and newspaper articles, so touching the really old material is so interesting," she said. "I have also been working through Canadian postcards from the 1900s to 1920s and it is like going through old timey social media."
Whilst working at the William Ready Division of Archives and Research Collections, Oruc finds herself learning something new every week.
"I recently saw the first edition of The Hobbit and a Turkish atlas we acquired, which was very interesting," said Oruc. "The people here are so fun and friendly; they trust me to do a good job which has helped me build my confidence and independence."
Rick Stapleton, head of the William Ready Division of Archives and Research Collections, says Oruc is a wonderful addition to the team.
"Kate has impressed all of us in research collections this summer," said Stapleton. "She is hardworking and efficient, shows a genuine interest in our collections, and is very engaging and pleasant to work with."
Oruc says she finds similarities between her education and her work at McMaster University Library through connecting people with each other.
"Both my fields are about people and how they connect with each other, and the library does the same thing," she said. "Connecting and bringing exposure to people's stories to people who want to read them is a big part of my education and work at the library."
Students of summer is a storytelling series from McMaster University Library featuring the student assistants who work in our spaces and provide valuable assistance to patrons during the spring and summer months.
Related News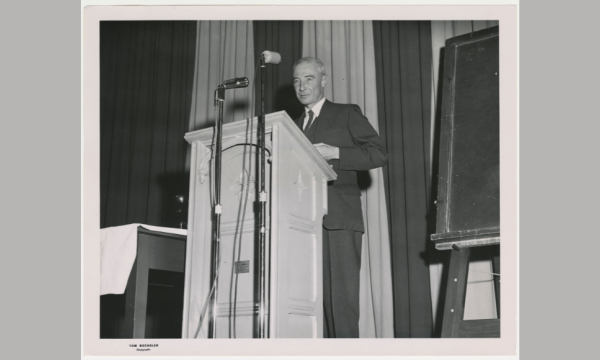 The Flying Trapeze: Oppenheimer's McMaster triple-feature
The William Ready Division of Archives and Research Collections holds photos of J. Robert Oppenheimer from his visit to McMaster in 1962.