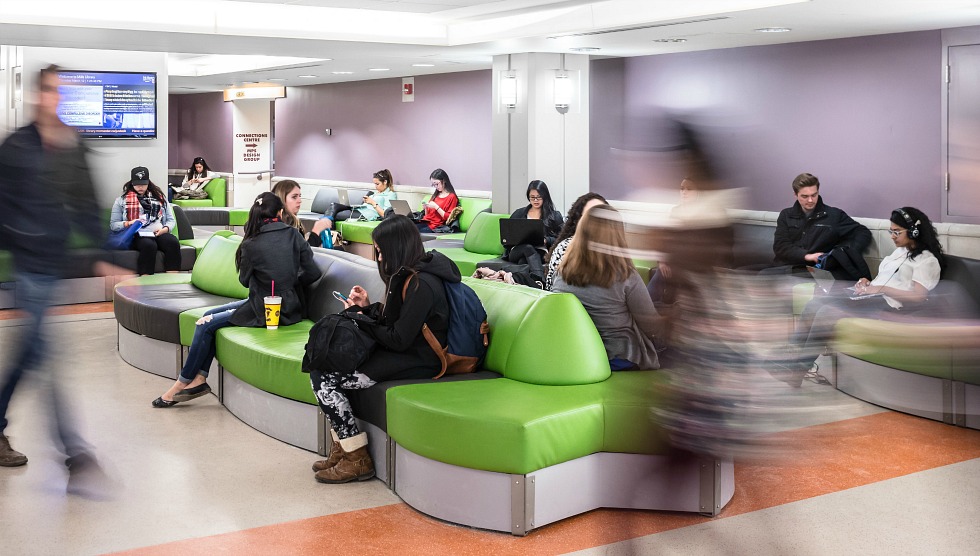 McMaster libraries have countless resources to help students at any time of year, but during the exam period when stress levels soar, and students are studying feverishly, Mills, Innis and Thode libraries have lots of services and stress-busters that can help make this hectic time a bit easier:
Pedal your way to productivity
Flexispot Deskcise all-in-one desk bikes are available in Mills, Thode and Innis Libraries.
The units – part stationary bike, part desk – allow you to study and get moving all at the same time, and are said to increase both focus and productivity.
These adjustable units include an attached desk space and a ride computer to track the time, distance and calories burned during each session.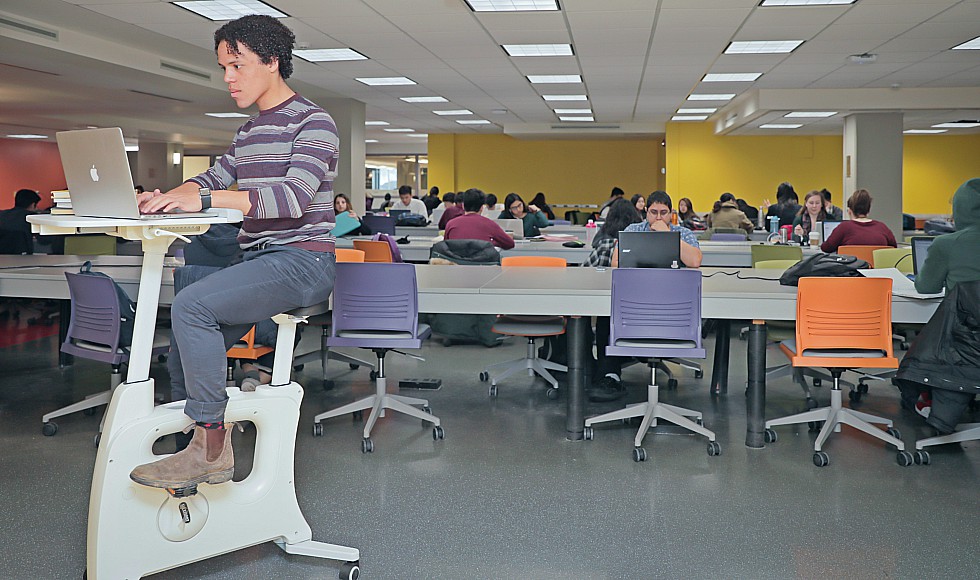 How do like them apples?
Need a healthy snack to keep you going? The Library is offering free apples and granola bars to students. Find them in the Learning Commons at the help desk and at the main Service Desks in Mills, Thode and Innis libraries, as well as the Lyons New Media Centre.  Apples and granola bars are available on a first come, first served basis – help yourself and enjoy!
Trouble focusing? There's an app for that!
Relax, learn to manage your stress, and improve your ability to focus with Muse brain-sensing headbands. Using seven sensors to detect and measure brain activity and Bluetooth to send this information to the free Muse app, the headbands provide a one-of-a-kind interactive meditating experience. Muse provides feedback on your meditation by translating your brain signals into the sights and sounds of wind, which are stormy when the mind is active and settled when the mind is calm.
The app reports on your session and progress, adjusts your goals, and challenges you to remain calm for increasing lengths of time. Visit the Library Services Desk in Mills, Thode or Innis libraries to borrow the headbands for up to a week.
Recharge at Mills Library
Life in a northern latitude can be tough with a lack of sunlight.  Help replenish your levels and pick up your mood with our happy lights.  Mills has a SAD lamp available for circulation. There are also lots of board games and puzzles available for students – just visit the service desk to sign them out.
Thode Library Services and Stress Busters 
Thode Library is offering a range of activities and resources to help make exams a bit less stressful:
Thode Meditation Station: get away from it all in Thode Library's meditation room. Grab some earplugs and tune out, or borrow a Muse headband and calm your mind with a little help from technology. (30- to 60-minute booking, one person at a time)
Kick back and enjoy our roaring virtual fireplace
An ongoing collective puzzle challenge! Take a break and help solve a puzzle together
Board games and puzzles to borrow
Forgot your calculator? Borrow one from the services desk
Forgot your headphones?
You're all set up for an intense study session at the library, and realize that you forgot your headphones! You can still enjoy your favourite study playlist by borrowing headphones for four hours at a time from the services desk in Mills, Innis or Thode libraries with your library card.
Visit the Zen Zone at Lyons New Media Centre 
Take a break and unwind in Lyons New Media's new "Zen Zone," a quiet space where you can relax and de-stress during the exam period, or any time throughout the term.
Help yourself to magazines, books, puzzles, word searches, crosswords, games and cards, as well as supplies for colouring, knitting and origami – all these items are available in the space. Students can also sign out and enjoy VR glasses and robots.
Some items can only be used within LNMC, while others can be signed out for up to 24 hours. Click here for more information.
De-stress and win prizes at Innis Library
Take a break in the Innis Library De-Stress Zone, which includes range of activities to help you decompress, including colouring materials, puzzles, word searches, Sudoku and crosswords. Sign out a game at the desk, try out the exercise/desk bikes or sign out the energy light therapy lamp.
Students who complete the Innis Library word search can submit it to our ballot box for the chance to win a prize pack!
Food or drink, anyone?
Vending machines with snacks and beverages are now available and being stocked regularly in Mills, Innis and Thode libraries.
Ssshh!!
If you need a quiet study space, head to the following spaces:
The Connections Centre in Mills, 1st floor
6th floor of Mills Library
All areas on 3rd and 4th floors of Mills Library
Silent late night study in Innis Library, Mon-Thurs, 10:00 p.m. – 1:45 a.m.
Lower level of Thode Library
LIBRARY HOURS FOR THE EXAM PERIOD ARE AS FOLLOWS:
 Thode library is open 24 hours a day, seven days a week from Dec. 2 until the end of the exam period.
Innis Library is open Monday to Thursday: 8:30 a.m. to 1:45 a.m., Friday: 8:30 a.m. to 9:45 p.m., Saturday: 10:30 a.m. to 5:45 p.m., Sunday: 1:00 p.m. to 8:00 p.m.
Mills Library is open Monday to Friday 8:00 a.m. to 10:45 p.m., Saturday: 10:30 a.m. to 10:45 p.m., Sunday: 12:00 p.m. to 10:45 p.m.
The Mills Learning Commons is open 24 hours a day, seven days a week until the end of the exam period.