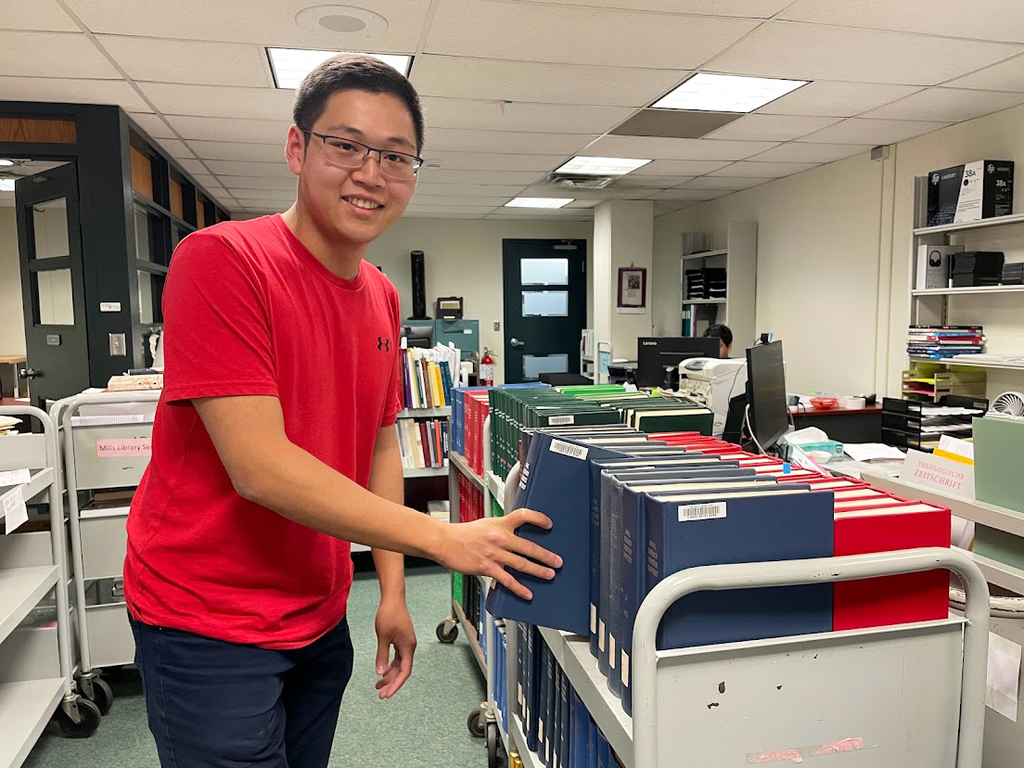 By Krisha Mehta, Special to McMaster University Library
Wenjun Jiang is delighted to be a part of a team that is integral to providing the McMaster community with access to important materials.
Jiang, who is entering his third year of health sciences, has worked as a student assistant with Content, Access, and Open Licensing at the library since February 2023. His main role involves processing and preparing books for the shelves, including sticking book plates and call numbers on the books. He is also responsible for checking that books are correctly labeled, receiving the books within the library system, and participating in several summer projects involving journals in print.
"Being able to do the background work so that books can be accessed by the McMaster community is very special," he said. "A lot of work goes into preparing a book to go onto the shelves and we are lucky to have access to a resource such as the library."
Currently, the department is working on two projects. Keep@Downsview is a partnership between four other Ontario research libraries that share collection preservation and storage facilities. The other project is focused on removing physical copies of journal articles that are available online, off the shelves.
"We are responsible for finding the books and ensuring they are maintained before sending them to the storage facility," said Jiang. "Sometimes, they don't have a barcode, or they are not bound together properly, so we have to fix them."
Jiang often comes across books and journals with interesting titles, covers, and even in many other languages such as French and German. Not only that, but he is also intrigued by the old journal articles from the 1860s that are still in good condition.
"There are many interesting covers, one is called Morbid Curiosities," he said. "The pages are plated in black on the sides and the cover is also black, but most of the pages are white, so it is an interesting aesthetic to see."
While Jiang spends a lot of time with books at his job, he also enjoys reading in his free time. Currently, he is reading Murder on the Orient Express by Agatha Christie. Apart from that, he enjoys going on hikes and spending time with his friends.
"I like the Cootes Paradise Trails that start at the back of campus," he said. "I also love the Chegwin Trail, going there in winter is a risky but beautiful experience."
Wei Zhang, e-resources and collection analysis librarian, says Jiang is an appreciated and valued member of the team.
"He has an amazing work ethic and consistently delivers high-quality work," said Zhang. "He pays great attention to detail, which is crucial in Collections work, and never hesitates to take initiative when needed."
During his time at the McMaster University Library, Jiang has been able to build an extensive skill set that will be useful anywhere he goes in the future.
"Having the access to learn about and prepare different books helps me build upon my cooperation, problem solving, and critical thinking skills," said Jiang. "I also learnt to effectively seek help when needed, and in general learning how to learn, which has been great for my self-improvement."
Students of summer is a storytelling series from McMaster University Library featuring the student assistants who work in our spaces and provide valuable assistance to patrons during the spring and summer months.
Related News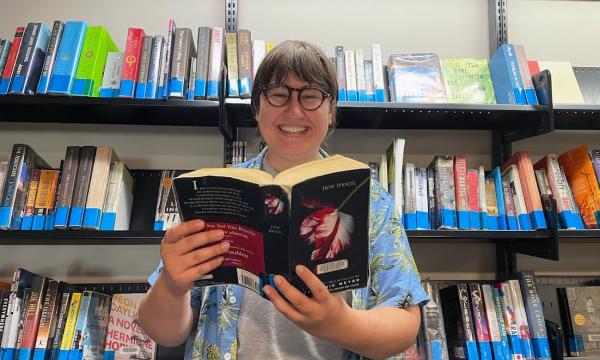 Students of summer: Meet Matthew
Matthew Aksamit highlights the importance of self-directed learning, library communities, and paving your own future.