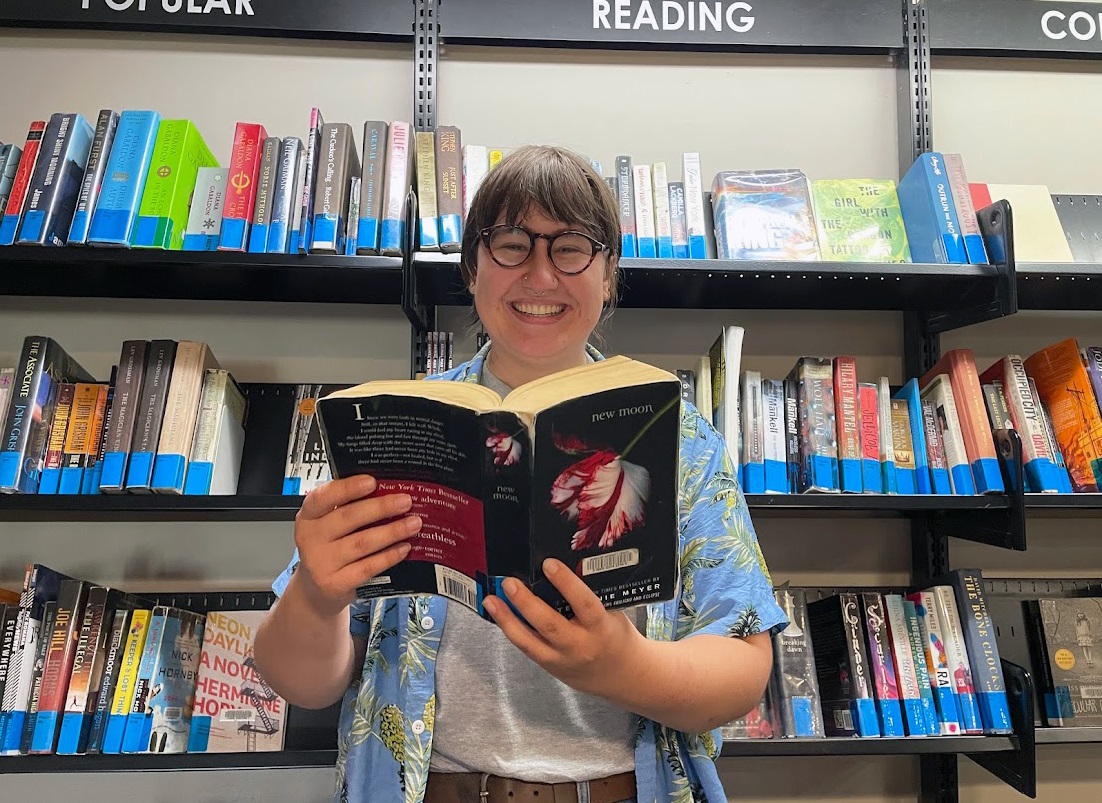 By Krisha Mehta, Library Communications Student Assistant
Matthew Aksamit is bringing a creative vision to promote self-directed learning at McMaster University.
Aksamit is currently in their fifth year of English & cultural studies. They started working as a library ambassador in September 2022, then moved to the LinkedIn Learning ambassador role in spring 2023.
One neat aspect about being a LinkedIn Learning ambassador, according to Aksamit, is curating monthly student-focused campaigns for the LinkedIn Learning Club @ McMaster. This club curates monthly LinkedIn Learning content for students, by students, that focuses on topics significant to them.
"My first campaign focuses on the visual arts, which I thought would be a good theme for the summer as most students are trying to unwind from intensive studying," said Aksamit.
McMaster has made LinkedIn Learning free for all students, staff and faculty for the next two years. Askamit says free library resources, like LinkedIn Learning, that foster personal and professional growth are important.
"LinkedIn Learning helps you to branch out to new interests and take control of your own career path," said Aksamit. "Maybe you think you're not good at it or there are financial barriers, but LinkedIn Learning is a resource you can use to learn more about that interest without detriment."
Aksamit says they hope to work at the library while simultaneously pursuing their writing ambitions in the future.
As a writer, Aksamit is enthusiastic about libraries at both McMaster and in the larger Hamilton community, as well as everything they have to offer.
"There are so many opportunities to connect with the writing community in Hamilton, like the writer in residence program," they said. "Even just the idea of the library as a community centre where people can gather, learn, and work to improve themselves is amazing."
Besides their love for writing and learning, Aksamit also loves to spend time with their cats, affectionately named Frog and Bear. Although both cats have opposite personalities, they get along well.
"While Frog is cuddly and loves attention, Bear is mischievous and loves the outdoors, so I sometimes put Bear in a backpack and take him on hikes to Cootes Paradise," said Aksamit.
Jeannie An, research services librarian, says Aksamit brings a unique perspective to the team.
"Matthew's creative writing skills make them a standout member of the LinkedIn Learning team," said An. "Matthew shows their creativity in the latest LinkedIn Learning student club, the June 2023 campaign."
In their journey to promote self-directed learning to others, Aksamit has found confidence for their own future.
"Being around the library and knowing about their resources helps me get the feel for a future career," they said. "When I'm writing, I now feel more assured about doing research on my own."
Visit Matthew Aksamit's LinkedIn Learning Club @ McMaster summer campaign on an introduction to the visual arts.
Students of summer is a storytelling series from McMaster University Library featuring the student assistants who work in our spaces and provide valuable assistance to patrons during the spring and summer months.