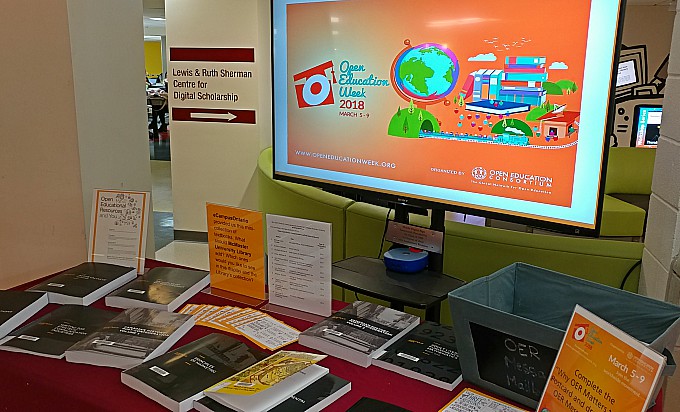 From March 5 – 9, McMaster University Library is celebrating Open Education Week, a global event to raise awareness about how Open Education Resources (OER) can help make education more affordable and accessible to learners world-wide.
OER include teaching, learning and research resources, such as textbooks, assignments, modules, and syllabi, that are openly available for public use and can be used, shared, or repurposed by anyone, anywhere – free of cost, technical, or legal barriers.
In support of Open Education Week, Library staff have created a display – located in the lobby of Mills Library – that features a 'Mini Open Textbook Library,' made up of a number of high quality open textbooks recently acquired by the Library, courtesy of eCampusOntario.*
The textbooks, from eCampusOntario's extensive Open Textbook Library, cover topics from a range of disciplines including Canadian history, environmental biology, marketing and web literacy, among others. They are available in both hard copy and digital formats, and can be borrowed or accessed by students and faculty through the Library's catalogue.
Library users can engage with the display by completing postcards that ask why open educational resources matter to them. They are encouraged to tweet their responses to #OERweek or #OpenEducationWeek.
In the coming weeks, McMaster will be receiving another collection of printed open textbooks which will be added to the catalogue. 
According to eCampusOntario, the cost of textbooks has risen 88% over the past decade and 65% of students are choosing not to buy textbooks as a result. In January, the McMaster Student Union – along with student bodies in seven other universities – took part in the Ontario Undergraduate Student Alliance's (OUSA) #TextbookBroke campaign aimed at advocating for more affordable textbooks.
There are a number of advantages – for both students and faculty – to using OER. These types of resources are generally low in cost, if not free, and they can be accessed online and/or easily downloaded for later use, making it possible for all students to access the materials before classes begin. They are also flexible and allow faculty to use, modify, or adapt existing open textbooks to suit the needs of their course. Software is available to help faculty create or adapt open textbooks, or to co-create a textbook with their students.
Learn more about Open Education Resources
For questions about OER or open textbooks, please email Joanne Kehoe or Olga Perkovic, the co-chairs of McMaster's Open Educational Resources Working Group.
As part of Open education Week, a number of online events are taking place including:
March 7 @ 2:00 p.m.
Webinar: Collaborating Across Institutions to Advance Open Education, hosted by SPARC
March 9 @ 9:00 a.m.
Webinar: eCampusOntario - Ontario Update
*eCampusOntario is a not-for-profit leader in teaching and learning through technology and is funded through the Government of Ontario.