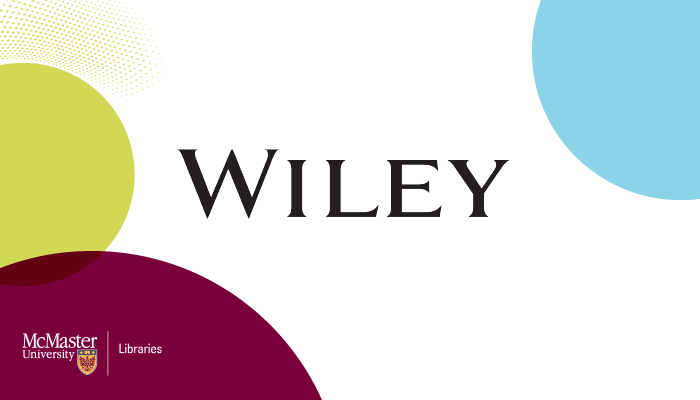 McMaster University has signed a new agreement that will provide McMaster authors with immediate open access publishing capabilities in select Wiley journals.
The two-year agreement for 2023-24 will allow corresponding authors from participating Canadian Research Knowledge Network (CRKN) institutions to publish eligible articles to Wiley's hybrid journals under an open licence with no article processing charge (APC).
"This is a great opportunity for McMaster authors to reach new readers," said Casey Hoeve, associate university librarian, Content, Access and Open Licensing. "By reducing cost barriers, authors without funding for publishing can now make their articles fully open access. This will extend the reach of McMaster research, allowing new articles to be immediately read throughout Canada and internationally."
There are no limitations on the number of articles accepted for publication in Wiley's hybrid journals by an author during the agreement term.
The agreement is effective on Jan. 16, 2023 and includes 71 CRKN institutions.
"We are excited to be providing this opportunity, especially for our early career researchers, graduate students, and medical residents who otherwise may not have been able to consider publishing in these high-impact titles," said Jennifer McKinnell, director of the Health Sciences Library.
Wiley publishes more than 1,330 hybrid journals across a range of disciplines, with an average APC of $3,500USD. Per the agreement, these APCs will be waived for McMaster corresponding authors. 
Authors associated with the university should use their McMaster email address (@mcmaster.ca) when submitting an article to ensure streamlined access to this new opportunity.
Articles accepted for publication in Wiley's gold journals are not eligible under this agreement.
For questions or comments related to this agreement, please email Janice Adlington, head of collections and content strategy at McMaster University Library at adling@mcmaster.ca or Andrea McLellan, head of collections and technical services at the Health Sciences Library at mclell@mcmaster.ca.
To view all publisher discounts available through McMaster libraries, visit the library support for open access webpage.
More information
Read the CRKN news release