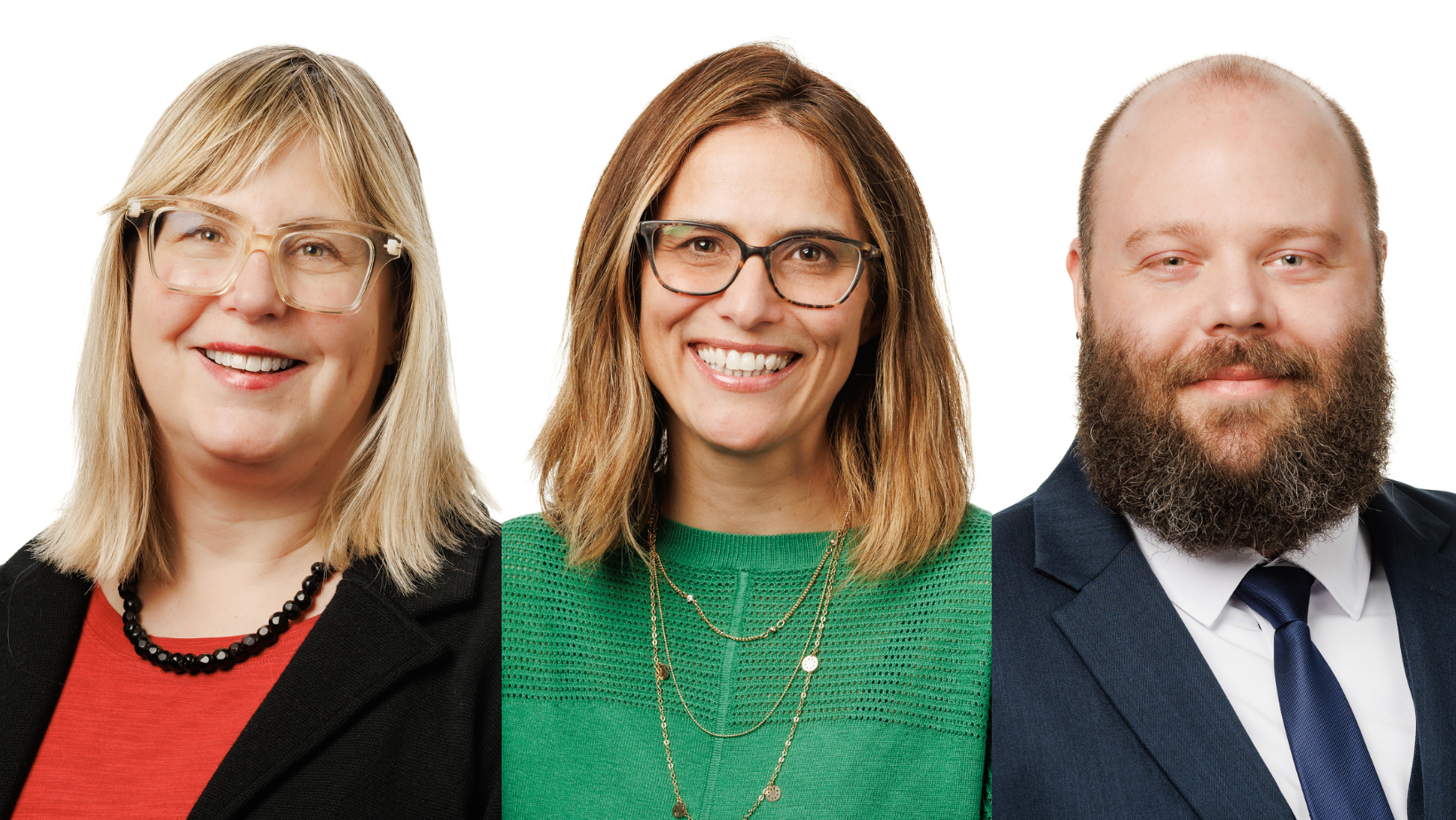 It is a time of renewal at McMaster University Library, with the appointment of three new members to the leadership team. 
Casey Hoeve, Helen Kula and Lynne Serviss started as associate university librarians during the 2022 fall term.
Vivian Lewis, university librarian, said each brings extensive experience and expertise in their respective fields.
"Casey, Helen and Lynne are talented leaders who are passionate about making the university library the best it can be," said Lewis. "I look forward to the collaborative work to come on strategic priorities."
Meet the new leaders
Casey Hoeve 
Associate university librarian
Content, Access and Open Licensing 
The opportunity to serve as the new associate university librarian, Content, Access and Open Licensing, at McMaster University Library brought Casey Hoeve to Canada.
He started in the role in November 2022.
"The continuous change of collection needs and publishing models require greater analysis to support the university scholarly community," said Hoeve. "As I move forward in this newly established position, the libraries will continue to build upon the strengths of existing collections, while making a strong commitment to enhance diverse and inclusive content for research and curriculum support.
"Equitable access to collections is imperative, and I look forward to building connections both on campus, and with our consortia libraries to expand scholars' access to vast, collaborative collections through our network partnerships."
Formerly known as Collections, McMaster's newly branded Content, Access, and Open Licensing team has a large area of responsibility, from the acquisition of books to open access arrangements with journals.
Hoeve holds a bachelor of science in biomedical sciences and history from Grand Valley State University and a master of science in library and information science from Drexel University.
He comes to McMaster library from University of Nebraska-Lincoln (UNL), where he has spent the last three years as head of content and collections at the university's research libraries.
During his leadership, Hoeve was responsible for managing a substantial yearly collections budget as well as developing the vision and policies for UNL Libraries' future of selection, curation, administration, and assessment of resources.
Helen Kula 
Associate university librarian
Teaching and Learning 
Helen Kula brings more than two decades of professional experience in research libraries to her role as associate university librarian, Teaching and Learning at McMaster University Library.
She joined the library in November 2022. 
"While my role is new, the library has a long history of contributing to teaching and learning within the university," said Kula. "I am looking forward to building on that legacy and working with my colleagues to maximize the impact and reach of our work as learning partners with McMaster faculty and staff. 
"I am particularly excited to begin exploring how the library can support and advance the university's new teaching and learning and digital learning strategies."
McMaster library's Teaching and Learning Program seeks to develop critical thinking and support effective contributions to public and scholarly discourse. This is done through such activities as providing one-one research consultations for students and faculty, delivering classroom-based research skills instruction, and collaborating with faculty and instructors to develop and implement new approaches to pedagogy.
Kula holds a master of arts in English literature from McGill University, and a master of information studies in library and information science from University of Toronto.
Prior to coming to McMaster, Kula served as head of research and instruction at University of Toronto Mississauga Library (UTML). While in this role, she led UTML's instruction program and research scholarship and data services unit, while providing strategic and operational oversight to the Li Koon Chun Finance Learning Centre.
Lynne Serviss 
Associate university librarian
User Services and Community Engagement
Lynne Serviss, a familiar face around McMaster University Library, has been named associate university librarian, User Services and Community Engagement.
The senior McMaster librarian moved into the role in September 2022.
"As someone who has worked at McMaster for the past 10 years, I am delighted to continue with the libraries at a more senior level with a focus on users and community engagement," said Serviss.
"Currently, I am focused on building on our current models of access and looking for unique and creative ways to improve the user experience in the library. We also have an excellent public library system in our city and one of my initial community engagement goals is developing services and partnerships with our colleagues from the Hamilton Public Library."
Serviss' user experience portfolio includes Mills Memorial Library, H.G. Thode Library of Science and Engineering, and the new Innis Library at the McLean Centre for Collaborative Discovery slated to open in 2025. Meanwhile, the community engagement piece encompasses new and existing partnerships on- and off-campus.
Serviss holds a bachelor of arts in anthropology from Trent University and a master of library and information studies from University of British Columbia.
Serviss has spent nearly 20 years working at academic libraries. She joined McMaster library in 2012, first serving as an instructional librarian focusing on the social sciences and humanities. She became services librarian at Mills Memorial Library in 2017.
During the pandemic, Serviss led the introduction of several new services, among which included curbside pickup, books-by-mail, and eReserves.