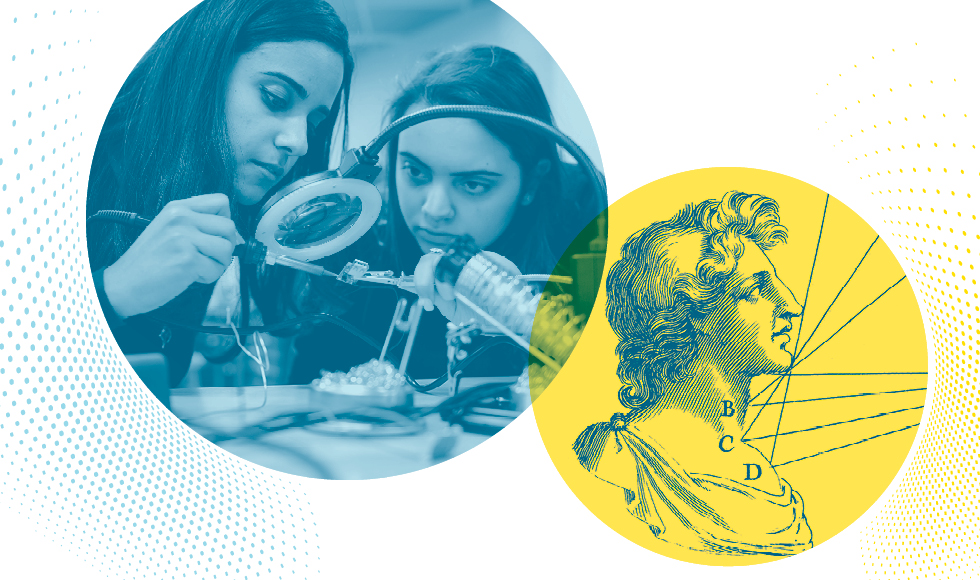 From a first edition of Sir Isaac Newton's Opticks and suites of online journals, to the innovative programming in Thode Makerspace, to helping students explore storytelling as a form of science communication, McMaster University Library has a wealth of unique archives, spaces and expertise dedicated to Science, Technology, Engineering and Math (STEM).
Throughout 2019, the Library, together with partners in the Faculties of Science and Engineering as well as the Health Sciences Library, will be shining a light on these and many other resources during a special year of programming aimed at celebrating the ways in which the Library supports research, teaching and learning related to STEM.
Events and programming will include public talks by McMaster and Library experts on a range of topics – from the science of archival preservation, to the history and science of mapmaking, to the experiences of women in STEM.
The Library will also host an exhibit featuring archival materials highlighting the critical role scientists like Einstein have played in advocating for peace, and will offer tours of the Library's William Ready Division of Archives and Research Collections, providing the McMaster community and the public with an opportunity to view rare texts by some of the greatest scientific and engineering minds of the past 600 years, including Leonardo Da Vinci, Sir Isaac Newton and Galileo Galilei.
A range of additional programming will also take place throughout the year including celebrations marking the 40thanniversary of Thode Library and the 60thanniversary of McMaster's nuclear reactor, a science art exhibit, and a series of workshops in Thode Makerspace, among many other activities.
"We are excited to share the Library's world class collections and unique expertise related to STEM with the campus community," says Vivian Lewis, McMaster University Librarian. "We look forward to working with our partners to highlight women in STEM, provide students with opportunities to develop technological literacy, showcase ways of communicating science in creative ways, and so much more. We hope faculty, staff, students and the public will join us for this special year of programming."
The Library kicked off its celebration of STEM in January, co-hosting The 2019 Ontario Engineering Competition and providing support for DeltaHacks V, a hackathon that focusses on solving real world problems.
UPCOMING EVENTS INCLUDE:
Science & Storytelling, March 12, 2019 @ 7:00 p.m.
 Join McMaster University Library in partnership with Steel City Stories for Science & Storytelling, a special event featuring McMaster undergraduate and graduate students, alumni, staff, faculty, and members of the Hamilton community, who will all share their personal stories about the diverse ways in which science has shaped their lives. Register now
Pi Day, March 14, 2019 @ 1:59 p.m.
Pi Day is celebrated on March 14th (3/14) around the world. Pi (Greek letter "π") is the symbol used in mathematics to represent a constant — the ratio of the circumference of a circle to its diameter — which is approximately 3.14159. Pi Day is an annual opportunity for math enthusiasts to recite the infinite digits of Pi, talk to their friends about math, and to eat pie.
To mark Pi Day, the Library will be giving out free mini pies to students in Thode, Mills and Innis libraries, and in the lobby of Hamilton Hall. Watch McMaster's Instagram feed for details.
McMaster University Library Special Collections Open House
April 24, 5:00 p.m. – 7:00 p.m.
 From the writings of Aristotle and Galen to the 20thcentury skepticism of Popper, the history of science has been given shape by monumental achievements in writing. These books —Galileo's Dialogue, Newton's Opticks, Lavoisier's Elements of Chemistry and many more — have served as milestones which changed the course of human affairs. Join us in the William Ready Division of Archives and Research Collections for a first-hand look at these and many more iconic scientific texts, dating from the 12th century to the present day. Register now
Visit the Library's Celebrating STEM webpage to learn more about upcoming events. Event details are being updated regularly, so check back often.
For any questions related to this year of events, please contact Rebecca Fera at ferard@mcmaster.ca