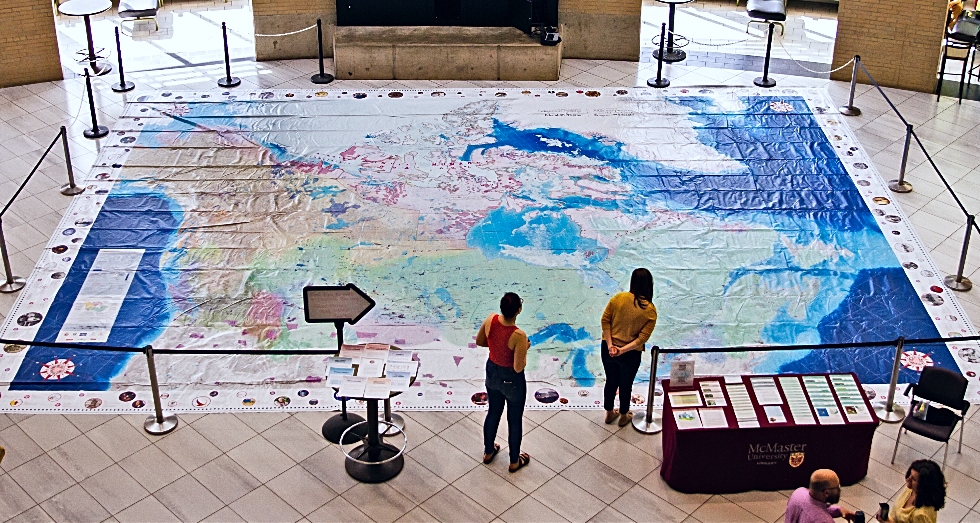 A giant floor map designed to help foster understanding of Indigenous history and perspectives is now on display in the McMaster University Students Centre (MUSC).
The 11 x 8 metre map – the cornerstone of the Indigenous Peoples Atlas of Canada, was created by the Royal Canadian Geographic Society in collaboration with The Assembly of First Nations, Inuit Tapiriit Kanatami, The Métis National Council, and the National Centre for Truth and Reconciliation and is on display from 9:00 a.m. to 5:00 p.m., on June 12 and 13 in MUSC Marketplace.
The map is intended to explore the past, present and future of Indigenous Peoples in Canada through the use of Indigenous symbols and datasets. It can be walked on and is accompanied by educational resources and activities.
McMaster University Library organized the display as part of the CARTO conference of the Association of Canadian Map Libraries and Archives, which is being hosted by the Library from June 11-14.
Learn more from the map's cartographer
Cartographer Chris Brackley, of As the Crow Flies and the Royal Canadian Geographical Society, led the creation of the map and was on campus to give the keynote address at the CARTO conference. He spoke to the Daily News about what it was like to work on such a rewarding and complex project:
Why undertake this project?
I was just the stenographer on this in so many ways, the leads were our Indigenous partners – they were at the core of driving the content that came to it. But for me, it was the simple recognition that Indigenous peoples had been left off the map for so long and I didn't have a meaningful way to get them on the map, so this was a way for me to learn how to do that.
What were some of the challenges you encountered while drawing the map?
What data would I use to show this was my big question. Originally, we had hoped to use content of traditional territories of first nations, Inuit and metis and the lands that they used in some defined way, but that data hasn't been collected at a national level in a meaningful way, it's not something we could use. What we ended up leaning on and the story this map really tells is one of crown-Indigenous relationships. That data was available, so we see treaties, reserves, first-nations, or bands, communities in the North, Métis settlements and places where metis live so it really tells the story of how the two cultures have come together and the structural, geographic legacy of what that looks like.
What was the experience like?
It was a highlight project, I don't know if I'll find another project as meaningful in a long time, if ever – there were a million aha moments.
One thing that I did on this map which I don't think has ever been shown, was to connect the 4000 reserve parcels – little bits of land that were there for the use of different first nations in our country – to start to understand that there are 634 individual first nations in Canada, known as bands, and that they are all connected to these parcels of land reserves. I had never seen the graphical connection between these 4000 parcels and the 634 first nations and I got to draw the lines that connect them all.
I spent days drawing these lines and that's a graphic geography that's easy to understand and you see a pattern. If ever I can show something that hasn't been shown before, it's a thrill and I hope there's something interesting and new for people in it.
The map is available on loan for use by educational institutions across Canada. Visit the Canadian Geographic website to learn more about the map and to access further educational resources.
June is National Indigenous History month in Canada. Learn more