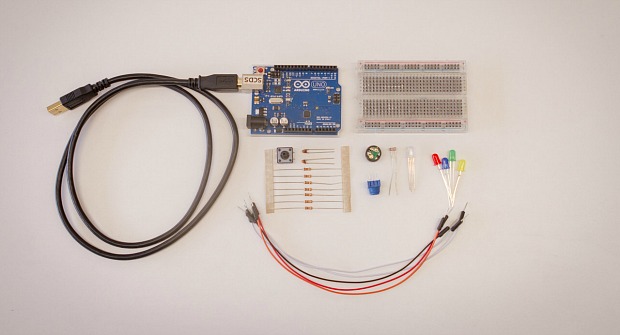 From smartphones and computers to video game consoles and TVs, most of us couldn't imagine life without these complex electronic devices, but do you know how they work?
While you may not be building your own laptop anytime soon, believe it or not, learning how a circuit works – and even building your own electronic device – can be simpler and less time-consuming than you think.
This was the case for a group of students from McMaster's Arts & Science and Integrated Science (iSci) programs who recently spent three days learning the basics of electronics at a workshop held by the experts at McMaster University Library's Lewis and Ruth Sherman Centre for Digital Scholarship.
"I think for a lot of students, they perceive working with circuits, or computer code to be something that has a really long learning curve that they just don't have the time to get into because it takes a substantial time investment," says Jay Brodeur, Manager of McMaster Library's Maps, Data and GIS Department, who led the workshop. "But what we've found is that with the right kind of introduction, they can get going on this and working on their own projects in a matter of hours."
Electronics for the Rest of Us, introduces students to "physical" or "minimal" computing, a form of computing that uses simple circuitry and coding to build small, relatively straightforward electronic devices.
Using a microcomputer called an Arduino, students learn how to build their own circuits as well as how to write simple computer code to sends instructions to their device.
"Their first task was to build a circuit with an LED light and make it blink," says Brodeur. "Then we told them to change the rate at which the LED blinks. To do this, they had to modify the code to make the device work. This helped them understand how these two things work together."
Brodeur says by the final day of the workshop, students were working independently to create devices that performed a range of tasks, from reacting to noise levels to sensing changes in light.
"I found the workshop to be nothing short of amazing," says Abbey Hudecki, a third year student in McMaster's Arts & Science program who says she started the workshop with no knowledge of electronics and ended up building a device that not only sensed the room's temperature and sound levels, but responded by lighting LEDs and playing music.
"The highlight for me was the last day of the course when we had free time to create pretty much whatever we wanted to.  By then, I had enough understanding to actually make things on my own," she says.  "I would strongly encourage students to take this course, since there's always someone there to help, and it can completely change your attitude towards electronics for the better."
Electronics for the Rest of Us is offered each term and is open to students from all Faculties.
Students in Electronics for the Rest of Us built circuits that, among other things, made an LED light blink:
​