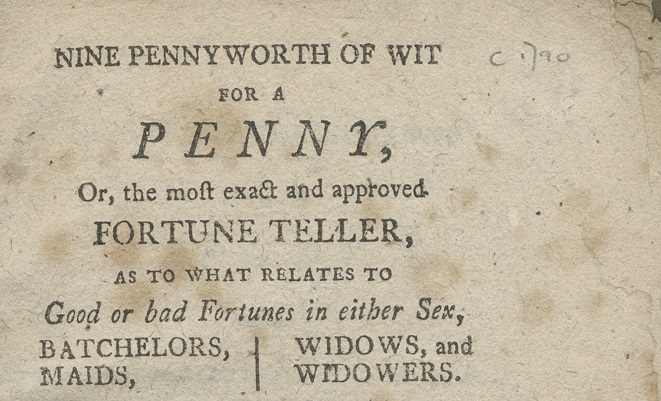 A recording of an engaging presentation tracing the curious history of chapbooks is now available for viewing.
Devils, Angels, Scoundrels, Fortunes, and Fables: British Eighteenth-Century Chapbooks at McMaster University Library, was presented by Gillian Dunks, archives arrangement and description librarian at McMaster library, on Oct. 6, 2022. The event is part of the popular Archives Alive series.
"There is a rich complexity to chapbooks and other forms of ephemeral print. Studying them deepens and complicates our understanding of Western literary canons, which encompass both profane and 'sophisticated' verse, as well as noble and quotidian themes," said Dunks.
The William Ready Division of Archives and Research Collections at McMaster University Library is home to a large collection of these unassuming books, many of which were printed prior to 1800.
Chapbooks are small, affordable forms of literature covering a range of topics, available in Europe as early as the 16th century. Throughout most of their history, chapbooks were simply created, featuring a combination of unbound pages sewn together.
Inexpensive chapbooks were sold by peddlers, hawkers, and itinerant merchants known as 'chapmen', and were popular amongst children and the working poor in Europe, particularly Britain, from the 16th to early 19th centuries.
Dunks consulted 200 chapbooks from the Disbounds Collection at the William Ready Division of Archives and Research Collections to draw inspiration and sources for her virtual talk. Among the featured texts are an abridged version of a classic, The Life and Adventures of Robinson Crusoe; a version of a medieval romance, The History of Valentine and Orson, and a text to aid in divination: Nine Pennyworth of Wit.
Archives Alive showcases the unique holdings of McMaster University Library's William Ready Division of Archives and Research Collections. A wealth of resources exist which will delight and inform, from rare books created before 1800 to contemporary writers' archives. Recognizing that archives can feel intimidating, these talks allow staff and researchers to share their knowledge with the community and introduce collection items housed within the library. Archives Alive is presented by McMaster University Library and McMaster Alumni.