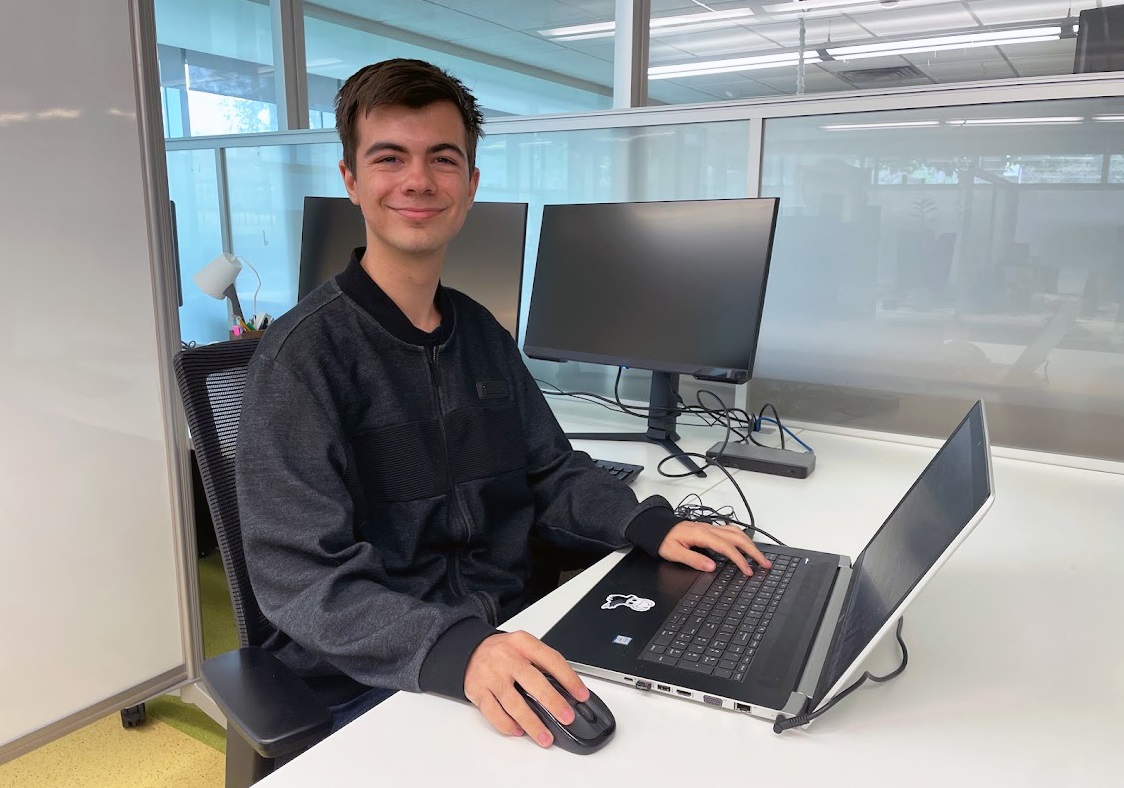 By Krisha Mehta, Special to McMaster University Library
Richie Motorgeanu finds value in learning new things and, in turn, teaching others.
As someone who loves teaching, Motorgeanu has always found a way to help those around him with their learning, whether it be people from his class, or others.
"During the school year, I made practice exams and solution sets to share with the class for revision," said Motorgeanu. "Even before university, I would volunteer at elementary and high schools to help students with their reading, math, and university applications."
Motorgeanu, who is going into his second year of computer science, with a minor in mathematics, has worked as a learning resource development assistant for the Sherman Centre since spring 2023. His role involves creating asynchronous learning modules that cover digital scholarship related materials such as programming, data analysis, research data management, and other digital tools.
"Currently, I am converting the old workshops into text modules, and sometimes record it so it is more accessible," he said. "I really enjoy teaching myself the material as I go through the previous workshops, like learning about R, so I am adding to my own skills as well."
One of the main things that Motorgeanu has learned at this job is how to make his own websites. He put this skill to use by making his own website portfolio, which he will be able to use for future jobs.
"I came here with no knowledge of how to even start constructing a website, but now I use my website portfolio to showcase my game development content," he said. "The most enjoyable part is seeing the website come together and getting constant feedback from my friends."
Motorgeanu is on the varsity fencing team at McMaster. Meanwhile, due to a growing interest in game development, Motorgeanu spends his weekends attending game jams.
"I enjoy constructing 2D pixelated games the most," he said. "My favourite is Crop Rush, which I completed over three days."
Jay Brodeur, associate director of Digital Scholarship Services, said Motorgeanu is an invaluable addition to the Sherman Centre team this summer.
"With a unique combination of technical and communication skill, interest in digital pedagogy, and willingness to experiment and explore, Richie has helped us build the foundation to create many more high-quality, open, and asynchronous learning modules in the future," said Brodeur. "We're very grateful for Richie's skill and dedication, and incredibly excited to share his excellent work with the entire Sherman Centre community!"
Motorgeanu says he finds his work at Sherman Centre, especially when it comes to creating web modules, meaningful.
"With these web modules, I am making an impact for a time to come without needing to constantly be there," he said. "Knowing that these resources will help somebody is very rewarding and it makes me happy."

Helpful links

Sherman Centre's searchable online learning catalogue
Sherman Centre website for access to the digital scholarship workshop series
Richie Motorgeanu's personal portfolio on game development
Students of summer is a storytelling series from McMaster University Library featuring the student assistants who work in our spaces and provide valuable assistance to patrons during the spring and summer months.
Related News
Students of summer: Meet Katie
Katie Sonier reflects on the importance of research support for the McMaster community.