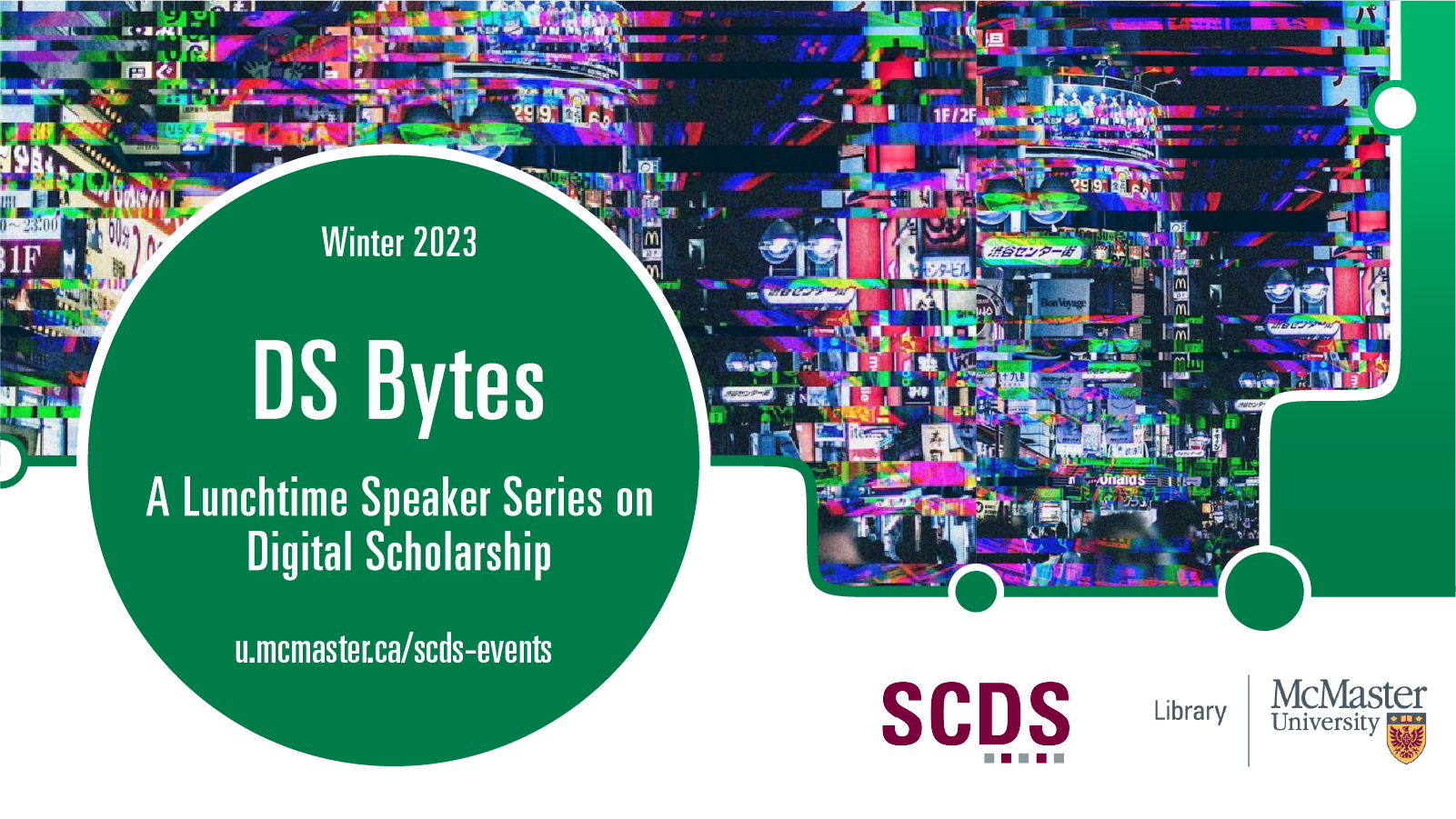 Is your new year's resolution to learn more, especially about fascinating topics like science communication, data visualization, and artificial intelligence?
If so, let the Lewis and Ruth Sherman Centre for Digital Scholarship help you achieve your goal.
DS Bytes: A Lunchtime Speaker Series on Digital Scholarship is a new initiative featuring engaging presenters with virtual attendance options, all free to the community.
The impressive lineup of speakers hails from such recognized institutions as McMaster University, CBC News, and University of Waterloo. Topics vary from disability in technology to gendered AI in Siri.
"These talks from scholars and practitioners will highlight in-progress cutting-edge research, discuss innovative digital methodology, and promote critical inquiry in digital scholarship," said Andrea Zeffiro, academic director of the Sherman Centre and assistant professor of communication studies and media arts at McMaster. 
The Sherman Centre, based within McMaster University Library, provides digital scholarship services for research and teaching that respond to the needs of faculty and students.
Jay Brodeur, administrative director of the Sherman Centre and associate director of Digital Scholarship Services at McMaster library, says the new initiative serendipitously aligns with the centre's 10th anniversary.
"This series is especially important because it celebrates the Lewis and Ruth Sherman Centre for Digital Scholarship's 10-year anniversary," said Brodeur. "Two of our guest speakers—Mark Belan and Adan Jerreat-Poole—are past graduate residents of the Sherman Centre which is special in itself."
To learn more, visit the Sherman Centre website.
DS Bytes Events
Glitch: Disability, Feminism, Technology
Jan. 19, 2023 | 12:30 p.m. 
Register
Speaker: Adan Jerreat-Poole, assistant professor of communication studies, University of Waterloo
How to Lie with Data
Jan. 31, 2023 | 1:30 p.m.
Register
Speakers (all-McMaster panel):
Vass Bednar, director, Public Policy in Digital Society
Cal Biruk, associate professor of anthropology
Jeffrey Demaine, bibliometrics and research impact librarian
Saman Goudarzi, cartographic resources librarian
Christine Homuth, spatial information specialist
Subhanya Sivajothy, data analysis and visualization librarian
The Value of Visuals in Science Communication
Feb. 8, 2023 | 12:30 p.m.
Register
Speaker: Mark Belan, scientific graphics journalist
Urban Heat Islands and Social Inequities: A Data-Driven Story
Feb. 14, 2023 | 12:30 p.m.
Register
Speaker: Isabelle Bouchard, data scientist, and Nael Shiab, senior data producer, CBC
How to Lie with Visualization
March 1, 2023 | 1:30 p.m.
Register
Speaker: Gabby Resch, assistant professor of business and information technology, Ontario Tech University
E.Q. vs I.Q.: Testing Gendered AI in Apple's Siri 
March 21, 2023 | 12:30 p.m.
Register
Speaker: Lai-Tze Fan, assistant professor of sociology & legal studies and English literature, University of Waterloo