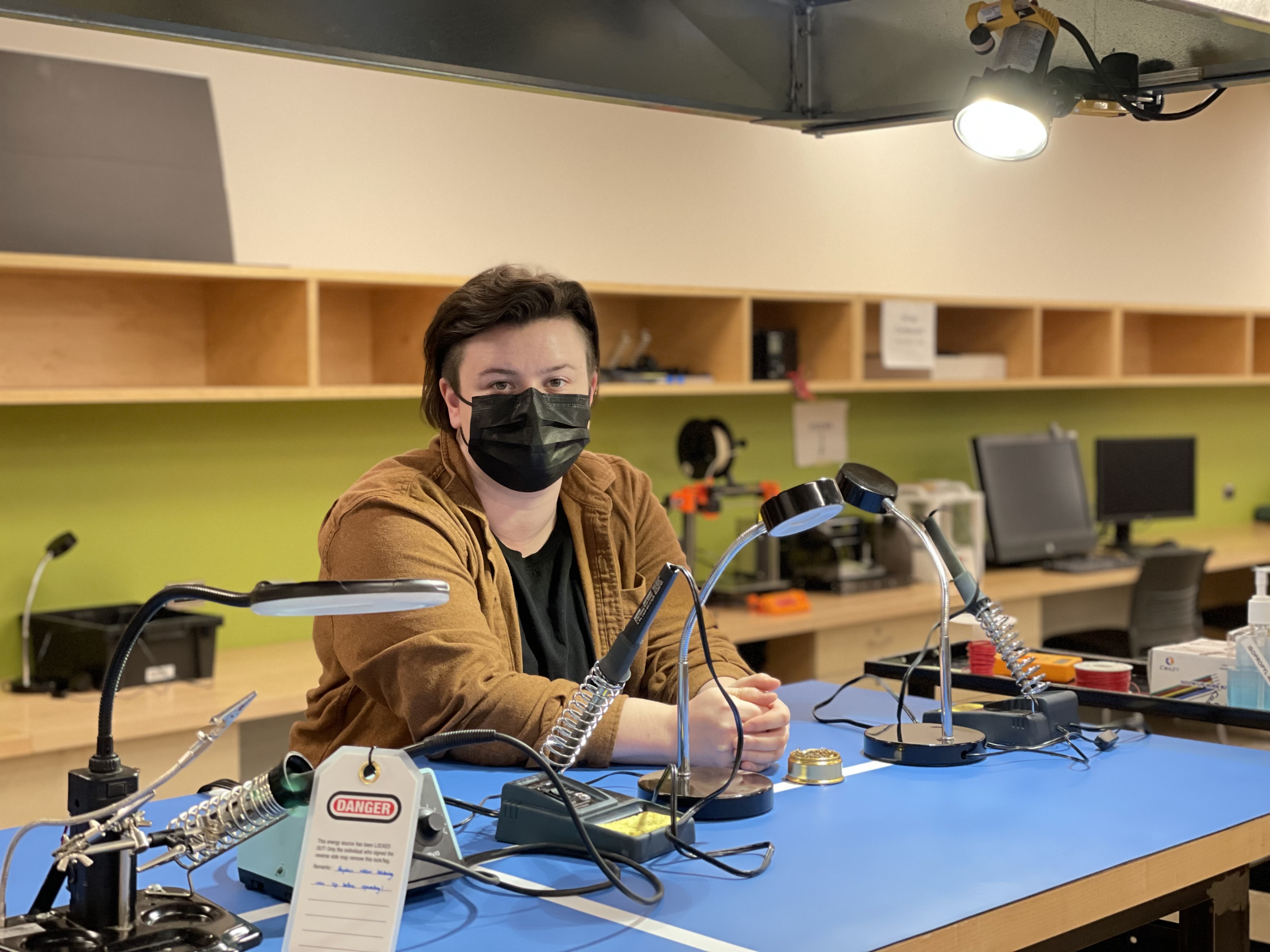 Brittany Sostar attributes their love of art and creativity to growing up in a family of makers.
Sostar describes their dad as a renaissance man; good at all things from math and cooking to restoring old cars. Their grandmother and grandfather a seamstress and woodworker, respectively.
After years of trying different types of making themself, the Dundas native fell in love with studio arts.
Their passion for art and making eventually led them to McMaster University, where they earned a Bachelor of Fine Arts degree in 2016.
Six years later, Sostar has returned to McMaster to take on the role of Thode Makerspace coordinator.
The space is set to reopen this fall after being closed for over two years due to the COVID-19 pandemic.
We spoke with Sostar about their new role, what drew them to the position, and what they're most looking forward to once the space reopens.
What does your job entail at Thode Makerspace?
I'm the Thode Makerspace coordinator, so I'll be here as a resource to the space as well as to any students, staff, or faculty who are coming in who may need help or guidance on their projects. Some of my responsibilities will be overseeing the booking of equipment, submitting files for 3D printing, and assisting with the operation of tools or technology within the space.
What drew you to this position?
My deep love for creativity and making things is what drew me to this position. I'm inspired by all types of people who make things, and this position gives me the ability to help different people through the process of having an idea and then making something tangible to represent that idea.
As you know, Thode Makerspace has been temporarily closed for over two years due to the COVID-19 pandemic. How would you describe the space to people who have yet to visit due to its closure?
Makerspace is a place where all McMaster community members can come to build and make. We provide access to technologies that may not be available to everyone on campus, including our 3D printers, laser engraver, and prototyping circuit board mill. There's also plenty of space to lay out a project or meet with a team that you're working with. In the future, I hope to hold workshops, events, and talks within the space.
What are you most looking forward to as Thode Makerspace coordinator?
I'm really looking forward to having all types of makers from across campus, regardless of discipline or field of study, access the space and bring in their projects. It will be exciting to see the space activated to its fullest potential once it reopens.
Is there a tool or piece of technology in Thode Makerspace that you are most excited to use?
I'm most excited to experiment with our Trotec laser cutter and engraver to see what can be done on this piece of equipment. I'm also excited to use our soldering station for some small electronic or robotics projects. I actually have a project I'd like to bring in and fix up. It's a vintage tabletop pinball machine but the sound component on it is messed up so it makes screeching sounds instead of happy pinball sounds. I'm hoping to use our soldering station to desolder and then resolder some of the electronic components. This will hopefully clean it up to make the machine sound more fun and less scary.
What is something that we might not know about you that you'd like to share?
I made an electric guitar during a summer camp when I was in high school. I still have it. It's Nightmare Before Christmas themed and it has Jack Skellington painted on it.