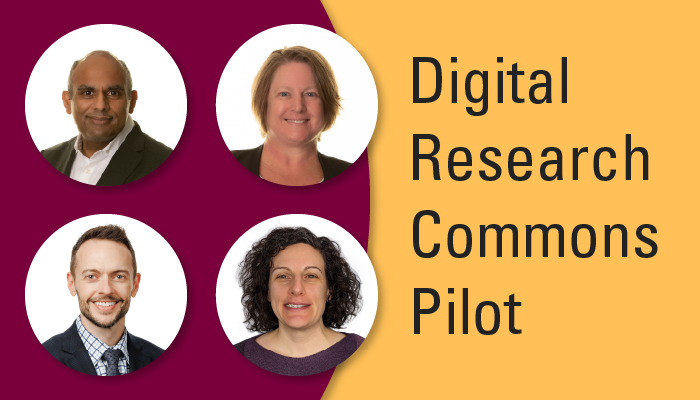 A team of experts has come together under one virtual roof to help ensure those involved in research at McMaster University have access to the digital tools, services, and supports that they need.
The Digital Research Commons Pilot is a three-year project that will lay out how McMaster can create a more connected, capable, and user-focused approach to digital support for research. The goal of the pilot is to improve access to systems, services, software, and training for researchers across the institution.
"This pilot is about bringing everything that researchers need to be successful into a coordinated arena," said Angela Di Nello, senior manager of the Digital Research Commons Pilot at McMaster University Library.
"Based on feedback from our McMaster community, we know that researchers have many needs, such as data management plans and security requirements, to successfully apply for grants. We want to support these more technical elements so they can focus on their day-to-day work."
The pilot builds on existing digital research support at McMaster and identifies gaps so complementary and shared services can be developed to meet the diverse needs of the community.
Ranil Sonnadara, special advisor to the vice-president (research), says the pilot will benefit everyone involved in McMaster's research enterprise, from undergraduate students to senior principal investigators.
"Once considered a niche need for a small group of researchers, today, almost every field of research and research creation relies on digital tools and services," said Sonnadara, project co-lead.
"The Digital Research Commons Pilot will help us understand the breadth of needs across campus, as well as the richness in expertise that currently exists. The ultimate goal is to be able to connect researchers with the necessary expertise, tools and services, and to identify and work to address any gaps in a coordinated manner, so we can ensure that McMaster is able to support the continuously evolving needs of all of our researchers."
The team assembled for the project is an all-star collection of staff representing a vast range of expertise, from information security and research data management to research impact and research software development.
Tracy Dallaire, director of information security services at McMaster University, says her group was a natural partner on the project.
"As a leading research institution, safeguarding the availability, integrity and confidentiality of our research-related information is paramount," said Dallaire, a co-lead of the pilot.
"The Digital Research Commons Pilot Project is a critical step in ensuring that researchers have easy access to tools, procedures, and guidelines that will enable them to better safeguard their data."
The pilot is supported by the Provost's Strategic Alignment Fund. It is co-sponsored by the Office of the Vice-President (Research), McMaster University Library, and the Office of the Assistant Vice-President and Chief Technology Officer.
Susan Tighe, provost and vice-president (Academic), says the pilot aligns with the university's strategic goal of fostering world-class research and scholarship.
"I am pleased to see research innovation at McMaster receive support through the Strategic Alignment Funds," said Tighe. "The Digital Research Commons Pilot will ensure that researchers across the university have access to McMaster's global experts and are equipped to the take advantage of evolving technology." 
Jay Brodeur, associate director of Digital Scholarship Services and project co-lead, added: "The exciting part of this project is that is brings together everyone who supports the digital side of research and builds a framework for them to collaborate more easily. It's all about creating those avenues for people to have conversations and collaborations because when researchers have the support they need, great things can happen."
For more information or to connect with the team, visit the Digital Research Commons Pilot webpage.