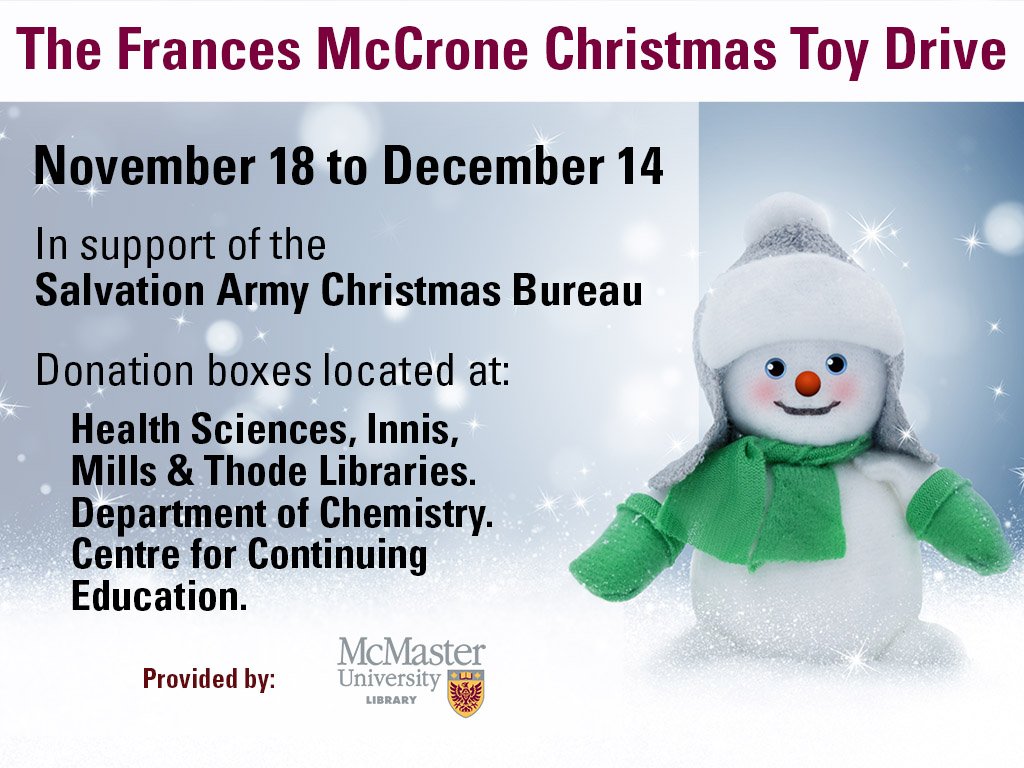 The Libraries' 40th annual Frances McCrone Toy & Food Drive will be held Nov. 18—Dec. 14, in support of the Salvation Army's Christmas Bureau.
Toys for girls and boys up to the age of 16, non-perishable food items, gift certificates/cards for teens, and items for family pets are needed. Over the years, the McMaster community has supported this cause generously. Your continued support is very much appreciated!
Why not start a toy-drive in your office, residence or department? Donations can be dropped off at a collection box at your nearest campus library (Mills, Innis, Thode or the Health Sciences Library).
Looking for ideas? Infants and toddlers might like:
toys
books
games
craft kits
colouring books, crayons and/or markers
building blocks
puzzles
dolls, popular Barbie(s), action characters/figures and accessories
gift certificates for toy stores
Older children might like
sports items, equipment, accessories
model kits
make-up, hair essentials and accessories
gift certificates/cards (movie passes, video & music stores, shopping malls)
electronics (MP3 players, etc.).
Inquiries should be directed to Eden McLean (905-525-9140, ext. 27099) at Mills Memorial Library.