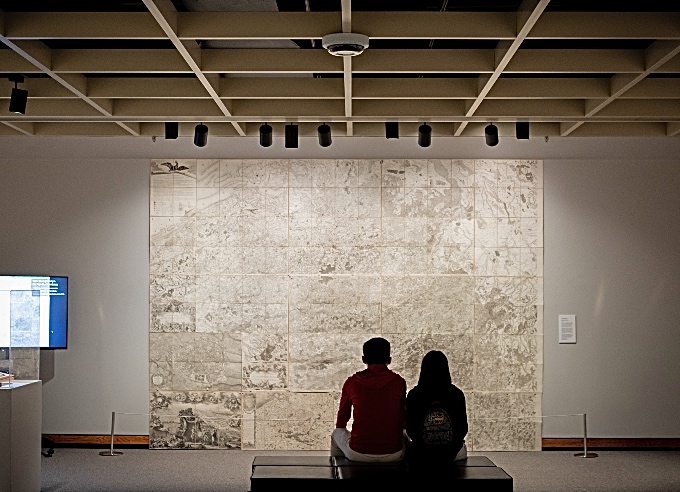 In 1803, under cover of darkness, English nobleman and sometime spy Robert Clifford set sail in secret from the French port of Calais.
Having narrowly escaped the authorities in Napoleonic France, which was now at war with England, Clifford was returning home, bringing with him a precious cargo.
Concealed in a crate, Clifford had packed more than 200 lbs of some of the most advanced maps available at the time – maps that would become an invaluable weapon of war and eventually aid in the defeat of Napoleon.
Now, twenty-three maps believed to have been among those spirited out of France by Robert Clifford are on display at the McMaster Museum of Art. The maps are part of McMaster University Library's Clifford Map Collectionand are being publicly displayed for the first time.
"The collection includes different types of cartography that would have played a key role in devising military strategy during the Napoleonic wars," says Gord Beck, a maps specialist at McMaster University Library and exhibit curator.
Contained in the exhibit are a number of maps used throughout the Napoleonic wars including a set of colourful, hand-drawn maps of fortified cities which, although produced well before the Napoleonic era, were nonetheless widely used by military planners to prepare for siege warfare which was still quite common at the time.
Also included in the exhibit is an expansive, floor to ceiling map of the Austrian Netherlands which was among the first large-scale, scientifically-based maps produced using "trigonometrical surveying", a technique pioneered by French mapmakers in the 1800s that showed the topography of a region with unprecedented accuracy.
Beck says it's one of several such maps contained in the Clifford Map collection, which also includes the massive 36 ft. by 39 ft. Carte de France. Too large to display, it was the first map to capture, in detail, the entirety of a country.
"Warfare changed drastically under Napoleon," explains Beck. "His armies fought in the open, moving over vast terrain very quickly. These newer maps really helped with that style of warfare because they showed the exact size and shape of the country over a large area, so military strategists could see things like which roads could carry heavy artillery guns and so forth."
Beck says just as interesting as the maps themselves is the story of Robert Clifford and how he obtained them – it's a story, he says, that could have been pulled from the pages of a spy novel.
Clifford was born in England, the third son of an aristocratic family, but as a Catholic, was not allowed to be educated in his faith or hold positions in either government or the armed forces. So he was sent by his family to be educated in the Bishopric of Liège (modern day Belgium). There he developed a deep knowledge of the French language and culture, as well as a keen interest in the military, eventually joining Dillon's Regiment – an Irish brigade that served under King Louis XIV of France – where he was trained in the most advanced techniques in military science and cartography.
After the outbreak of the French Revolution, he returned to England where Beck says Clifford became an "indispensable advisor" to top military and government officials including former Lieutenant Governor of Upper Canada, John Graves Simcoe who asked him to aid in the creation of defences for the south of England in preparation for a possible attack by Napoleon with whom England was now at war.
Then, in 1801, during a break in hostilities, Clifford travelled to Paris, posing as an English gentleman ostensibly there to copy and translate arcane texts – but all the while quietly seeking out and acquiring scores of maps and manuscripts of strategic military value and smuggling them back to England, narrowly avoiding capture and the guillotine.
"These maps were very important for Britain," says Beck. "France was the leader in cartography at the time and their maps were very accurate – certainly the Carte de Francewould have provided all the latest information on roads and topography which the British wouldn't have had otherwise because they were lagging behind in terms of mapmaking."
The Clifford Maps Collection was first acquired by McMaster in 1968 when former University Librarian William Ready purchased a portion of the private library of the Sixth Marquess of Cholmondeley, which included about 60 maps marked with Clifford's ownership label.
Beck says it's difficult to determine definitively how the maps ended up in Lord Cholmondeley's library or if these are indeed the maps that Clifford smuggled out of France. Nonetheless, he says maps like those contained in the Clifford Map collection played an critical role in the outcome of the Napoleonic wars.
"The maps would have provided all the necessary information for the British to do very careful logistical planning for any kind of offensive they were going to take part in," says Beck. "The British would have benefitted from having that up to date and very necessary information."
The Clifford Map Collection is part of the Library's Lloyd Reeds Map Collection.  The Clifford Maps will on display at the McMaster Museum of Art until September 1.