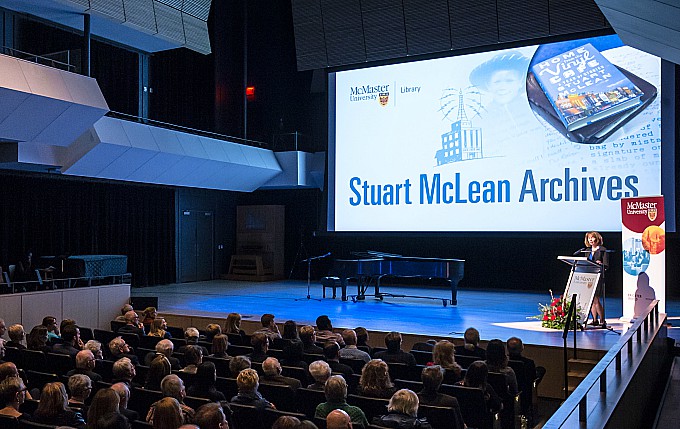 Family, friends, and more than 100 members of the McMaster community paid tribute last night to the extraordinary life and work of the late Stuart McLean – one of Canada's most beloved story-tellers – at a special event to celebrate the gift of McLean's personal and literary archive to McMaster.
The celebration, which took place in L.R. Wilson Hall, included live musical performances and poignant remarks from some of those who knew McLean best. It also showcased materials from his extensive archives, produced and gathered throughout his life and career as an award-winning author, journalist and humourist, and host of the popular CBC radio program, the Vinyl Cafe.
"This archive is a living memory. Each document, correspondence, or journal is like a still frame in my Dad's movie," said Robbie McLean, Stuart's son who spoke on behalf of his family. "To know that exploring his life can continue to be engaged in by friends, family, fans, or students gives me what my dad would call, 'Big Feelings.'"
McMaster president, Patrick Deane gave welcoming remarks at the event which included performances by John Sheard, musical director of the Vinyl Cafe, who played two selections, including Movie Night in Vinylland– a medley of 33 different movie themes arranged by Sheard for a live Vinyl Cafe concert on the history of cinema.
McMaster Students Union president Chukky Ibe gave a reading of an essay written by McLean called Summer Jobs.
Meg Masters, McLean's friend and "long-suffering" story editor, also gave remarks, recalling his generosity and sense of humour, as well as his immense talent. "I think all of us who worked with Stuart would agree that we learned so much from him about the fine art of story-telling and the sometimes underappreciated demands of humour," she said.
"Stuart was a wonderful person to work with and he was an extraordinarily gifted writer. I'm so grateful for the work that the McMaster Archives is doing in preserving the evidence of the unique talent Stuart brought to Canadian fiction."
Watch video of the event– starts at 18:00 (story continues below)
The archive – donated by McLean shortly before his death in 2017 – offers insight into many facets of his life and work, and provides a behind-the-scenes look at the Vinyl Cafe. 
Housed in McMaster University Library's William Ready Division of Archives and Research Collections, the McLean archive includes dozens of notepads used to scribble down story ideas; personal correspondence with notable figures such as Margaret Atwood, Farley Mowat, Timothy Findley, Ken Dryden, and cartoonist Lynne Johnston; and hundreds of original manuscripts, such as his iconic story, Dave Cooks the Turkey, complete with hand-written editor's notes.
"The material and artifacts produced and gathered during Stuart's extraordinary career have a permanent, protected scholarly home here at McMaster," says Vivian Lewis, McMaster University Librarian. "They will be the foundation for an untold number of explorations into the Canadian character and culture and we at McMaster are proud of that honour."
McLean's archives join those of many other renowned Canadian authors and icons in McMaster University Library's collection including Farley Mowat, Pierre Berton, Austin Clarke, Bruce Cockburn, and Margaret Laurence.
"McMaster has built a critical mass of archival materials and scholarly output in our Canadian collection, which is particularly strong in literature, popular culture and media," says David Farrar, McMaster Provost and Vice-President, Academic. "We are immensely proud to place Stuart's intellectual, creative and cultural legacy in that kind of company as a key piece of the McMaster archives."
Over his prolific and varied career, McLean worked on and contributed to some of the biggest shows in radio. He was an award-winning documentary producer on CBC's Sunday Morningand was a regular columnist and guest host on CBC'sMorningsidewith Peter Gzowski. In 1994, he created the Vinyl Cafe, which quickly became a Canadian institution.
McLean garnered many accolades throughout his career. He was an officer of the Order of Canada, and a three-time winner of the prestigious Stephen Leacock Memorial Medal for Humour. He also received honourary doctorates from a number of Canadian universities, including from McMaster in 2014.