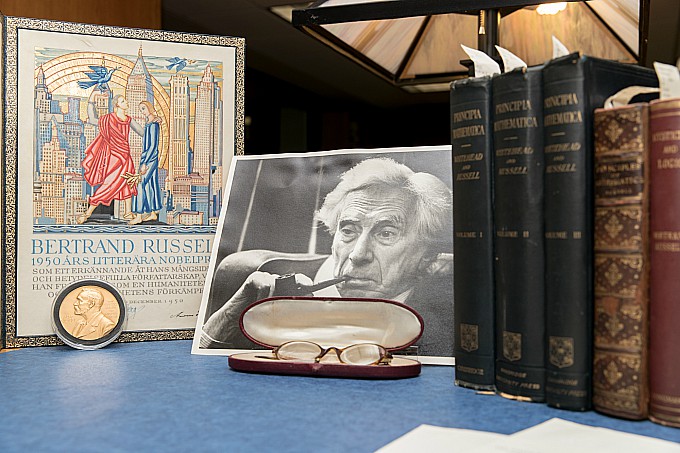 In 1968, McMaster announced that it had acquired the archives of renowned philosopher, peace activist and Nobel laureate, Bertrand Russell.
Russell was considered one of the greatest thinkers and best-known public intellectuals of the 20th century – a global household name. A number of universities were keenly interested in purchasing his papers.
Knowing that time was of the essence, William Ready, McMaster's chief librarian, moved swiftly to secure the funds needed, succeeding, in part, thanks to a gift from McMaster alumnus and financier, Cyrus Eaton.
When McMaster's acquisition of the collection was announced, it sent ripples throughout the academic world and made international headlines.
"When the Russell papers arrived at McMaster, there was a tremendous amount of media interest," recalls Ken Blackwell, adjunct professor and honourary Russell archivist, who has worked with the collection since 1966.
"I was 25 at the time and I was interviewed all over the place – my picture appeared in the New York Times along with a picture of the Russell archives," says Blackwell. "So people got to know where McMaster was through the archives – it helped put McMaster on the map."
This year, McMaster University Library is celebrating the 50th anniversary of the acquisition of the Bertrand Russell Archives, which remains the University's largest research collection, and continues to be used by scholars from around the world.
"The collection is remarkable both because of Russell's importance and because it's so complete," says Nicholas Griffin, Canada Research Chair in Philosophy and Director of McMaster's Bertrand Russell Research Centre. "Russell was one of the major intellectuals of the last century – as important as Freud or Einstein, I would claim. Also, we have either the original or a copy of just about every document connected to Russell that's publicly available. These two factors together make it a really special collection."
Bertrand Russell (1872-1970), the grandson of British Prime Minister, Lord John Russell, was a brilliant mathematician and logician. He devoted much of his early career to philosophy, becoming the most important founder of analytic philosophy, the dominant philosophical tradition in the English-speaking world in the 20th century.
But it was his advocacy for peace and social reform that catapulted him to global fame. It began with his opposition to the First World War, during which he was imprisoned for his activism. In 1950, he was awarded the Nobel Prize in Literature for his prolific writings championing human rights and freedom of thought.
He was also an central figure in the Campaign for Nuclear Disarmament. "Russell saw the Cold War and the threat of nuclear weapons as a seismic change," explains Myron Groover, archivist and rare books librarian in the William Ready Division of Archives and Research Collections, where the Bertrand Russell Archives are housed.
"He was intimately involved in the nuclear non-proliferation movement and he also became personally involved," says Groover. "At the height of the Cuban missile crisis, Russell was sending telegrams to President Kennedy and Nikita Khrushchev, pleading with them to back down – they did, perhaps at his urging. That's how influential he was by that time."
Throughout the 1950s and 60s, Russell corresponded with dozens of heads of state – including those from Soviet bloc countries and communist China – and with celebrities like John Lennon and Yoko Ono, and Muhammad Ali. He even exchanged letters with Alan "Tommy" Lascelles, private secretary to Queen Elizabeth II.
These letters can be found in the Russell archives, along with hundreds of manuscripts, and thousands more letters, both published and unpublished. The collection also includes Russell's personal library of more than 3000 books, hundreds of photographs, his writing desk, audio tapes, films and his Nobel medal.
The collection, by far the largest on Russell in the world, has inspired a wealth of scholarly activity in a number of areas including peace and religious studies, philosophy, history, political science, literature and even mathematics.
"This collection is truly remarkable both for its size and for the tremendous influence it has had on scholarship since it arrived at McMaster 50 years ago," says Vivian Lewis, McMaster University Librarian. "Russell's political and philosophical writings provide a unique window into the 20th century through the eyes of one of its greatest intellectuals and continue to offer scholars insight on many themes – from nuclear disarmament to the struggle for human rights – which remain deeply relevant to this day."
Throughout 2018, the Library will be marking the 50th anniversary of the acquisition of the archives in a number of ways including an exhibit of items from the Russell collection at the McMaster Museum of Art, and through a special edition of the Hamilton Arts and Letters magazine, edited by McMaster archivist Rick Stapleton.
The Library will also celebrate the opening of the new home of the Bertrand Russell Archives and Bertrand Russell Research Centre. The newly renovated space, located at 88 Forsythe Ave. N., is scheduled to open this spring.
Related News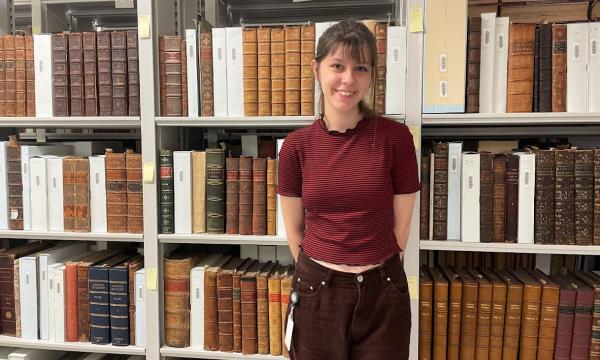 Students of summer: Meet Kate
Kate Oruc, archives and research collections assistant, shares what exciting historical material is held at McMaster.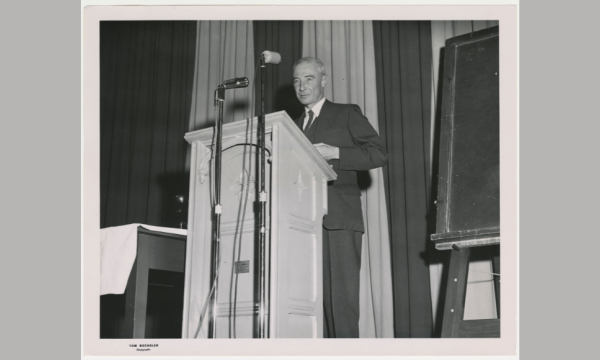 The Flying Trapeze: Oppenheimer's McMaster triple-feature
The William Ready Division of Archives and Research Collections holds photos of J. Robert Oppenheimer from his visit to McMaster in 1962.