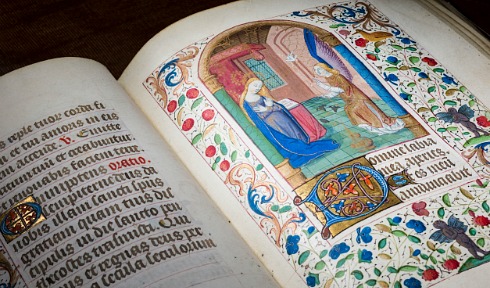 Five centuries ago, the Book of Hours, now held by the William Ready Division of Archives and Research Collections, was a cherished possession, an integral part of daily life in the Middle Ages.
As the years passed however, this once treasured book succumbed to a slow decay, its spine disintegrating, the fine artwork that adorned its pages flaking away little by little, another piece of history nearly lost forever.
It took more than eight months, but thanks to modern restoration techniques and skilful artistry, this medieval gem now looks as it did when its original owner first held it 545 years ago.
"A book of hours is a piece of art," says Audrie Schell, Preservation Technician in the Division who restored this unique text in McMaster's Preservation Lab. "Books of hours were commissioned works, so this is a one-of-a-kind item, an historical artefact that belonged to a specific person over 500 years ago, it's very special."
Books of hours, commonly used throughout the Middle Ages, were devotional texts containing cycles of psalms, prayers, hymns, readings and images of medieval Christianity that served as a daily guide to help the faithful lead pious lives and find salvation.
Over the centuries, McMaster's book of hours had become badly damaged. Its pages, made of animal skin, or 'vellum,' had been exposed to moisture, forming waves and wrinkles, which caused the pigment to crack and the artwork to begin to flake away.
Schell began the painstaking restoration process by using a specialized humidity chamber and suction table that enabled her to gently stretch and flatten each vellum page individually. Then, using a fine brush, she applied a consolidant to re-adhere the flaking pigments, and hand-bound the pages, placing them in a leather cover.
The result is a stunning, one-of-a-kind work of art that now looks as vibrant as it did in the 15 century.
"We all need to have roots whether we're conscious of it or not, and we need to know our history," says Schell. "Without conservation, the history in these books could be lost, we need to preserve them for future generations."
To view the Book of Hours, please contact archives@mcmaster.ca to make an appointment.
Read this and other articles featured in the latest issue of the McMaster Library News.