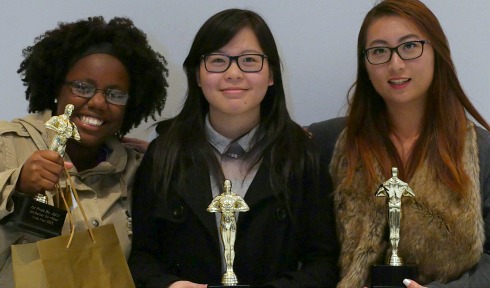 The Lyons New Media Centre rolled out the red carpet for the fourth annual McMaster 24 Hour Film Festival gala event.
McMaster students, alumni, staff and faculty gathered at the Art Gallery of Hamilton to screen the top nine festival entries and to announce the winning films as selected by a jury of industry specialists.
The festival challenged McMaster students and alumni, as well as students from Westdale High School, to create a five-minute film over a 24-hour period using three elements; a randomly assigned prop (A twist tie), a line of dialogue ("Hey. What's your name? What do I call you?" from Mad Max: Fury Road) and a location (beside a vending machine).
Glenesha Grant, Xueqin Lin and Rosa Luo took top honours at the festival with their film, Lessons with Mr. T2, which was also received the Audience Choice Award. "Masked," a film submitted by a team from Westdale High School, tied for third place.
To help teams prepare for the competition, the Lyons New Media Centre* created online workshops and provided participants with access to mentors, as well as production equipment and resources.
*The Lyons New Media Centre, located in Mills Library, is a media space for the innovative creation and use of new and traditional media in teaching, learning and research at McMaster.
View the winning film, Lessons with Mr. T2, below: