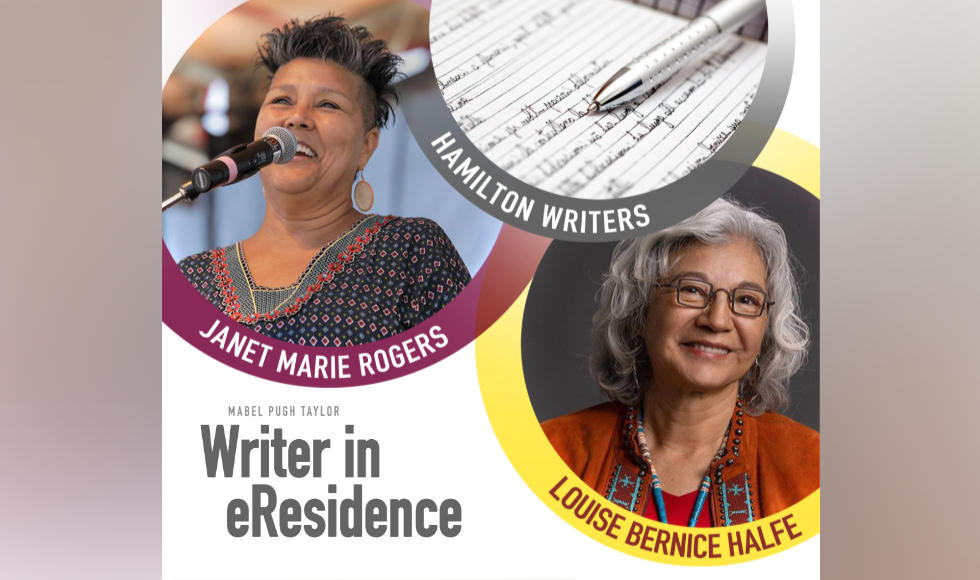 By Sara Laux, Faculty of Humanities
Janet Marie Rogers' time as the Mabel Pugh Taylor Writer in Residence was … well, like so much in 2020, "unprecedented" is probably a good word.
Rogers, a Mohawk/Tuscarora writer from Six Nations of the Grand River territory, began her residency almost exactly a year ago – just as the world was going into lockdown with the first wave of COVID-19 infections.
In an ordinary year, the writer in residence, supported by McMaster's Department of English and Cultural Studies, the McMaster University Library, and the Hamilton Public Library (HPL), works with aspiring writers both at McMaster and within the wider Hamilton community, meeting with them during in-person "office hours" to discuss their work and offer suggestions and feedback.
This year was, understandably, different.
"We didn't think the pandemic would drag on so long – I have an office on campus that I've never seen," laughs Rogers. "It would have been great to meet with people in person, but we adapted just fine. We may have been connecting digitally with each other, but the connection was still there."
Rogers' first project was to bring writers and storytellers together around a common theme, one that resonated with almost everyone in the early days of the pandemic: home. The result was the podcast "Writing Home," which premiered in June: two episodes of 50 poems, essays and other works by writers from the community – one that featured works exploring the idea of home, the other highlighting pieces about the pandemic.
A podcast had never been created by a writer in residence before, points out Daniel Coleman, a professor in the department of English and Cultural Studies – but, of course, the unusual year called for some creative solutions.
"Janet was innovating left, right and centre – and we were just running behind her trying to keep up," he says. "She wasn't just adaptable, but was able to foresee opportunities to adapt – her ingenuity and ready creativity has been a boost to the whole program."
Of course, the year wasn't without its challenges – mostly in the early days, says Shelley McKay, manager of communications for the HPL, as the partners worked to figure out ways to hold online events that included a number of different people, locations and technologies. Ultimately, though, it all worked out – and may provide some lessons for future years, she says.
"I think this year showed that you don't have to be in person to get a really great connection," McKay explains. "Even if you couldn't get out and about, you could still get time with a fantastic writer – and that's good for everyone in the community. You don't have to go somewhere physical to get valuable feedback."
Vivian Lewis, McMaster University librarian, says it is a testament to Rogers' inventiveness and commitment that she was able to maintain the spirit of the writer-in-residence program despite the many challenges of the pandemic.
"Janet reminded us that great writing can occur even under the most difficult of circumstances," Lewis notes. "She inspired writers to share their thoughts and feelings at a time when many were struggling to find the words to express themselves. Her mentorship of local writers and storytellers will endure long past this one year, and we are so grateful to her for everything she has done."
Now, as Rogers' residency comes to an end, it will be celebrated with two online events.
The first, on April 24 from 6 p.m. to 7:30 p.m., will celebrate National Poetry Month with readings from Rogers and Louise Bernice Halfe, Canada's Parliamentary Poet Laureate. Halfe, who is also known by her Cree name, Sky Dancer, will chat with Rogers and read from her latest book awâsis – kinky and disheveled, released this spring.
Rogers will read from her recent collection, Ego of a Nation.
The second event, on April 30 from 6 p.m. to 7:30 p.m., will feature local authors who received literary consultation from Rogers. They'll be reading from their works – ones created during a year that has been, for everyone, filled with both challenge and inspiration.
"There's been so much distress in this pandemic – but this residency has gone so incredibly well," says Rogers. "I've been able to serve the local writing community, and I wouldn't have been able to do that so well without the help of McMaster's English and Cultural Studies department, the McMaster University Library and the HPL – they've all been so incredibly supportive. I feel very honoured to have been in this position."