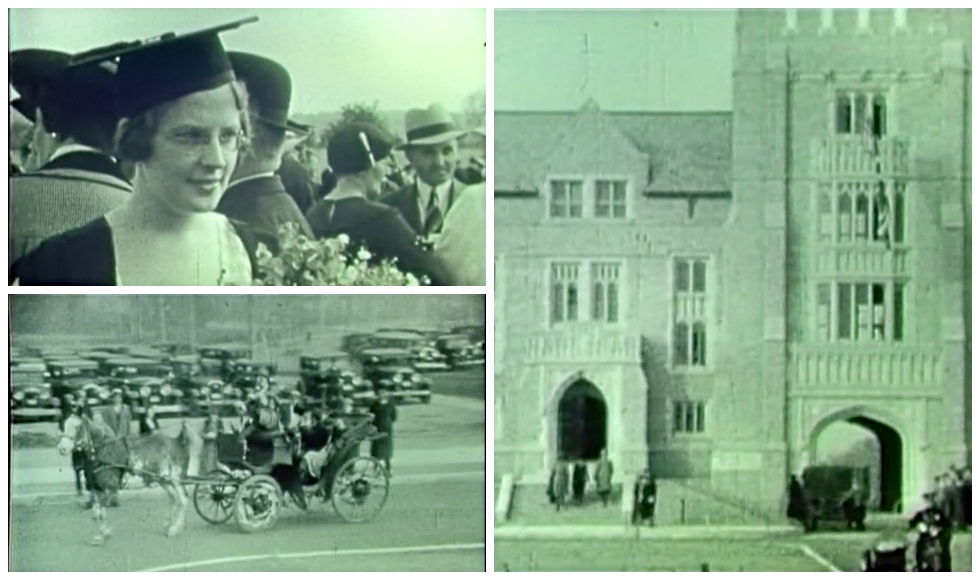 In 1934, the first students to begin their studies at McMaster's new Hamilton campus celebrated their convocation.
Four years earlier, McMaster had moved to Hamilton from its original campus on Bloor Street in Toronto after Hamilton citizens raised funds to relocate the university to Westdale.
A small class by today's standards – made up of 71 women and 104 men – their historic convocation was captured on film, an unusual occurrence in 1934 and a sign of the importance of the occasion.
The footage reveals a campus very different from that of today, but which already included many familiar landmarks such as Convocation Hall, Hamilton Hall, and the Refectory (better known today as the Phoenix), among others.
Nearly 90 years later, the footage still conveys the pride and sense of accomplishment felt by those first graduates and their families on that day – a feeling experienced by generations of McMaster graduates, then and now.
This one-of-a-kind film footage is among a number of vintage McMaster films that can be found online in McMaster University Library's Digital Archive.
These unique films, originally shot on 16-millimeter film or video cassette between 1930 and 1980, are among the historic film and audio materials that have been digitized thanks to a gift from the Class of 1950.
"The Class of 1950 has had a long tradition of supporting our libraries at McMaster," says Karen McQuigge, McMaster's director of alumni advancement who explains that the class of 1950, funded the digitization project in 2015 to mark the 65th anniversary of their graduation from McMaster.
"From funding the MORRIS Gateway Project in 2002 to later gifts enabling the use of new technologies, they have had an eye to supporting the foundation of the Library while ensuring we preserve our history."
Digital Archives Librarian, Bridget Whittle, says that prior to being digitized, the original footage had been carefully stored for decades, but rarely viewed due to the delicate condition of the film, and because the long-obsolete equipment needed to screen the footage had become increasingly difficult to maintain and repair.
"The fact that we have these films is amazing, particularly when you consider that so little film, particularly from the 30s and 40s, has survived," says Whittle. "For years, these films were stored in cannisters without anyone having the chance to see them. Digitizing them has created a wonderful opportunity for alumni and others to discover these treasures."
Blast From the Past 1930's from McMaster University (OFFICIAL) on Vimeo.
The films capture a number of key events and prominent figures in McMaster's past including the opening and dedication ceremonies held after the university's relocation to Hamilton, convocation ceremonies from 1934,1943, 1957 and 1978, and footage of former McMaster presidents George Gilmour (1941–1961) and Harry Thode (1961–1972).
The films also capture student life over the decades and feature some hidden gems including a series of skits created for a psychology lecture and performed by McMaster alumnus and actor/comedian Martin Short, as well as Orientation, a short film produced and directed in 1968 by McMaster alumnus, Ivan Reitman and the McMaster Film Board. According to Reitman, the film was the forerunner to his comedy classic, Animal House.
Whittle says the digitization of these films is part of a larger digitization program aimed at making important and unique materials from the Library's world-class research collections readily available online to scholars worldwide.
"We've made good progress on digitizing a number of our key materials," says Whittle. "Donations like the generous gift from the Class of 1950 really help us to move that important work forward."
Long-time supporters of McMaster University Library­, the Class of 1950 have provided funding for a number of Library technology projects over the years– most notably the McMaster University Library Gateway Project in 2002. 
The class of 1950 has also provided funding to digitize the audio of a number of talks with prominent figures such as Noam Chomsky, Joseph Campbell, Bertram Brockhouse, Pierre Berton, Margaret Atwood, Roberta Bondar, and many others. This digitization work is ongoing.