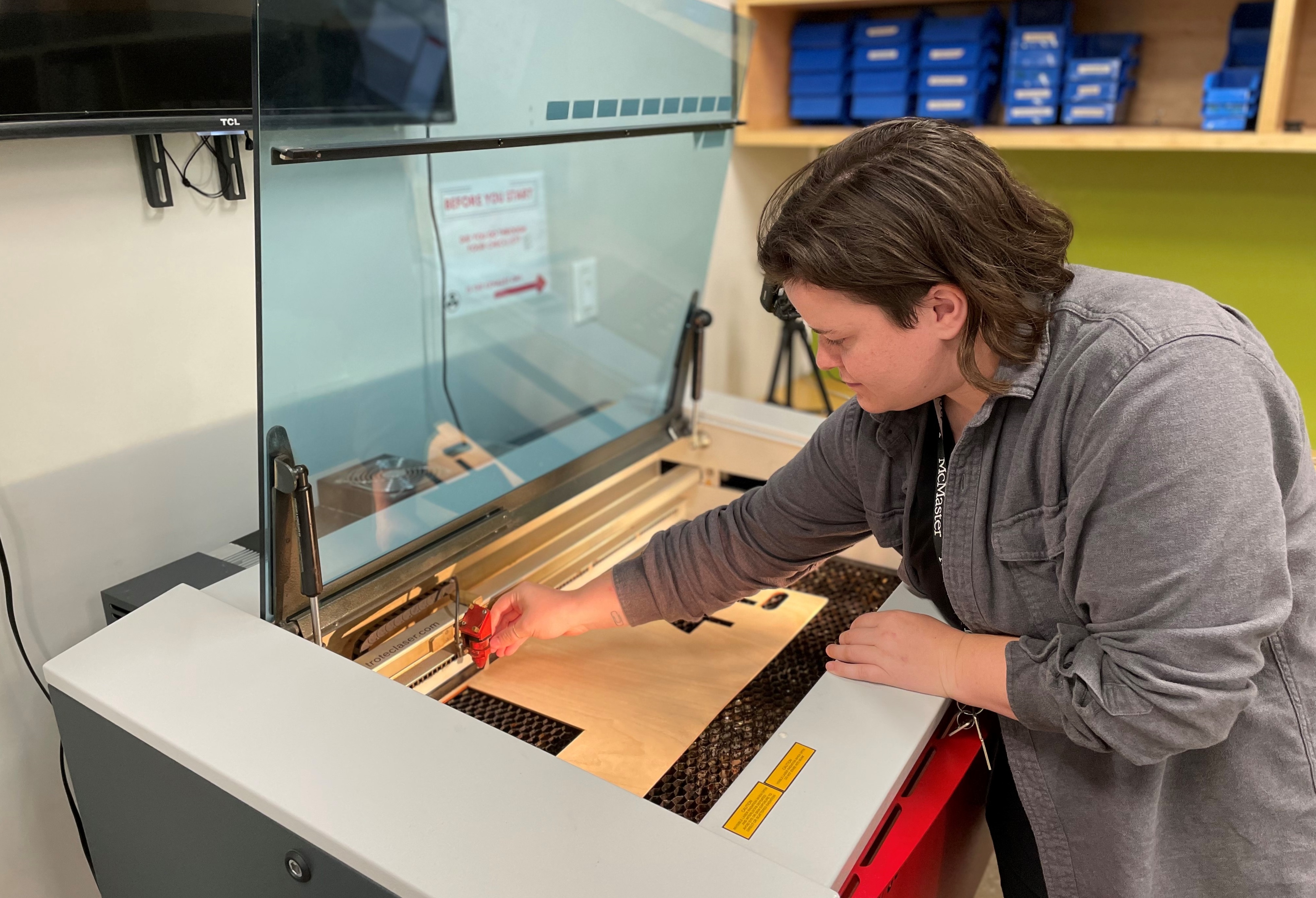 After being closed for more than two years, the doors to Thode Makerspace have officially reopened.
Housed on the lower level of H.G. Thode Library of Science and Engineering, Makerspace offers all McMaster students, faculty, and staff a place to learn, collaborate, and experiment with a range of technologies.
The McMaster community was welcomed back to the experiential learning facility on Tuesday, Sept. 6 with an open-house style reopening.
"We chose to host an open-house the first week of fall term so we could focus on introducing the space to the large pool of new community members who have never accessed the facility," said Brittany Sostar, Thode Makerspace coordinator.
Sostar joined the team at McMaster University Library in May and has spent months thoughtfully preparing to reopen the space, which offers several work benches and a range of high and low-tech tools and equipment.
"This week we're encouraging users to get familiar with where we're located, explore the space and ask questions, and get started on safety training," said Sostar. "Our various equipment will be available to use and book starting the second week of fall term."
New this year to the facility's impressive suite of equipment is a vinyl cutter and four additional 3D printers – one of which has multi-colour capabilities.
The team also revamped the Makerspace safety training course available on Avenue to Learn and introduced a new safety training certificate.
The Makerspace Safety Passport—a business card sized certificate—acknowledges individuals who have completed the required general orientation training module. Upon proof of completion, users will have access to the space and its low risk tools and equipment.
Additional training can be completed and verified on the passport for users wanting to access certain high-risk or technical equipment in the space, such as the laser-cutter/engraver and soldering iron stations.
"Safety is at the forefront of our operations at Makerspace," said Sostar. "The new safety passport provides a simpler way for myself and the Makerspace students assistants to verify that users accessing the space have completed the required safety training."
Drop-in training will be available throughout the month for individuals to complete the in-person training components.
Equipment will be available to book on the Makerspace webpage starting Monday, Sept. 12.
Ann Pearce, manager of Thode Library, said it was important to have the space ready for the start of fall term and that she looks forward to a new wave of users accessing the space.
"Since its opening, Makerspace has provided hundreds of McMaster students, faculty and staff across disciplines the tools and equipment to tap into their creativity in an experiential learning environment," said Pearce. "I'm thrilled to finally offer this unique service to our community again."
To learn more about Thode Makerspace or to view hours of operation, visit the webpage.
For questions, email mkrspace@mcmaster.ca.