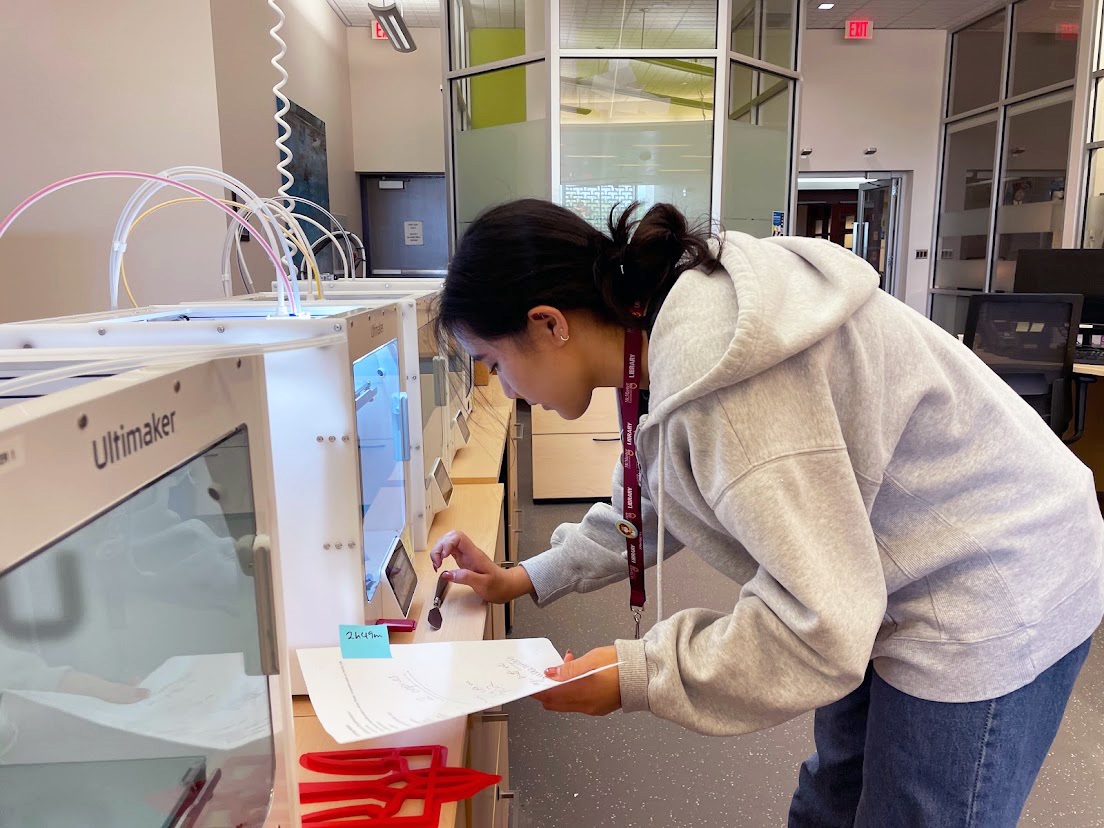 By Krisha Mehta, Library Communications Student Assistant
Jeannette Oh is determined to promote the learning of media as the newest form of knowledge.
As a student assistant at Lyons New Media Centre, Oh is fascinated by the accessibility of resources and knowledge that the Centre provides. Being able to facilitate the learning of different software and equipment is important to her.
"Lyons is an extension of the library's purpose," she said. "While the library promotes knowledge and learning with books, periodicals, and articles, Lyons promotes this with media."
Oh, who started working at Lyons New Media Centre at the beginning of May, is entering her third year of the Arts & Science Program. Her job includes circulating materials such as camera equipment and microphones and managing room bookings for spaces like the audio booths and media production room. She answers patrons' questions and runs the 3D printers. She also works on summer projects with her team and does self-learning on Adobe Creative Cloud.
"Working here gives me a direct opportunity to become familiar with digital art and equipment," said Oh. "It's also equipping me with important hard skills I'll need in my career."
Oh is grateful for the work environment at Lyons that keeps her energized and inspired.
"Everyone is super welcoming, warm, and willing to help," she said. "Discussing ideas or projects is where I get most of my inspiration because everyone is so proactive."
Aside from working at Lyons and sharpening her digital art skills, Oh spends time with her friends, trying new foods, and reading.
"I read exclusively for leisure during the spring and summer since I don't get time for it during the school year," said Oh. "I'm currently reading Crying in H Mart which has been good so far."
Rhonda Moore, manager of Lyons, says Jeannette is a welcome addition to the team.
"Jeannette has a great work ethic and greets everyone who enters Lyons with a warm smile and friendly attitude," said Moore. "Her art background is a great asset to the work we do in Lyons, and I look forward to seeing some of the designs she can create for us."
This opportunity has taught Jeannette how much McMaster University library has to offer.
"Any skill that you're interested in, look for it and McMaster probably has it to offer," she said. "Take the opportunity and time for your self-learning."
Students of summer is a storytelling series from McMaster University Library featuring the student assistants who work in our spaces and provide valuable assistance to patrons during the spring and summer months.
Related News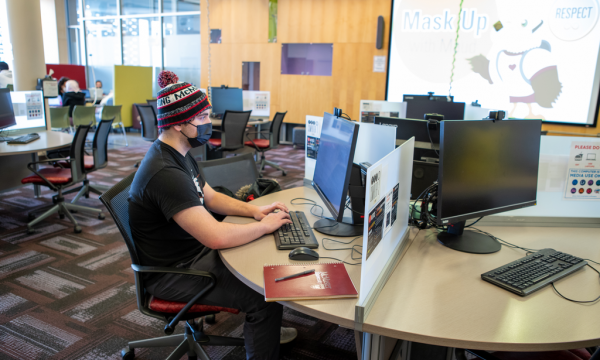 Lyons New Media Centre open, expands services for winter term
Lyons New Media Centre has expanded its winter term services to include the media production studio and audio recording booths.