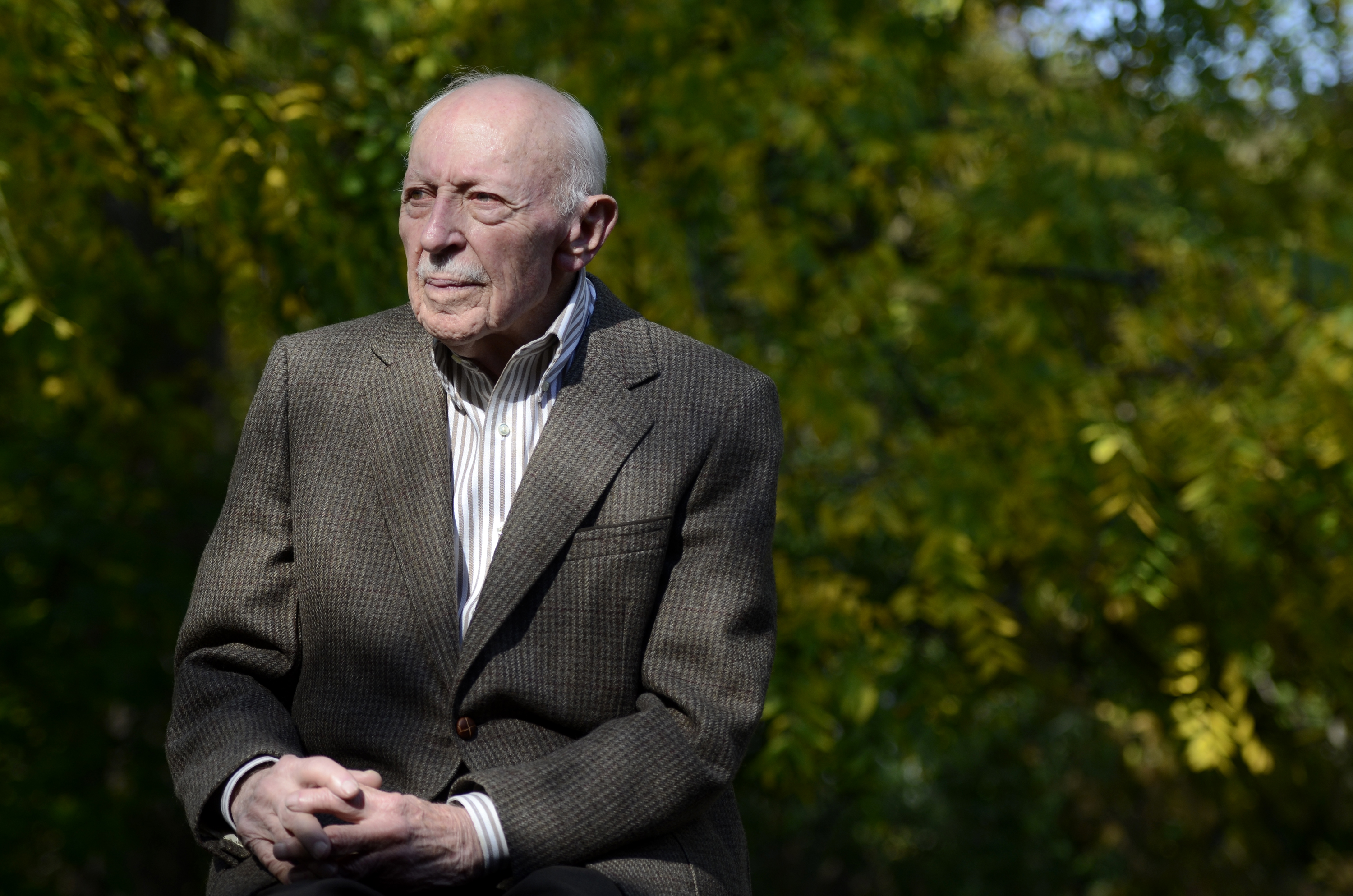 I have vivid memories of reading Rabbi Bernard Baskin's various essays and letters in the Hamilton Spectator and talking with my parents about them around the kitchen table.
Raised in a Catholic household in Hamilton, I was captivated by his writings on some of the most challenging social issues of the time. I was moved by the clarity and openness of his thinking, and his strong sense of social justice.
As I grew older, I gained a better understanding of the Rabbi's profound influence on the community.
Much has been written of his extraordinary record of civic engagement. He and his wife Marjorie actively supported many of Hamilton's most crucial social service agencies. He also sat on the boards of McMaster University, the Art Gallery of Hamilton and the Hamilton Public Library.
He was, of course, recognized for this record as one of the first recipients of the B'nai B'rith Humanitarian Award, as Hamilton's Jewish Community Man of the Year, and as the Hamilton Distinguished Citizen of the Year. 
Perhaps as noteworthy was his comfortable presence in houses of worship of all faiths. He came to Hamilton at a time when Catholic, Protestant and Jewish people led very separate lives. Certainly, that was the case even when I was growing up.
He brought rabbis, ministers, priests and their congregations together in ways that previously seemed unimaginable. When asked about his single greatest accomplishment for a 2015 article in the Hamilton Jewish News, he said it was "bringing the message of Judaism to a larger community" and "bringing the message of liberal Judaism to the Jewish community." 
When I stepped into the role of McMaster's University Librarian almost 10 years ago, the Rabbi was one of the first individuals with whom I connected. I reached out to him because of his ongoing engagement in the University, having received an honorary doctorate in 1969 and served on our Board of Governors for many years. He was also a lover of books and art – the things that any good University Librarian cares deeply about. 
The Rabbi donated more than 1,500 of his most rare and valuable books to McMaster University Library, with the oldest book dating back to 1571. The collection includes a significant amount of Judaica, but in keeping with the Rabbi's own broad tastes, also includes a wide range of history and politics, classics, literature, math and science. Many of these texts are uncommon and all are unique in having been part of the great Baskin library.
Just a few years ago, the Rabbi donated a complete set of Bernard & Picart's Religious Ceremonies of the World – a stunning and lavishly illustrated 11-volume work that represented a first foray into what we would today recognize as comparative religions. McMaster is one of the few, if not the only location, where these books are available for study. In accordance with the Rabbi's wishes, we hold these books in trust for humankind. 
The Rabbi also donated 225 extraordinary works of art to the McMaster Museum of Art. Among these valued pieces, 208 were created by his brother, the American sculptor, printmaker and private press editor, Leonard Baskin.
My memories of the Rabbi are admittedly shaped around our shared love of the written word and regular visits.
The Rabbi was an assiduous book collector and a voracious reader who led book talks wherever he went in Canada and the United States. For years, he was the proprietor of an antiquarian bookselling firm specializing in Judaica, typography and illustrated works. He owned so many books that he needed to have compact shelving installed in his own home.
Books were more than physical objects or a passing fascination for the Rabbi. As one biography noted some years ago, they represented a "way of life mirroring the wonder and complexity of the human condition." 
He was deeply interested in the life of the book, and the future of libraries and galleries, bookstores and book collecting as a reflection of the human spirit.
The Rabbi had lived through some of the world's darkest times. He had seen humanity at its worst, but he still chose to see God and goodness in others.
During my last visit with him, I lamented the challenges brought about by the pandemic. He acknowledged those hardships, but also saw the opportunities to rethink practices and relationships. He spoke at great length about the value of books and libraries during the most challenging times in human history. He counselled me, not to bemoan the present but to plan for new and better times ahead.
I know that he corresponded and supported many other people throughout the community, but he always made me feel that his support for my work was somehow special.
He would sign his messages, "From one of your faithful fans." 
We all need faithful fans in our work and in our lives.
Rabbi Bernard Benjamin Baskin died on Jan. 18, 2023, at the age of 102. He is survived by his children, grandchildren, great-grandchildren, sister and friends. This is an adapted excerpt of Vivian Lewis' speech delivered on Feb. 16, 2023, at Temple Anshe Sholom Hamilton marking the 30th day of mourning.