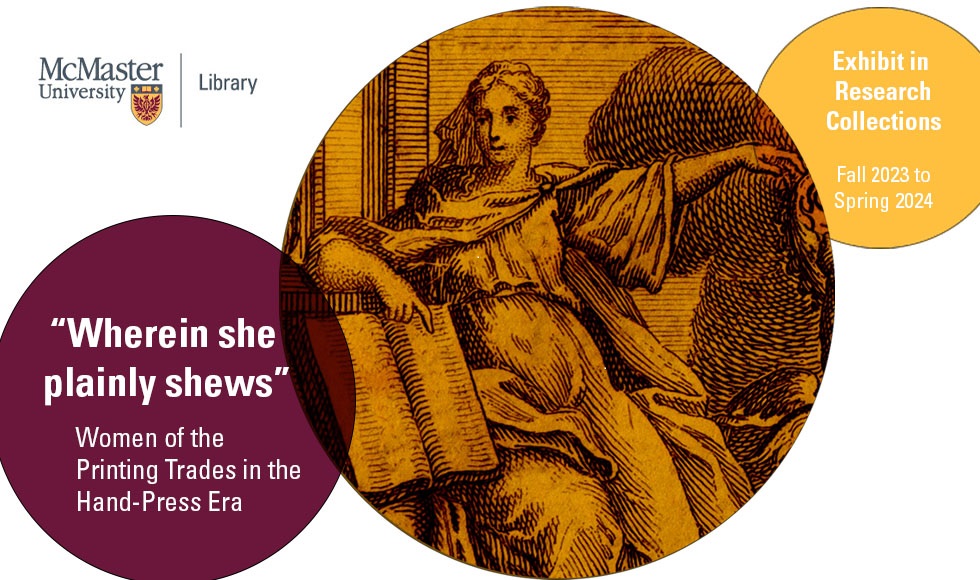 A new exhibition coming to McMaster University Library is calling attention to the likely unfamiliar history of women in the printing trades.
Launching this fall, "Wherein She Plainly Shews:" Women of the Printing Trades in the Hand-Press Era will celebrate some of the many thousands of women who actively contributed to the print industry in western Europe before 1800. Ruth-Ellen St. Onge, distinctive collections cataloguing librarian, and Myron Groover, archives and rare books librarian, worked together to curate the display.
"McMaster University Library is home to a great number of rare books, broadsides, and pamphlets that were printed or published by women during the hand-press era," said St. Onge. "This exhibition helps reveal the lesser-known but critically important role women played in the printing trades." 
St. Onge says these stories can be difficult to uncover, as it involves working against the grain of historical legal systems and guild rules — both of which excluded women from the workforce for much of the early modern period. 
"A woman, for example, could not legally own a printing business — no matter how important she was to its operations — except through inheritance upon the death of her spouse," she said. "Even after inheriting a press, the woman would be referred to on the title page of new publications as the widow of her husband."
The in-person exhibition will feature the work of several women who were active in the print trades during the early modern period and highlight the output of early woman-owned presses, including those of Mary Clark, Elinor James, Anne Dodd, Pierre-Paule Garnier, and the entirely woman-operated École Typographique des Femmes which took shape during the French Revolution. 
Among the items featured in the showcase is a French liturgical book produced in 1728 by Pierre-Paule Garnier, a noteworthy and successful woman printer and publisher, in honour of Queen Marie Leszczyńska — the wife of Louis XV. The book is embellished with a detailed armorial binding that features the Queen's coat of arms.
Also on display is a plain, one-page opinion piece from which the exhibition takes its name, says Groover. It comes from the press of Elinor James, an Englishwoman who came into ownership after her husband passed away.
"What's most significant about this single printed sheet is the woman behind its production," said Groover. "James is frequently described as a controversialist, and the sheet on display is just one example of how she used her press as a vehicle to take public stances on political and religious issues of the day." 
James, like many women printers, faced an uphill battle to keep her press running. 
"Inheriting your husband's press didn't mean that other men in the trade were going to want to do business with you," said Groover. "The women we're spotlighting had extraordinary tenacity and business acumen to successfully take the reins.
"When you consider the structural barriers that women in the hand-press era faced at all corners of the printing trades, it's even more remarkable that we have these examples to share." 
A preview of "Wherein She Plainly Shews:" Women of the Printing Trades in the Hand-Press Era will be on display during an in-person curators' talk at the Lloyd Reeds Map Collection classroom in Mills Memorial Library on October 5, 2023, from 4:30 to 5:30 p.m. The free event will feature live commentary from Ruth-Ellen St. Onge and Myron Groover. Register for the event on Eventbrite.
The full exhibition will be installed at the William Ready Division of Archives and Research Collections following the event, where it will be available to the public from early November 2023 until spring 2024 as part of McMaster Library's series, Transformative Stories: Year of Gender and Justice.
About Transformative Stories: Year of Gender and Justice
Transformative Stories: Year of Gender and Justice is presented by McMaster University Library in collaboration with campus and community partners, and will feature a lineup of free, public programming from fall 2023 through summer 2024. The series is part of McMaster University Library's biannual "Year of" celebrations, which are aimed at highlighting the library's unique collections, resources, and expertise and emphasizing its vital role in supporting the research, teaching, and learning mission of the university. For more information, visit the Year of Gender and Justice webpage.
Related News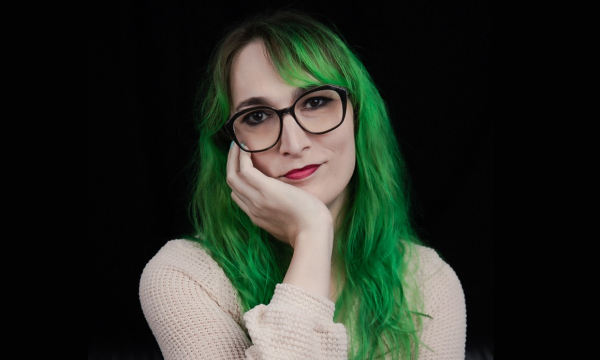 Year of Gender
McMaster writer publishes powerful memoir
Debuting this month, My Body is Distant: A Memoir follows Paige Maylott from childhood to present-day as she discovers her authentic self through virtual worlds.