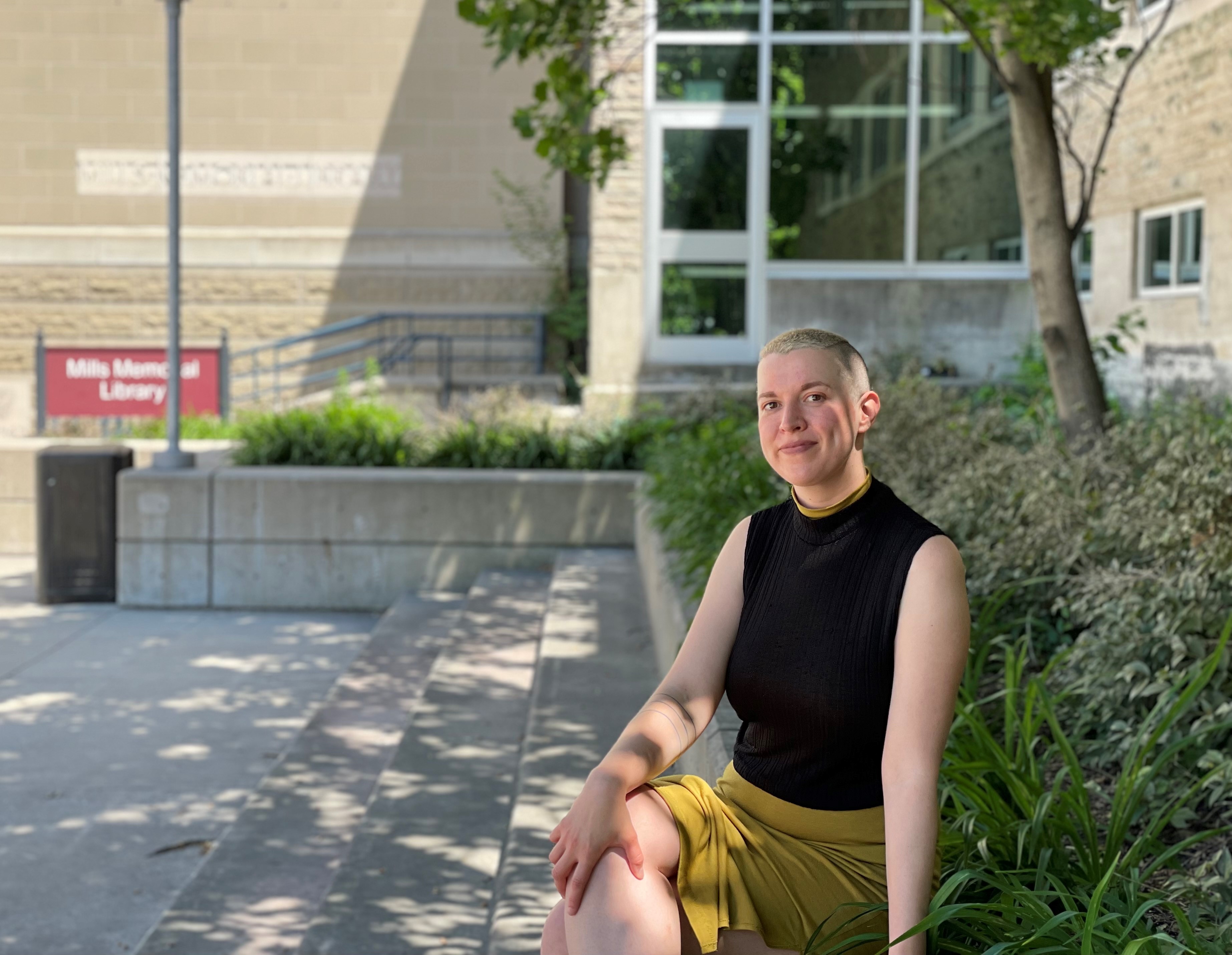 Danica Evering brings a robust resume of skills and experience to her new role as a research data management specialist at McMaster.
Launching her career at an international arts organization engaged in social practice, Evering coordinated outreach and programming for several multi-year projects in regional and international cities.
She went on to work as education officer at Humber Galleries, expanding the gallery's education and engagement activities across programs at Humber College.
In her latest role, Evering managed membership databases, interpreted health-care data for a range of audiences, and delivered successful government proposals.
Evering is new to the library space – apart from a short stint volunteering as a page at the Cobourg Public Library as a preteen – but eager to leverage her experience with data, research, and cross-disciplinary collaboration to support the research community at McMaster.
As she settles into her role, which is reports to both the University library and Research and High Performance Computing Support, Evering spoke about assisting researchers on campus, the importance of research data management, and what she's most looking forward to in her work.
What does your role entail at Research Data Management Services?
I am one of two research data management (RDM) specialists at Research Data Management Services. Among my responsibilities is supporting researchers on campus throughout the process of data management. This involves one-on-one consultations with researchers to help them with data management planning, security, organization and documentation, storage and backup, and deposit. It also involves outreach and training initiatives, such as hosting workshops to encourage more researchers on campus to take part in RDM.
What drew you to this job?
When I came across this position it felt like a dream posting because I could braid together all the experiences I've had with art, healthcare, research support, knowledge translation, teaching and training, outreach and engagement, data quality, and process/framework development and apply it to this role. RDM relates to the broader theme of open and reproducible research and foregrounds the importance of sharing knowledge and outputs by the research community. It's an exciting field that has a long history but is growing quickly to meet expanding needs and expectations. There is still so much room to include a diversity of data within its scope: oral histories, images, diagrams, sounds, and more.
Why is RDM important?
Researchers from all disciplines perform RDM regularly over the course of their work. However, RDM needs are growing with developments in research practices (more data and more complex data) as well as funding agency requirements, privacy legislation, data sharing agreements, and more. There are many benefits to researchers in applying good (or best) RDM practices. Firstly, your data will be securely stored and backed up, which lowers the risk of losing data. It also makes your data more easily accessible and better organized throughout the research process. Another benefit to RDM is that it allows for connectivity and collaboration. When a researcher deposits their data into the repository, it will have a digital object identifier (DOI) and Open Researcher and Contributor ID (ORCID) attached to it which connects the data to the researcher. So, if someone else is working with your research, they'll be able to contact you and connect, which can lead to future collaborations.
How does your role support research activities on campus?
There's a lot of opportunity to support researchers on campus. One of the ways myself and Isaac Pratt, fellow research data management specialist at McMaster, can do that is through our one-on-one consultations with researchers. Within these consultations we can support researchers with RDM practices including data management planning, data deposit, and creating data documentation. This role also involves campus-wide outreach and training and development, which includes class visits, workshops, and document creation. Beyond that, researchers can always visit our website to view our catalogue of training and workshop videos, use our Research Data Storage Finder, and access other resources to support them at every step of the data life cycle. We're also working with a group of researchers from all faculties, ethics boards, libraries, IT and research support units, McMaster Indigenous Research Institute, the hospital research teams, and others to develop McMaster's Institutional RDM Strategy. This is required by the main research funders and will lay out a plan to support and expand a culture of RDM at our university.
What are you most looking forward to in this role?
I'm really looking forward to working with Isaac and the rest of the team to support this work on campus. There are many people doing data adjacent work at McMaster, and because RDM is so expansive, it is a very collaborative community of practice involving many different groups at the university as well as nationally and internationally. There is a lot of opportunity to think together, learn together, and grow and define the field.
What is something we might not know about you that you'd like to share?
I've played tabletop role-playing games since I was 13. I think there's something amazing about collective storytelling as a group. My current character in Dungeons & Dragons is a dwarf bard barbarian; she's a fantasy version of a WWE fighter.
Research Data Management (RDM) is the active organization and maintenance of data throughout its life cycle. Research Data Management Services at McMaster University provides several resources, including personal support, to assist researchers on campus with a variety of RDM processes.