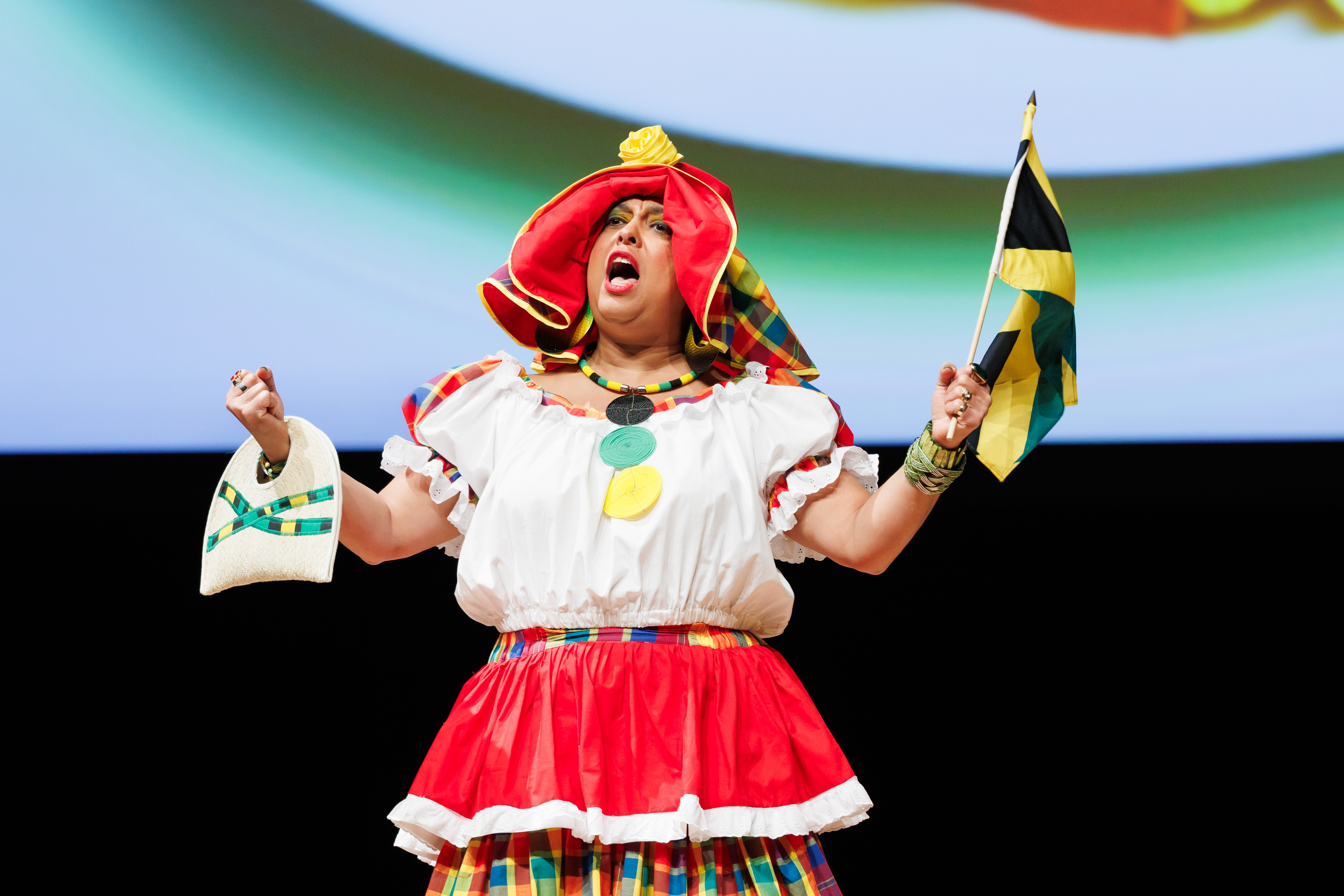 McMaster University and the Consulate General of Jamaica, Toronto came together to present an afternoon of music, dance, poetry, and folklore to mark six decades of Jamaica's independence.
"TALK YUH TALK": A Celebration of Jamaica's 60th Anniversary of Independence took place at L.R. Wilson Hall on Dec. 10.
McMaster was a fitting location for the 200-person event as the Louise "Miss Lou" Bennett-Coverley archive can be found in its William Ready Division of Archives and Research Collections.
"Among the many joys of my role is celebrating occasions that have a deep connection to our archives and research collections here at McMaster," said Vivian Lewis, McMaster's University Librarian.
"The University Library is particularly proud of our rich partnership with the National Library of Jamaica. The National Library holds Miss Lou's vast collections from her early life in Jamaica while McMaster holds Miss Lou's collections from her later life in Canada. Together, we work to support and promote Miss Lou's historical record for scholars wherever they are."
The event featured additional tributes to Louise "Miss Lou" Bennett-Coverley, renowned Jamaican poet, folklorist, writer, and educator. Materials from McMaster's collection were also on display at the event.
"McMaster has collaborated with us and has made us part of that group of persons, that body, which provides the intellectual network and facilitation for us to grow and have a better understanding," said Leslie Campbell, State Minister in the Ministry of Foreign Affairs and Foreign Trade in Jamaica, in his remarks to the crowd.
"We want that to continue, and today provides that opportunity to celebrate one of our daughters."
Live performances throughout the event included musical selections by Heritage Singers (Canada), saxophonist Dave McLaughlin and the HMCS Star Band, poetry by Tania Hernandez, and routines by KasheDance. There was also a long bench chat with Vivian Crawford, executive director, Institute of Jamaica.
The connection between McMaster and Jamaica can be traced back to the 1970s, when McMaster undertook an extensive student recruitment program across the islands of the Caribbean.
In 2010, the McMaster-Jamaica relationship was strengthened when the university acquired the archive of "Miss Lou".
"Relationships have been the cornerstone of McMaster-Caribbean partnerships over the years, and its relationships that are positioning us to build even stronger ties going forward," said David Farrar, McMaster University President and Vice-Chancellor.
"Talk Yuh Talk" wraps up a year of celebrations that occurred throughout the Greater Toronto and Hamilton Area to commemorate 60 years of Jamaica's independence.
"This event will further strengthen the relationship between Canada and Jamaica, as well as McMaster and Jamaica," said Lincoln Downer, Consul-General of Jamaica.
Learn more
Louise "Miss Lou" Bennett-Coverley Archive webpage at McMaster University Library