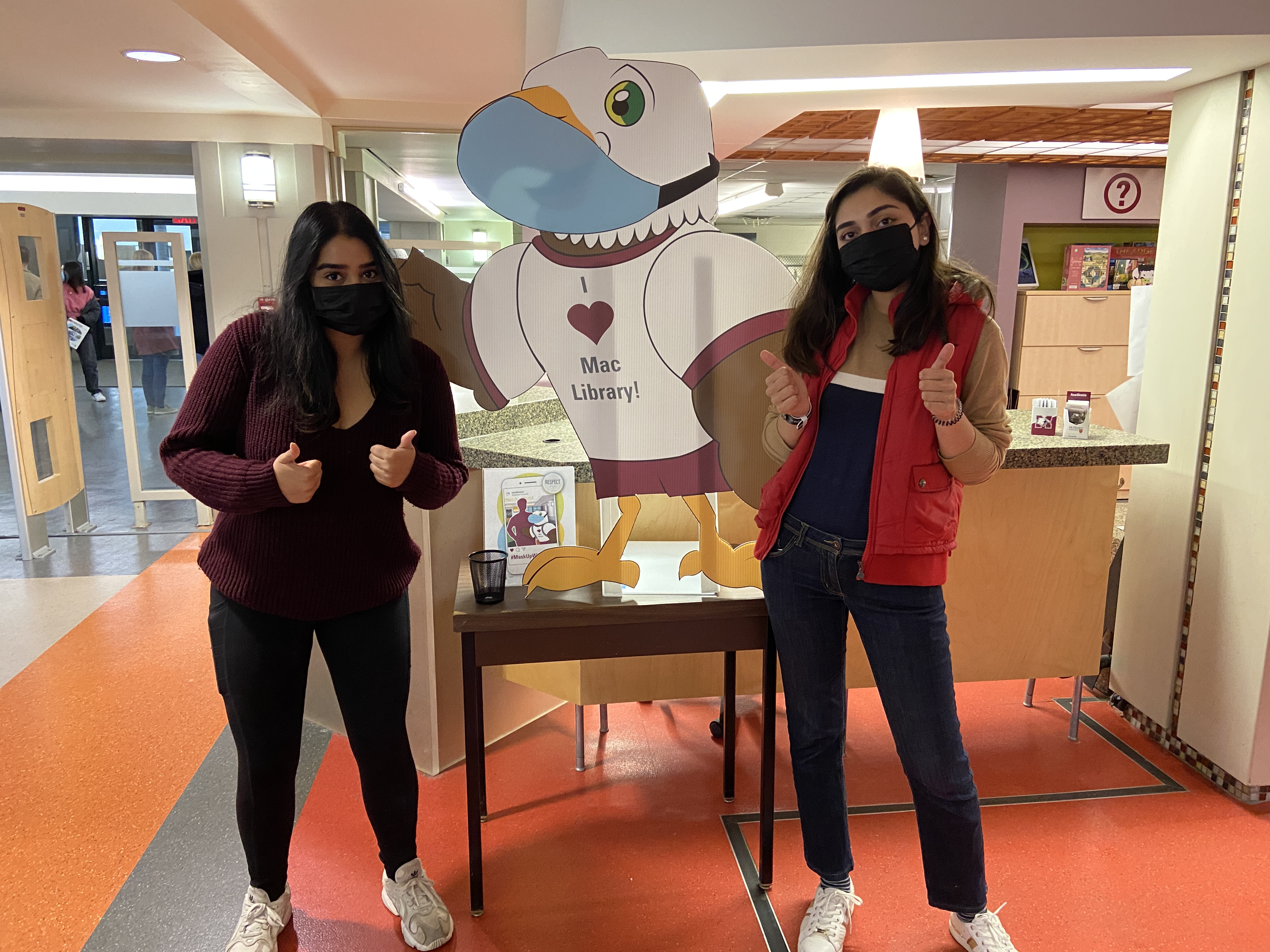 Users at Mills and Thode libraries will see a familiar face around these spaces.
A life-size cut-out of Maud, the library mascot, is part of a new initiative called #MaskUpWithMaud to remind users to always keep their masks on in the libraries.
The Lyons New Media Centre staff is the creative team behind the initiative.
"Maud is our beloved library mascot, so who better to remind users about the importance of masking in our spaces," said Kelly Penfold, library media specialist at Lyons and Maud's artistic handler.
The campaign invites students to take a photo of themselves or their friends with Maud, tagging our Instagram account @maclibraries and using the related hashtag, #MaskUpWithMaud. The Maud-sized cut-out will be moved around Thode and Mills libraries on a regular basis.
Library users will see images of a masked Maud on digital screens throughout the spaces. There is also an array of other characters displayed on the screens as part of the campaign shown wearing their masks in a variety of ways that aren't ideal. Check out the campaign on the library's website. 
The concept is a continuation of Lyons' award-winning Respect initiative that started in 2013. Each year, the team has rolled out the campaign with a slightly different focus.
"This year's focus is to Respect one another by wearing our masks," said Rhonda Moore, manager of Lyons. "Maud is our role model and the example we want to follow. We want to remind everyone that masking is an easy way we can keep other users and our staff safe and healthy during the pandemic."
How to #MaskUpWithMaud 
Take a photo of yourself and/or your friends wearing your mask with Maud
Post to your Instagram account tagging @maclibraries with #MaskUpWithMaud
Did you know?
Maud uses the pronouns they/them/theirs.