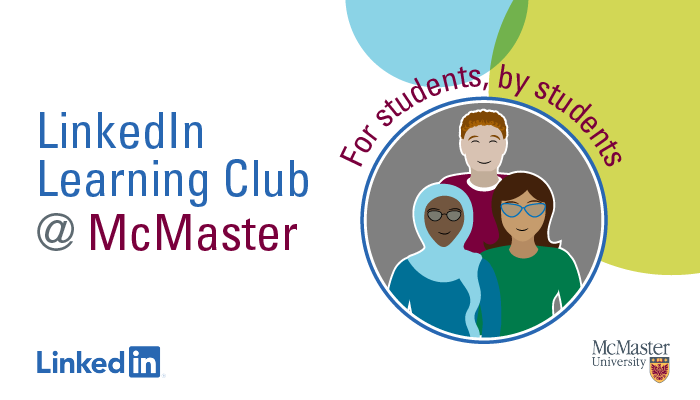 The LinkedIn Learning Club @ McMaster is coming full circle.
Launched in spring of 2022, the campus-wide initiative was developed to encourage McMaster University students to take advantage of free, unlimited usage of their LinkedIn Learning accounts.
To mark the one-year anniversary, Eline Gonzalez and Maggie Chan, McMaster students and LinkedIn Learning ambassadors, have released a campaign that offers helpful tips for succeeding in the workforce.
"The topic of our first LinkedIn Learning Club campaign was how to prepare for a successful interview," said Gonzalez, a fourth-year bachelor of science student. "It feels like a full circle moment to launch a campaign one year later that is created with the same intention, which is to help our peers thrive in their professional careers."
This month's campaign, entitled Career Preparation: How to Succeed in the Workforce, is available to McMaster students during the month of April using their free LinkedIn Learning accounts.
The campaign features a collection of video courses on topics such as interpersonal communication, conflict resolution, and project management.
Skill evaluations are available based on several of the courses highlighted within the collection, says Jeannie An, McMaster LinkedIn Learning campus coordinator and Ron Joyce Centre research services librarian.
"The skill evaluation tool is a new feature provided by LinkedIn Learning," said An. "It's offered as a brief assessment that users can complete before taking a course. Based on the results of the user's assessment, LinkedIn Learning will suggest courses that best suit their personal skill level."
To take an evaluation, students can search for a skill of interest in the search bar. If an evaluation is available, it will appear in the search results.
"We encourage students to search for applicable skill evaluations before taking the courses we provide within our campaigns," said An. "This way, they will have a better understanding of which course subjects will be most meaningful to them."
The LinkedIn Learning Club will continue to share monthly learning campaigns throughout 2023.
To access this month's LinkedIn Learning Club content, McMaster students can click the LinkedIn Learning Club banner on their LinkedIn Learning homepage or search for it by title in the search bar. Alternately, users can find the content at this LinkedIn Learning link.
McMaster staff and faculty are reminded they also have free, unlimited access to LinkedIn Learning for personal, professional, and instructional purposes. To learn more about LinkedIn Learning, visit the McMaster website for LinkedIn Learning. 
Have a monthly theme you'd like to suggest for LinkedIn Learning Club @ McMaster or have a question? Send an email to the McMaster library LinkedIn Learning team.
The LinkedIn Learning Club @ McMaster features monthly content chosen by students for students that aligns with topics that are meaningful to them. The idea is intended to encourage McMaster students to take advantage of free, unlimited usage of their LinkedIn Learning accounts with content curated by their peers.