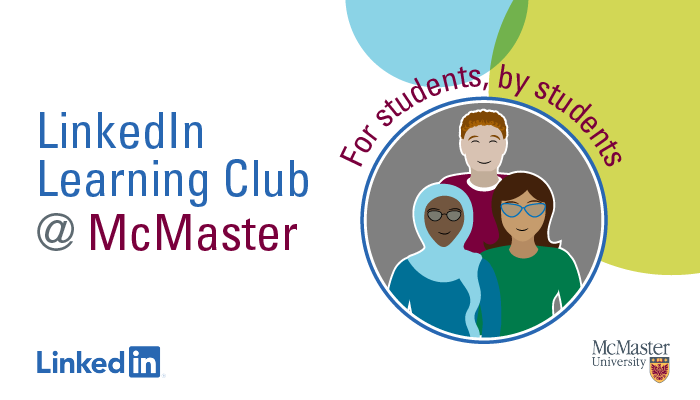 The LinkedIn Learning Club @ McMaster is ringing in the new year with a motivating monthly challenge.
Throughout January, McMaster students using their free LinkedIn Learning accounts will have access to a learning calendar featuring a month of daily content geared toward improving learning habits.
"This learning approach is brand new to LinkedIn Learning Club," said Maggie Chan, LinkedIn Learning ambassador and fourth-year biology and environmental sciences student. "Unlike the video collections we've published in the past, monthly challenges provide a structured learning schedule."
This month's calendar, created by LinkedIn Learning, features daily courses and activities all requiring less than five minutes to complete.
Jeannie An, McMaster LinkedIn Learning campus coordinator and Ron Joyce Centre research services librarian, says the monthly challenge is perfect for students who need a boost of motivation or those who prefer to do short learning sessions each day.
"The content is framed as a 'challenge' but it's very manageable for our students who have limited time for additional learning," she said.
To access LinkedIn Learning Club's January challenge, McMaster students can click the LinkedIn Learning Club banner on their LinkedIn Learning homepage, or search for the title in the search bar. Alternately, users can find the content at this LinkedIn Learning link.
McMaster staff and faculty are reminded they also have free, unlimited access to LinkedIn Learning for personal, professional, and instructional purposes. To learn more about McMaster LinkedIn Learning, visit the website for LinkedIn Learning. 
Have a monthly theme you'd like to suggest for LinkedIn Learning Club @ McMaster or have a question? Send an email to the McMaster library LinkedIn Learning team.
The LinkedIn Learning Club @ McMaster features monthly content chosen by students for students that aligns with topics that are meaningful to them. The idea is intended to encourage McMaster students to take advantage of free, unlimited usage of their LinkedIn Learning accounts with content curated by their peers.