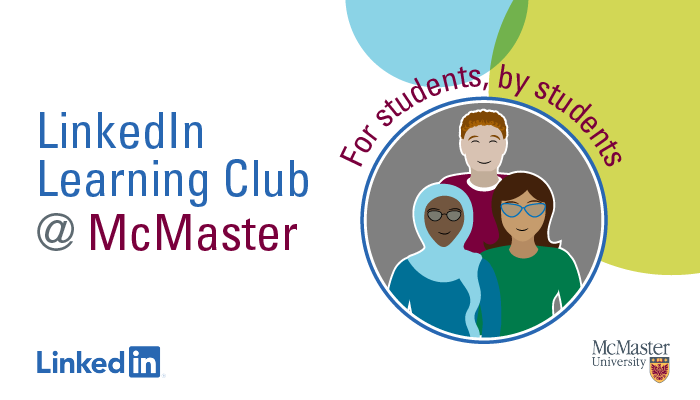 Are you looking for tips to draft your first novel? Do you want to master the art of songwriting? Have you ever wondered what it takes to write an award-winning screenplay?
Just in time for the summer break, the LinkedIn Learning Club @ McMaster is launching a campaign to help you further tap into your creative side.
During the month of May, McMaster University students using their free LinkedIn Learning accounts will have access to a collection of expert-led courses on creative writing.
The selection of courses was hand-picked by Eline Gonzalez and Maggie Chan, McMaster students and LinkedIn Learning ambassadors.
"We know that students are wrapping up a busy winter term, so we wanted to create a collection that featured light and fun content," said Gonzalez, a fourth-year chemical biology student. "Courses in the collection range from how to craft compelling blog posts and articles to learning how to write novels and screenplays."
The campaign captures the diversity of content that's available on LinkedIn Learning, says Jeannie An, LinkedIn Learning campus coordinator and Ron Joyce Centre research services librarian.
"There's so much more to LinkedIn Learning than our McMaster community might think," said An. "I hope that this latest collection will inspire our students to discover the incredible variety of content that the resource has to offer."
To access this month's LinkedIn Learning Club content, McMaster students can click the LinkedIn Learning Club banner on their LinkedIn Learning homepage or search for it by title in the search bar. Alternately, users can find the content at this LinkedIn Learning link.
McMaster staff and faculty are reminded they also have free, unlimited access to LinkedIn Learning for personal, professional, and instructional purposes. To learn more about LinkedIn Learning, visit the McMaster website for LinkedIn Learning. 
Have a monthly theme you'd like to suggest for LinkedIn Learning Club @ McMaster or have a question? Send an email to the McMaster library LinkedIn Learning team.
The LinkedIn Learning Club @ McMaster features monthly content chosen by students for students that aligns with topics that are meaningful to them. The idea is intended to encourage McMaster students to take advantage of free, unlimited usage of their LinkedIn Learning accounts with content curated by their peers.