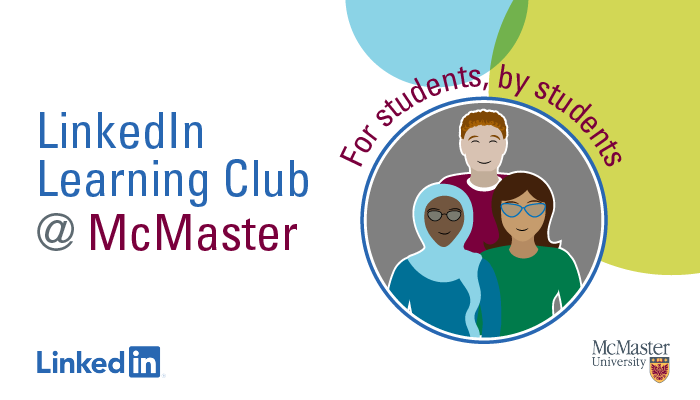 The LinkedIn Learning Club @ McMaster is encouraging students to sharpen their interpersonal skills through its latest campaign.
Throughout February, McMaster University students using their free LinkedIn Learning account will have access to a collection of developmental courses surrounding interpersonal communication.
This month's campaign was curated by Eline Gonzalez and Maggie Chan, McMaster students and LinkedIn Learning ambassadors.
"This collection is geared toward anyone looking to strengthen the skills involved with professional, day-to-day interactions with others," said Gonzalez, a fourth-year bachelor of science student and LinkedIn Learning ambassador. "Course topics range from improving listening skills and emotional intelligence to facilitating inclusive conversations and communicating effectively with different personalities."
Jeannie An, McMaster LinkedIn Learning campus coordinator and Ron Joyce Centre research services librarian, says that she hopes students will take advantage of the opportunity to sharpen this invaluable skill.
"Interpersonal communication is a lifelong skill that our students will benefit from during their education and throughout their professional career, regardless of industry or background," said An.
To access this month's LinkedIn Learning Club content, McMaster students can click the LinkedIn Learning Club banner on their LinkedIn Learning homepage, or search for it by title in the search bar. Alternately, users can find the content at this LinkedIn Learning link.
McMaster staff and faculty are reminded they also have free, unlimited access to LinkedIn Learning for personal, professional, and instructional purposes. To learn more about McMaster LinkedIn Learning, visit the website for LinkedIn Learning. 
Have a monthly theme you'd like to suggest for LinkedIn Learning Club @ McMaster or have a question? Send an email to the McMaster library LinkedIn Learning team.
The new LinkedIn Learning Club @ McMaster features monthly content chosen by students for students that aligns with topics that are meaningful to them. The idea is intended to encourage McMaster students to take advantage of free, unlimited usage of their LinkedIn Learning accounts with content curated by their peers.