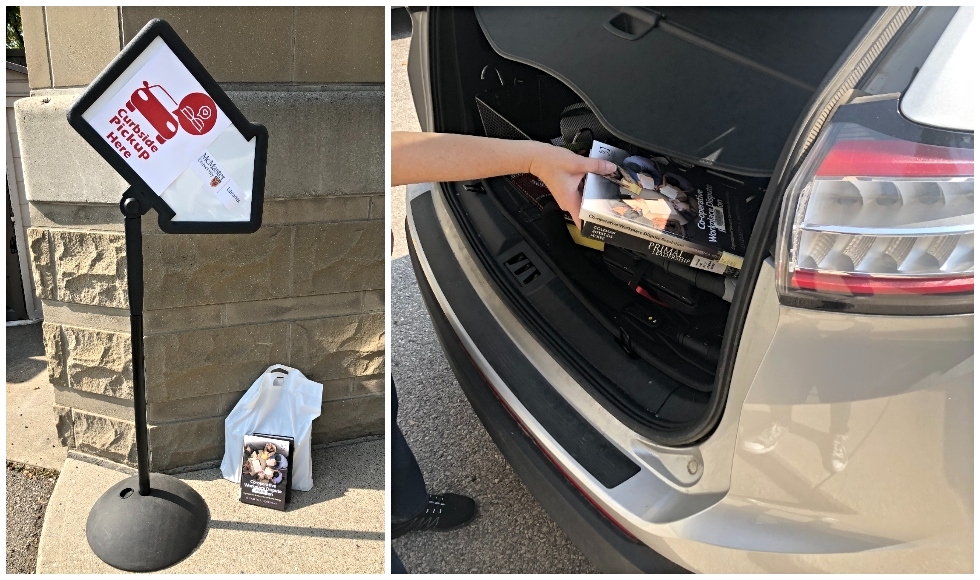 McMaster undergraduate students can now request selected print books through the Library's limited curbside pick-up option.
This service, which first launched in July for graduate students and faculty, has been expanded to allow undergraduate students to access print books from the Library's collection that can't be accessed as an eBook or provided electronically.
"Undergraduate students may not be able to visit our physical collection, but we can still make sure they have access to Library materials, either electronically or as a print book," says McMaster University Librarian, Vivian Lewis. "This option allows us to support students and faculty by providing them with an additional way of accessing the books they need when the electronic versions are unavailable."
Students and staff can request curbside pick-up using the "REQUEST IT" button in the library catalogue record.
The curbside pick-up option will only available when attempts to provide an electronic version of the requested materials have been exhausted. For example, titles provided electronically through the HathiTrust Emergency Temporary Access Service (ETAS) program – which provides users with online access to more than 830,000 print titles in McMaster's collection – are not eligible for curbside pick-up.
As well, materials housed in locations that that are not accessible during the pandemic, such as Archives and Research Collections, The Bertrand Russell Archives, and Maps, Data, GIS, can't be accessed through the service.
Books can be picked up at the Mills Library loading dock. Pick-up times will be pre-arranged.
Users will be asked to stay in their cars while library staff place books in their trunks. For those without vehicles, books will be placed at a designated location to be picked up at a pre-arranged time.
For more information about limited curbside pick-up, email library@mcmaster.ca
Health Science Library
The Health Sciences Library also provides limited curbside service. For further information, please contact hslib@mcmaster.ca.