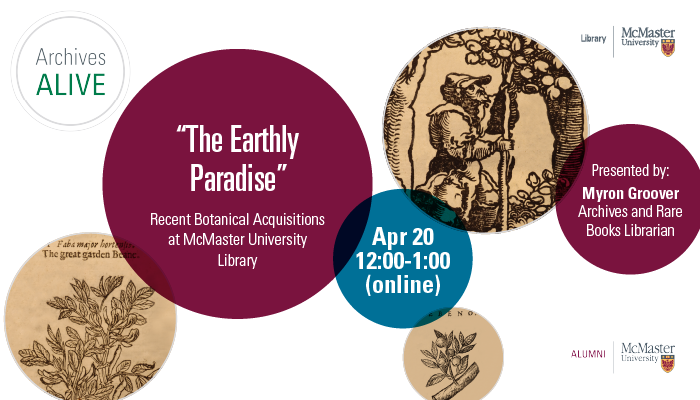 The arrival of spring provides a timely setting for a virtual talk that will dig into rich soil: a lavish selection of rare botanical books recently added to the William Ready Division of Archives and Research Collections.
Myron Groover, archives and rare books librarian at McMaster, will take viewers on a virtual exploration of newly acquired European books on botany from the 16th and 17th centuries. This period in history saw a literary explosion of books on a wide range of plant-related subjects — and along with this innovation, plagiarism and controversy. These forces combined in taking the study of plants to new heights and reaching new audiences.
The Earthly Paradise: Recent Botanical Acquisitions at McMaster University Library is set for April 20, 2023, from noon to 1 p.m. ET.
"McMaster library has acquired a number of aesthetically beautiful and technically impressive early modern botanical texts in the last five years," said Groover. "We're excited about the opportunity to debut these works to the public as they become available for the first time through our reading room."
Among the books that will be featured in the presentation are John Gerard's Herball, John Parkinson's Theatrum Botanicum and Paradisi in Sole, Ulisse Aldrovandi's Natural History, Castore Durante's Herbario Nuovo, John Evelyn's Sylva, and a rare English translation of the Amsterdam Pharmacopoeia.
Beyond their extensive illustrations, each text offers valuable insight into the broader social, political, and economic contexts in which they were created, says Groover.
"I like to think of a book as a lens on everything that's happening around it when it's produced," he said.
"A major motivating factor behind the creation of Evelyn's Sylva, a 17th century text on forestry, was the recognition that England's fortunes internationally at the time were intimately bound up with the fate of its navy, which greatly relied on a supply of mature timber.
"There was a growing understanding that if Britain didn't learn to effectively manage its forests, the entire foreign policy apparatus of the kingdom might collapse."
The William Ready Division of Archives and Research Collections is home to a substantial collection of rare botany books available to the public.
Groover says the lineup of texts that will be featured in his upcoming presentation reflects the strength of the growing collection.
"This talk is an opportunity to debut our latest acquisitions, but to also let the public know that we're actively building this area within our collections and continue to bring in very significant works in this tradition," he said.
All are welcome to attend the virtual Archives Alive presentation. Admission is free.
Register for the April 20 Archives Alive event.
Archives Alive showcases the unique holdings of McMaster University Library's William Ready Division of Archives and Research Collections. A wealth of resources exist which will delight and inform, from rare books created before 1800 to contemporary writers' archives. Recognizing that archives can feel intimidating, these talks allow staff and researchers to share their knowledge with the community and introduce collection items housed within the library. Archives Alive is presented by McMaster University Library and McMaster Alumni.