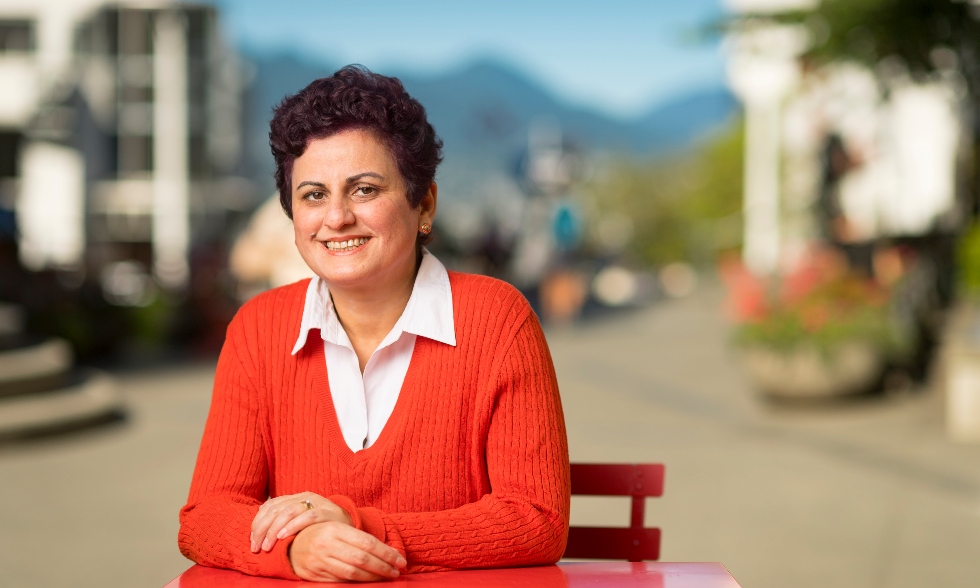 Even as a child, poet and writer Nilofar Shidmehr was always sensitive to the suffering of others.
"When I was in elementary school, a student from a well-off family brought in these really nice cherries to eat at the break," recalls Shidmehr, who grew up in Iran. "There was another student who just looked at those cherries – her family could not afford them. It was engrained in my mind, the look in that girl's eyes."
Through the years, Shidmehr, who emigrated to Canada in 1997, has continued to be deeply affected by this and many stories like it. The author of several critically acclaimed collections of poetry and short fiction, Shidmehr has drawn on this keen sense of empathy to write about many social issues, particularly the very real experiences and injustices facing Iranian women.
Learn more about Nilofar Shidmehr and her writings
Since September, Shidmehr, who writes in both Farsi and English, has served as the Mabel Pugh Taylor Writer in Residence, a program jointly sponsored by the Department of English and Cultural Studies, McMaster University Library and the Hamilton Public Library.
As Writer in Residence, Shidmehr, who holds a Bachelor of Science in Mechanical Engineering as well as a PhD in Cross Faculty Inquiry, has been working one-on-one with aspiring writers in the McMaster and Hamilton Communities to provide mentorship and feedback on their work and on the writing process.
Shidmehr's term as Writer in Residence ended last month, but before she left, Shidmehr, shared her unique perspective on the link between science and literature, her love of the Iranian literary tradition, and why it's so important to be authentic as a writer:
ON WHAT INSPIRED HER TO BECOME A WRITER:
I was drawn to literature. I loved stories and storytelling and there were people in my life since childhood who influenced me, one of whom was my aunt.  If she were alive, she would be 90 years old now. She had a junior high school diploma and she used to be a teacher. She was a great storyteller – I sat for hours listening to her.
My father was also a great influence on me. He was a lawyer but, in his youth, he wrote poetry and he admired the works of Persian poets of his generation including Mehdi Akhavān-Sāles – in fact, the two were roommates for a short while in Mashhad, their birthplace. My father had a notebook where he copied down poetry by poets of his time published in papers and magazines. I own that notebook now.
He read me Persian poetry and I memorized all these long poems. I mention one poem in my story, "The Gordian Knot," which is in one of my collections of short fiction. In the story, the father reads a poem to his daughter. It's a beautiful long poem called "The Fairies." I knew that poem by heart since I was three years old. Every day when I had a nap, my dad would read that.
ON THE LINK BETWEEN SCIENCE AND LITERATURE
In high school, I was at the top of my class and my family insisted that I go into natural sciences because in Iran doctors are at the top of the social hierarchy. I chose math and physics and there was a reason: I have a good conceptual mind. The kind of mind I have is applicable to both the technical branches of science and to literature, because both are related to conceptual thinking.
I worked as an engineer for five years. I could do that job, but I didn't like my job. Engineering is about details and sometimes I don't have a lot of patience for details. I'm much better at conceptual thinking so, if could go back I would have chosen to study physics – I think I could be an excellent theoretical physicist.
In Canada, in the Western world, you need to choose a profession and excel in that and you're directed, but in Iran, there are lots of people like me who are medical doctors or engineers and they are also famous writers or poets.
Iran is a great environment for people who love writing, just being raised in that country encourages you to be a poet. My husband is Czech, and he jokingly says, "Every Persian I meet is a poet, or a historian." Most of us love literature – poetry is a national sport.
ON WRITING ABOUT THE EXPERIENCES OF IRANIAN WOMEN
The basic unit of Iranian society is family. In Canada if you have a good profession, you are considered successful but with us, family is everything. Families are considered to be a mother, father, their children and extended family.
The gender relationship is tense, and I write about the tension between genders, especially after the 1979 Revolution because of the law and the kind of Islamic government we have. They enforced a certain type of gender relationship and responsibilities for women. Women are oppressed more than before. It's very complex.
After the revolution, when this regime was established, they revoked the progressive family law passed by the parliament in 1975 and went back to the laws of 1909. During the first 20 years, with the efforts of women's rights and civil activists, some improvement happened, yet the new laws were and still are worse than the 60s laws. Since then, there has been a standstill, as the changes have been very minimal, but women have lots of stories and problems.
I'm a woman and I have a daughter. I was deeply affected by all these issues, by the Iranian government's injustice, by the laws in my country. There are many things I experienced, my mother experienced, all women experienced, so the things I write about aren't just stories, they have priority for me more than any other stories.
ON THE IRANIAN LITERARY TRADITION
I love Farsi, I love Iranian literature. I have not and cannot give up my whole literary tradition, my language. First of all, I'm a first-generation immigrant, I came here at the age of 28, my roots are somewhere else. That's a conscious decision. I don't betray my tradition to be accepted in another place and be celebrated.
I can't imitate writers here or in the Western literary tradition. I want to make a way for my tradition in Canadian literature. I want my readers to be challenged too, I'm not trying to make my writing palatable to them.
ON HER WRITING PROCESS 
The way I compose things is that I think big picture, I take a big concept and then usually I work my way through the details, and when I have the general picture I can go back and, through each edit, add more details. I let my writing direct me and so sometimes, I go places I never imagined. That's my process and that's because I'm a conceptual thinker.
Usually I see some image or some kind of tense emotions, then a few words or sound bites emerge, and from there I take it and develop the whole thing. I build the whole thing around that image. It's like an image at the core. The tradition of writing in Iran and in the East is circular, so I create these circles around this centre. It's like you throw in a stone in the lake and when it drops, it creates these echoes.
ADVICE FOR ASPIRING WRITERS
I think everybody can write. There are sets of skills everybody can learn and I think human beings are natural storytellers. I want to encourage everyone to write, even if it's just for themselves. I think it's good to invest in, and expand on, our natural ability as storytellers, including oral storytelling.
Also, be brave and express yourself and your true voice, even against those that can't accept the differences. My voice is different so sometimes my voice is not digested. I think people need to be authentic. If you are authentic, you will be recognized sooner or later, so don't give up and don't write to please others.
I want to tell everybody that your stories are important. Nothing is ordinary if you look at it –really express what you think.
Related News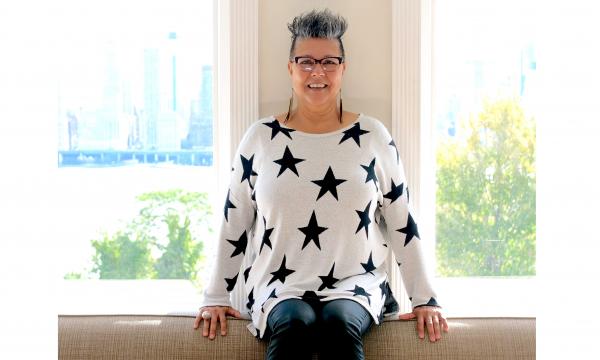 Faculty Stories
"It was a joy": Reflections from the 2020 Mabel Pugh Taylor Writer in Residence
We spoke with Janet Marie Rogers about how she was inspired by the writers and storytellers she met during a most unusual year.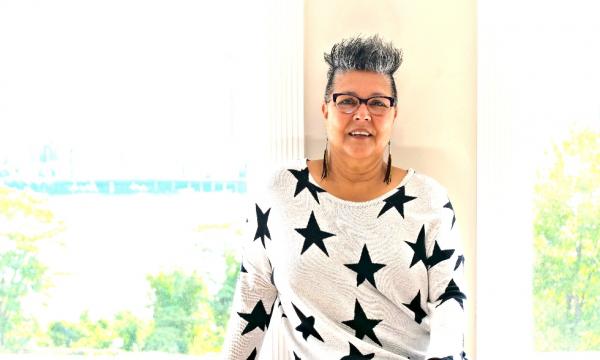 Faculty Stories
Writer in residence seeks writers at home
At a time when we're all spending more time than ever at home, McMaster's Writer in Residence Janet Rogers invites Mac students and community members to share stories of what home means to them.