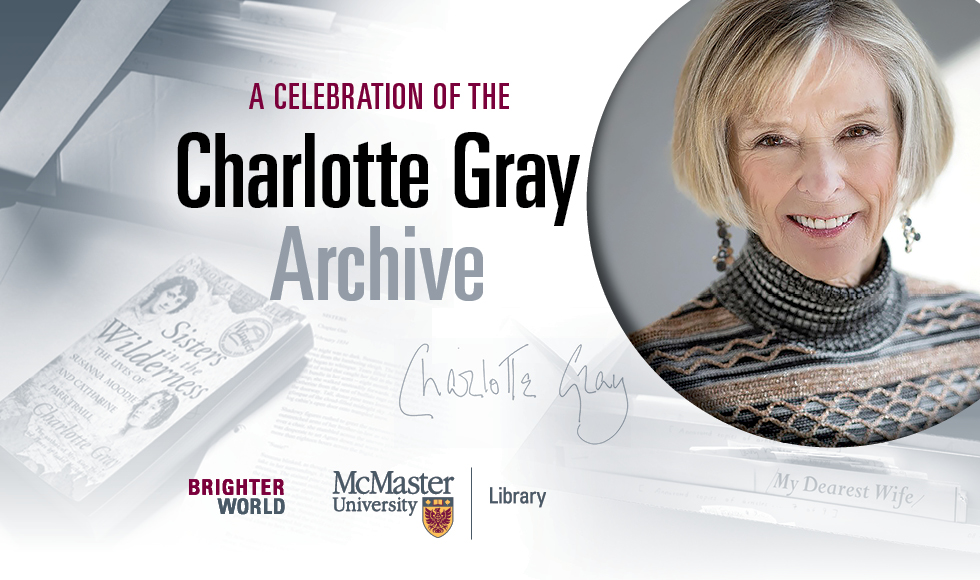 Canadian biographer and historian Charlotte Gray is helping give new life to literary non-fiction in Canada.
Gray has donated her archive to the William Ready Division of Archives and Research Collections at McMaster University Library.
"I had a very warm experience at McMaster's archives while researching Pauline Johnson for my book, Flint and Feather," said Gray. "Since then, I've held a special place in my heart for McMaster."
Gray, 75, is a bestselling author of Canadian non-fiction, specifically literary biographies and works about Canadian history.
Born in Britain, she studied modern history at the University of Oxford and earned a post-graduate diploma at the London School of Economics. Her writing career started in England as a newspaper columnist and magazine editor.
At 31, Gray moved to Ottawa with her Canadian partner, George Anderson. She continued her journalism career in Canada's capital, writing political articles for popular Canadian magazines including Macleans, Chatelaine, and Saturday Night.
In the mid-1990s, Gray was invited to write a book about Isabel Mackenzie King, the daughter of William Lyon Mackenzie and the mother of William Lyon Mackenzie King, Canada's longest serving prime minister.
"The opportunity to write my first book, Mrs. King, came at a time when I was starting to move away from journalism," said Gray. "I loved writing that book, so when it was finished, I looked for other Canadian women I could write about."
Gray has published 11 non-fiction titles on significant Canadian people and subjects. In 2003, she was awarded the Pierre Berton Award for her distinguished achievement in presenting Canadian history.
Her archive contains manuscripts and research files for her best-loved works, including Sisters in the Wilderness: The Lives of Susanna Moodie and Catharine Parr Traill and The Massey Murder: A Maid, Her Master, and The Trial that Shocked a Country.
Gillian Dunks, archives arrangement and description librarian at McMaster library, says Gray's archive offers readers fascinating insight into her writing process.
"It's a very traditional writer's archive in terms of the types of materials that are included," said Dunks. "From Charlotte's research files to her manuscripts, we can trace how her books progressed from early ideas to final publications."
A large portion of Gray's records involve women's history in Canada, which is a common theme in her writing.
"Her work brings attention to the experiences of women, who are frequently excised from the narratives we tell about the country," said Dunks. "This includes women like Pauline Johnson, Carrie Davies, Susanna Moodie, and Catharine Parr Traill."
Records related to Gray's later work as a cultural commentator and lecturer are also available as a smaller subset within the archive.
Reflecting on the state of literary non-fiction in Canada, Gray says she hopes her archive will help generate a new appetite for the dwindling genre.
"Deeply researched non-fiction is a shrinking part of the production of publishing houses in Canada," said Gray. "I would love if the donation of my archive jogged a few consciousnesses about the need for accessible histories in this country."
A community celebration of the Charlotte Gray Archive will take place at the Art Gallery of Hamilton on June 8, 2023. The free event includes high tea, a book reading by Charlotte Gray and a book signing. Register your free spot.
Details of the Charlotte Gray Archive can be found on the library's website.
Related News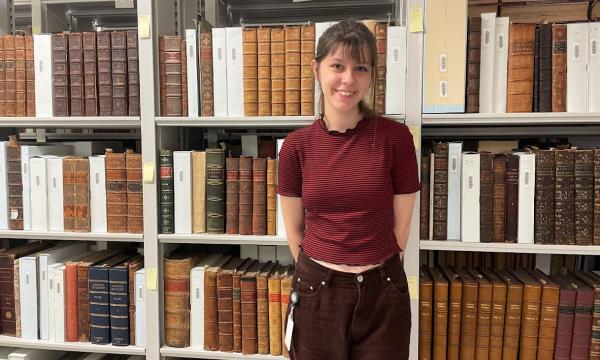 Students of summer: Meet Kate
Kate Oruc, archives and research collections assistant, shares what exciting historical material is held at McMaster.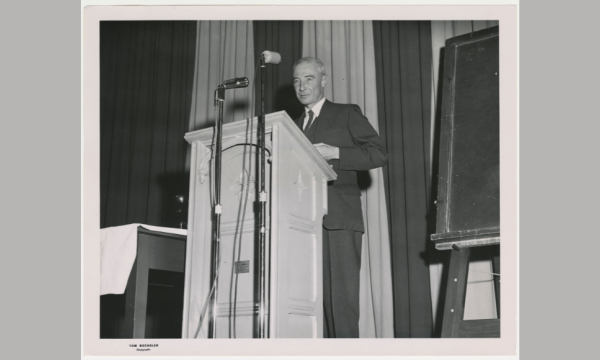 The Flying Trapeze: Oppenheimer's McMaster triple-feature
The William Ready Division of Archives and Research Collections holds photos of J. Robert Oppenheimer from his visit to McMaster in 1962.