Search
Search by Industry
Ensure the industries dimension is selected (e.g.,  NAT. INDUSTRIES, NAICS). 
If not already there, click on the industries dimension in the toolbar and drag & drop into the table.
Click on the Search button 
On the Search

select Field: Code
type in your industry classification code (e.g., 448210) in the Text to Find: box.
select Type of Selection: Find Next
click OK

Locate the item in the table and click on the relevant row to highlight it.
Right click and select Show from the menu (this will suppress the other entries from display)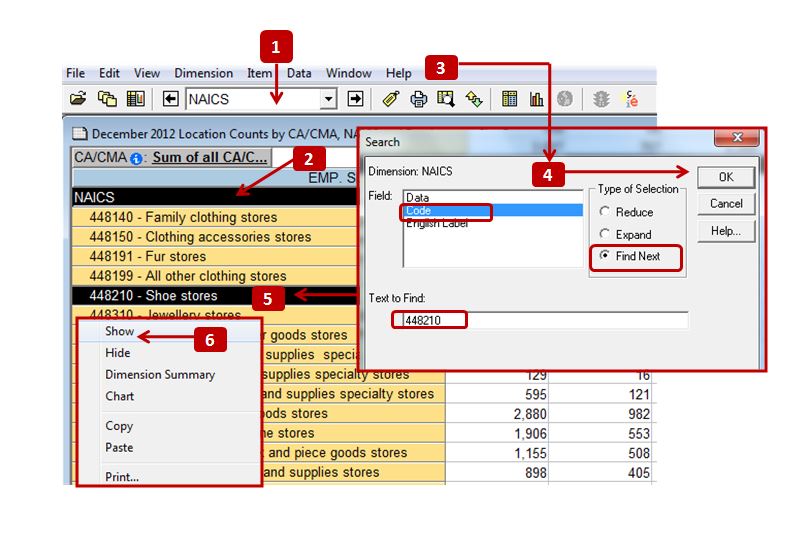 Search by Geography
Ensure the geography dimension is selected (e.g.,  PROV/CSD, CA/CMA.
If not already there, click on the geography dimension in the toolbar and drag & drop into the table.
Click on the Search button  
On the Search screen,

select Field: English Label
type in a location (e.g., Hamilton) in the Text to Find: box.
select Type of Selection: Find Next
click OK

​Locate the item in the table and click on the relevant row to highlight it. NOTE: Locations are listed from East to West. There may be more than one location with the same name. You may have to repeat your search to find the correct location.
Right click and select Show from the menu (this will suppress the other entries from display).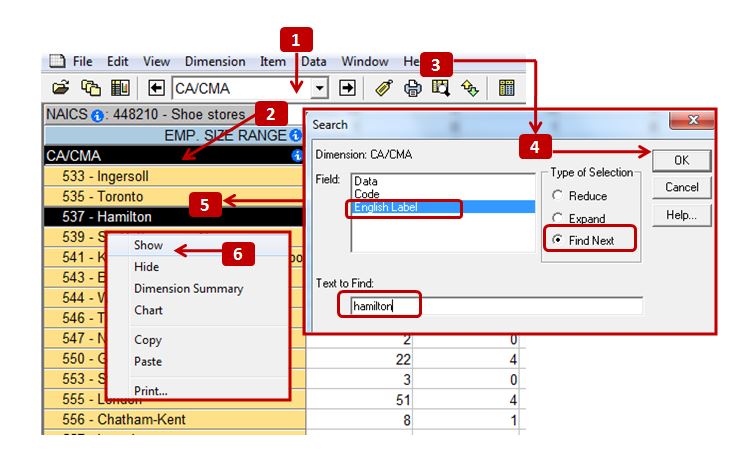 Display Results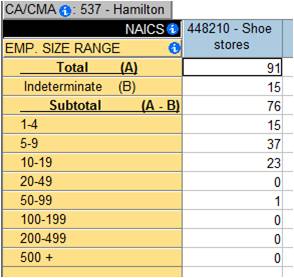 To move or switch the column and row dimensions of a table, click and drag the row or column and drop it in the new location. 
 A sample table is displayed to the right:
NOTE: The indeterminate category consists of incorporated or unincorporated businesses that do not have a Canada Revenue Agency payroll deductions account. The workforce of such businesses may consist of contract workers, family members and/or owners.