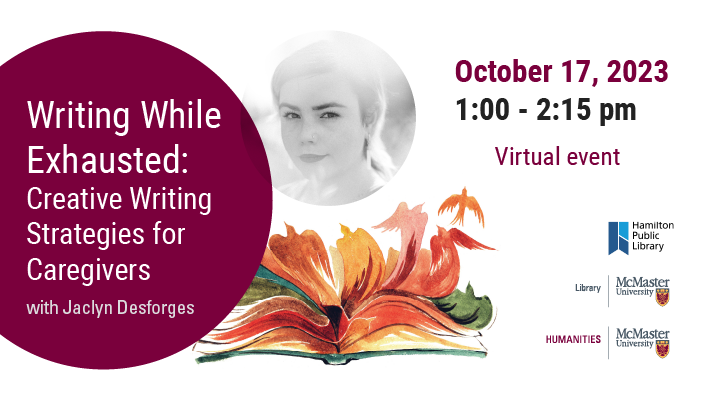 Date/Time
October 17, 2023
01:00 PM to 02:15 PM

Get up early. Write at the same time every day. Hit that daily word count target... no matter what. When you're a caregiver, conventional creative writing advice can feel off-the-rails incompatible with the practical realities of daily life -- and perpetuate the unpleasant, ever-present sensation of not doing enough.  

In this 75-minute webinar, we'll discuss the inner barriers (fear, shame, guilt) and outer ones (lack of time, space and support) that can hold us back from creative expression. Together, we'll craft a new vision for what it means to be both writer and caregiver – a vision that will delight, inform, and nourish your creative self.  

You'll come away from this webinar with...  
Concrete, shame-free strategies for weaving writing into your daily life as a caregiver  

A new approach to artistic resistance that transmutes feelings of fear and guilt into creative gold  

A step-by-step plan for cultivating a supportive creative community  

A set of captivating writing prompts to guide you forward on the page  
All caregivers welcome – no previous writing experience necessary. 
Register for the event here! 
ABOUT THE FACILITATOR  
Jaclyn Desforges is the 2023/2024 Mabel Pugh Taylor Writer in Residence. She's the queer and neurodivergent author of Danger Flower (Palimpsest Press/Anstruther Books), winner of the 2022 Hamilton Literary Award for Poetry and one of CBC's picks for the best Canadian poetry of 2021. She's also the author of Why Are You So Quiet? (Annick Press, 2020), which was shortlisted for a Chocolate Lily Award and selected for the 2023 TD Summer Reading Club.  
Jaclyn is a Pushcart-nominated writer and the winner of a 2022 City of Hamilton Creator Award, a 2020 Hamilton Emerging Artist Award for Writing, two 2019 Short Works Prizes, and the 2018 RBC/PEN Canada New Voices Award. Jaclyn's writing has been featured in literary magazines across Canada. She holds an MFA from the University of British Columbia's School of Creative Writing and lives in Hamilton with her partner and daughter. 
Transformative Stories: Year of Gender and Justice is presented by McMaster University Library in collaboration with campus and community partners and will feature a lineup of free, public programming from fall 2023 through summer 2024. The series is part of McMaster University Library's biannual "Year of" celebrations, which are aimed at highlighting the library's unique collections, resources, and expertise and emphasizing its vital role in supporting the research, teaching, and learning mission of the university. 
More information/Registration Details