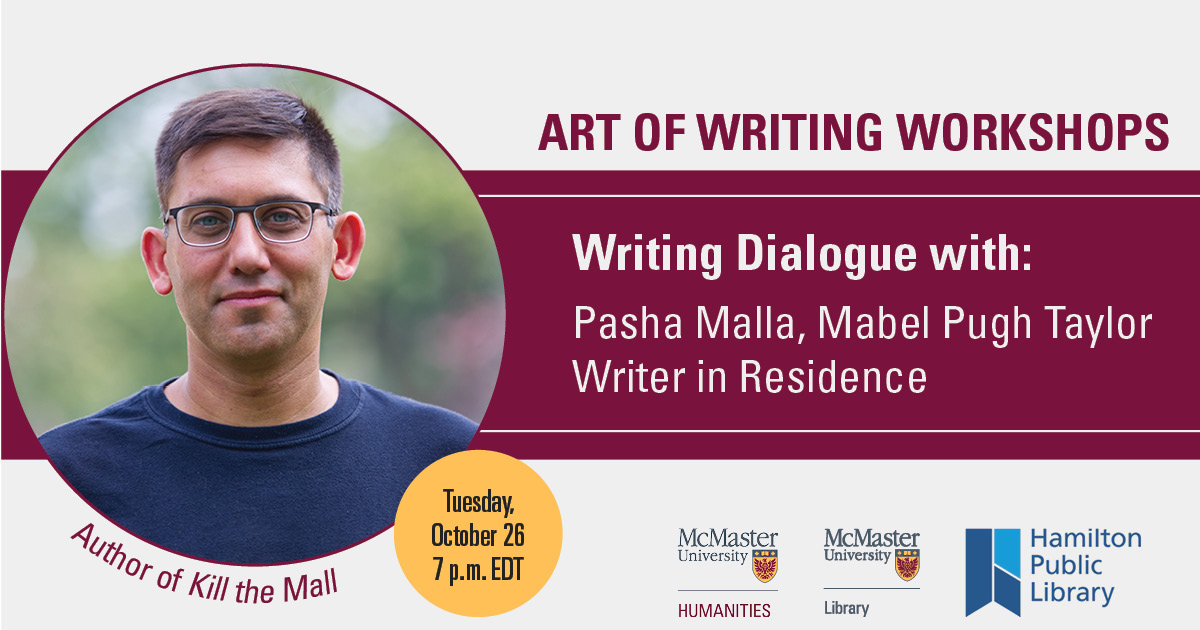 What makes dialogue work? How does dialogue advance a story?
Pasha Malla, the 2021-22 Mabel Pugh Taylor Writer in Residence, is hosting a virtual writing workshop on Oct. 26 at 7 p.m. that will examine the uses, practices, and craft of dialogue in fiction.
Malla will also guide participants through writing a scene of dialogue that moves through various dynamics and shifts of power around a central conflict.
Based in Hamilton, Malla is the creative force behind seven works of poetry and fiction, including the story collection The Withdrawal Method and the novel People Park. His latest book, published earlier this year, is the absurdist horror-fantasy, Kill the Mall.
Writing Dialogue is part of the Art of Writing Workshops series presented by the author during his residency.
Admission is free, with limited attendance. Please register in advance by visiting the event page.
Learn more about Pasha Malla and book a one-on-one virtual writing consultation on the Mabel Pugh Taylor Writer in Residence website.
The Mabel Pugh Taylor Writer in Residence program is led by McMaster University's Department of English and Cultural Studies of the Faculty of Humanities in partnership with McMaster University Library and Hamilton Public Library. It is supported by the Taylor family.