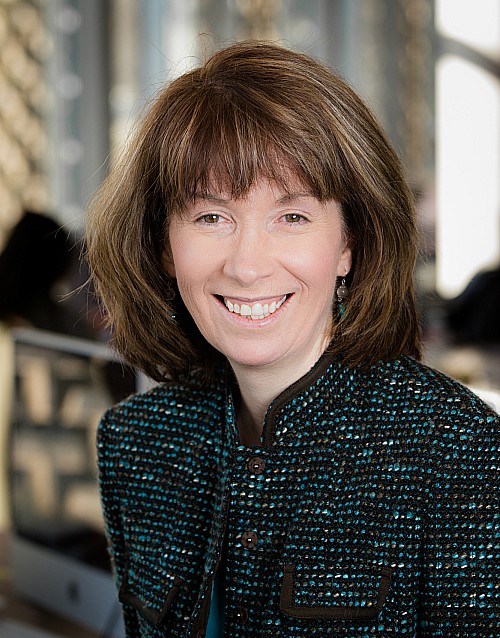 Vivian Lewis has been reappointed for a five-year term as McMaster University Librarian, effective July 1, 2018.
"Over the past five years, Vivian has directed the development of a range of innovative initiatives that have served to both support McMaster's research community and enhance the student experience," says David Farrar, McMaster Provost and Vice-President (Academic). "As a result of Vivian's strong leadership, the Library has achieved a number of important successes, which I am confident she will continue to build upon in the coming years."
Since Lewis' appointment in 2013, the Library has made significant contributions in support of the University's broader research mission, taking a leadership role in key campus-wide projects including McMaster Experts – an online platform designed to allow individual researchers to present their expertise in a more visible and accessible format. Under Lewis' direction, the Library has also become a campus leader in supporting Open Access, developing a number of initiatives including the creation of an interactive online tool designed to help McMaster researchers meet their Tri-Agency obligations.
In addition, the Library has led the development of innovative resources and spaces aimed at enhancing student learning, most recently the Thode Makerspace which was co-created in partnership with the Faculty of Engineering, and has since become a hub for interdisciplinary learning and collaboration. The Library's Sherman Centre for Digital Scholarship has also grown to become a critical space for creating new technology-rich forms of research, while providing unique hands-on learning opportunities for students.
Lewis has been instrumental in strengthening McMaster's research collections, helping to secure important archival gifts to the Library's William Ready Division of Archives and Research Collections, including the recently acquired Stuart McLean Archive and the archives of renowned public intellectual Henry Giroux. She also successfully championed the construction of a new space, opening in June, that will house McMaster's renowned Bertrand Russell Archives, the University's largest research collection.
"I am proud of what the Library has accomplished over the past five years," says Lewis. "It has been immensely rewarding to work with the dedicated staff within the Library, as well as with our many campus partners to develop and enhance the initiatives, resources and spaces that are playing a critical role in supporting McMaster's research and academic missions."
Lewis is a recognized leader in her field. She currently serves on the Board of Directors of the Association of Research Libraries (ARL) and the Scholarly Publishing and Academic Resources Coalition (SPARC), both headquartered in Washington, D.C. She was a member of the Board of Directors of the Canadian Association of Research Libraries from 2014 to 2018.
Lewis first came to McMaster in 1991 as a government information specialist. She assumed the role of Associate University Librarian in 2003.
She holds an undergraduate degree from Western University, a master's in Canadian History from York University, and a master's in Library and Information Science from the University of Toronto. She is a graduate of the Harvard Institute for Academic Librarians, the Frye Leadership Institute and the ARL Research Library Leadership Fellows programme. She is a former President of the Ontario College and University Library Association and a former Chair of the Ontario Council of University Libraries (OCUL). Lewis is also a past-president of the Hamilton Association for the Advancement of Art, Literature and Science, one of Canada's oldest cultural organizations.