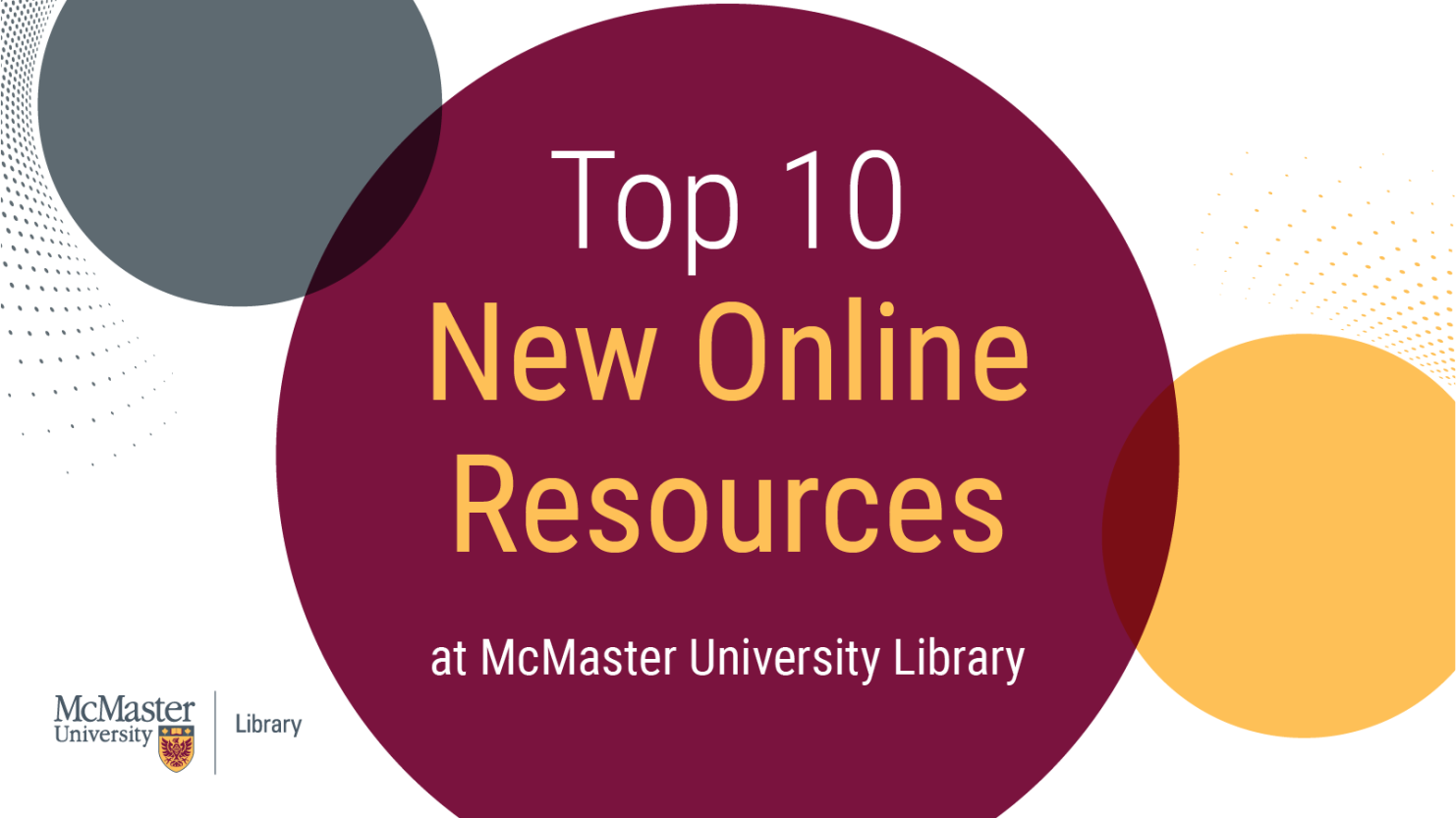 McMaster University Library's vast collection of online resources has expanded with an assortment of new materials to support teaching and learning.
Dozens of new resources were added this year by the library's Content, Access, and Open Licensing team with the goal of enhancing and diversifying the library's electronic offerings. The selection of latest acquisitions includes academic video streaming sources, and resources related to Africa, Latin America, and the Caribbean.
"We are very excited to offer this diverse selection of new online resources to our research community," said Janice Adlington, head of collections and content strategy. "Strengthening our collections with fresh content is one of the many ways our team works to meet the evolving teaching and learning needs across campus."
McMaster University Library's new acquisitions are selected by the Information Resources Management Committee, a group of McMaster librarians who meet monthly to discuss areas of development within the collection based on faculty input and the current strategic directions of the university. 
The committee's two main areas of focus in 2023 were increasing academic video streaming sources and resources related to, or originating from, Africa, Latin America, and the Caribbean, says Wei Zhang, e-resources and collections analysis librarian.
"It's imperative that our catalogue of resources has the capacity to support the most current areas of research and the latest teaching and learning methods across the institution," said Zhang. "This collection of new resources meets both of those needs."
Significant additions include Academic Video Online (AVON), a collection of nearly 80,000 video titles spanning a variety of subjects, and Africa Commons, a platform for discovering African historical and cultural materials.
"Many of our new resources are multidisciplinary, meaning they cover several academic disciplines or specializations," said Zhang. "This element supports integrative learning and helps inspire new research interests."
Under the leadership of Casey Hoeve, associate university librarian, the Content, Access, and Open Licensing team acquires and supports a collection of more than two million volumes, print and digital subscriptions, e-journal and e-book packages, and streaming media specific to humanities, social sciences, engineering, science, and business studies.
"The resources purchased and subscribed to by the library each year demonstrates our commitment to consistently support the university's scholarly community through diverse and inclusive content," said Hoeve. "Decisions are made in close cooperation with faculty and staff on campus, further demonstrating our mission to directly and positively impact curriculum development and research at McMaster."
McMaster University Library's full collection of online resources is available through Omni, the library catalogue. New and trial databases are accessible from the databases webpage during their integration into Omni.
Resources supporting health education and research are managed by the Health Sciences Library.
Below is a top 10 list of the most exciting new online resources available from McMaster University Library, as curated by the Content, Access, and Open Licensing team:
Docuseek: Streaming video collection of independent, social-issue and environmental films from renowned leaders in documentary film distribution, including titles from Bullfrog Films, Collective Eye, GOOD DOCS, Women Make Movies, and many others.
Academic Video Online: Provides nearly 80,000 titles spanning subjects from anthropology to zoology, including feature films, documentaries, interviews, performances, news programs, newsreels, and demonstrations.
AM Explorer: Search across all of McMaster's primary source databases from Adam Matthew, which cover a wide range of subjects in the humanities and social sciences, and include manuscripts, letters, diaries, pamphlets, newspapers, artistic works, films and videos, advertisements, photographs, maps, and ephemera, sourced from archives, museums, and cultural heritage institutions around the world.
Africa Commons and Sabinet Discover: Africa Commons is a platform for discovering African historical and cultural materials, including over 450,000 documents from over 4,500 collections and over 600 organizations worldwide, divided in three modules: "Black South African Magazines", "History & Culture", and "Southern African Films and Documentaries"; Sabinet Discover provides access to Sabinet African Journals, which is available on a separate platform. 
Caribbean Literature and Caribbean Studies in Video: The Banyan Archive: Caribbean Literature includes more than 100,000 pages of poems, drama, novels, stories, and related material—carefully located and secured from archives and rare book libraries, licensed from local publishing houses, and received from the authors themselves; Caribbean Studies in Video features more than 1,100 hours video produced by the Banyan Productions, the first television producer of innovative and entertaining programs for, about, and by the Caribbean people and culture.
BBC Monitoring: Summary of World Broadcasts: Daily digests of foreign radio and television broadcasts from 1939-2001 offer unmatched insights into key regions, global events, and national security priorities of the UK government, including WWII, the Cold War, Communist China, Chernobyl, Ukraine, and the Soviet Union/Russia.
Decolonization: Politics and Independence in Former Colonial and Commonwealth Territories: Brings together material from within former British colonies and Commonwealth nations, alongside some from former French and Portuguese territories, to provide valuable primary source material created for local audiences by local actors during a period of enormous global change after WWII.
Ottawa Citizen and Calgary Herald: Search or browse issues (full page and article images in PDF) of the Ottawa Citizen from 1845 to 2010 and the Calgary Herald from 1883 to 2010.
Environmental Science and History (Wiley Digital Archive): Focuses on critical aspects of anthropogenic change, with unique and rare archival collections from the Environmental Society of America (ESA), Royal Botanic Gardens (Kew Gardens), the National Archives (UK), the Commonwealth Forestry Institute, CABI (Centre for Agriculture and Bioscience International) and more.
New science and engineering journals: Nature Water, Nature Reviews Bioengineering, Trends in Chemistry, and Matter.