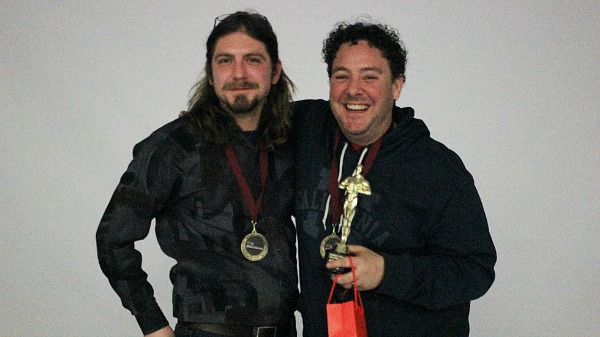 Teams of budding filmmakers were recently honoured at the annual McMaster 24 Hour Film Festival gala event, hosted by McMaster University Library's Lyons New Media Centre.
McMaster students, staff and faculty gathered in Togo Salmon Hall to screen the top nine festival entries and to vote electronically for their favourite films and performances.
View all nine films screened at the McMaster 24 Hour Film Festival
The festival challenged McMaster students, alumni, as well as high school students to create a five-minute film in 24 hours using three elements; a randomly assigned prop (something Canadian), a line of dialogue ("So, how does it feel?" from the 1999 Canadian film, eXistenZ) and a location (behind something).
Team Orange Monkey took top honours with their film, The Guy From Hamilton who Stole my Mail:
Known Caller by Team Pyramid Pictures and A Snowball's Chance by Team Blue Bombers – both films created by teams of high school students – took second and third place respectively.
The 'Best Performance Award' went to Team Flux with their film, The Waiting Room.
To help teams prepare for the competition, the Lyons New Media Centre provided participants with access to mentorship, as well as film production resources.
*The Lyons New Media Centre, located in Mills Library, is a media space for the innovative creation and use of new and traditional media in teaching, learning and research at McMaster.
Team Pyramid Pictures, made up of high school students from Ancaster, were named the runners up for their film, 'Known Caller.'
Team Blue Bombers, made up of high school students from London, Ontario, placed third in the competition for their film, 'A Snowball's Chance.'