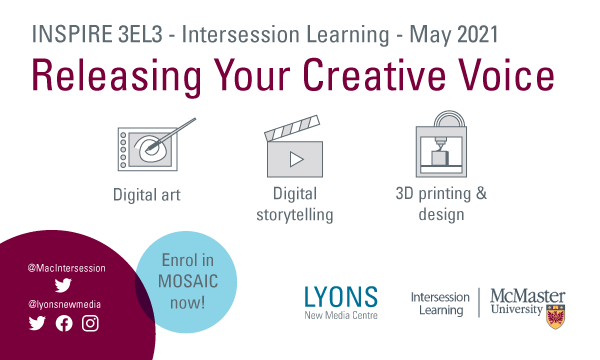 The desire to create is in all of us.
Whether you consider yourself artistic or not, the need to express oneself in life is a trait that we all share. This notion not only applies to the arts but in all disciplines as well as the working world.
Creativity in academics and the workforce is becoming increasingly important as it serves as an opportunity to present different perspectives in original ways, allowing ideas to be elevated in original settings.
If you are looking for inspiration or just a different way of communicating your thoughts, the brand-new Intersession Learning course called "Releasing Your Creative Voice" (INSPIRE 3EL3 C02) might be worth your consideration.
Taught by Rhonda Moore, the Manager of the Lyons New Media Centre (LNMC) in Mills Library, this interdisciplinary course will introduce students to various forms of media, such as 3D printing, digital storytelling and digital art, which are just a few of the many different tools and software available through the LNMC. Students enrolled in the course will be exposed to virtual experiential learning opportunities including hands on workshops and guest speakers.
"I am thrilled to be offering this unique course along with my team from Lyons" says Moore. "Releasing Your Creative Voice will help students from any program look at things from a different perspective."
"Creative thinking is a valuable asset to develop, not only in education, but also in the work environment" she continues. "During the course, students will be introduced to the Lyons New Media Centre and the many opportunities the Centre offers students, both virtually and in person. I look forward to being creative and having some fun with the students."
Releasing Your Creative Voice is one of five new interdisciplinary and experiential courses offered by McMaster Intersession which organizes learning around activities such as makerspaces, labs, studios, conferences, lecture series, films, tours, and recitals. Intersession courses are open to students across all levels and in all programs.
Releasing Your Creative Voice will run from May 3-28.
Search for INSPIRE 3EL3 C02 in Mosaic to register.
Related News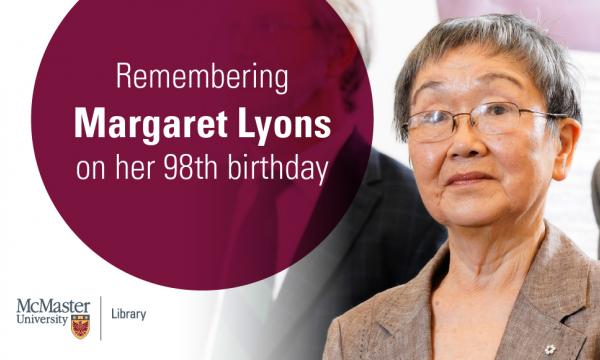 Lyons New Media Centre honouring late Margaret Lyons' 98th birthday
Rhonda Moore, manager of Lyons New Media Centre, talks about Margaret Lyons' legacy, how the centre is marking what would have been her 98th birthday on Nov. 21, and what we can expect from the centre when the winter term arrives.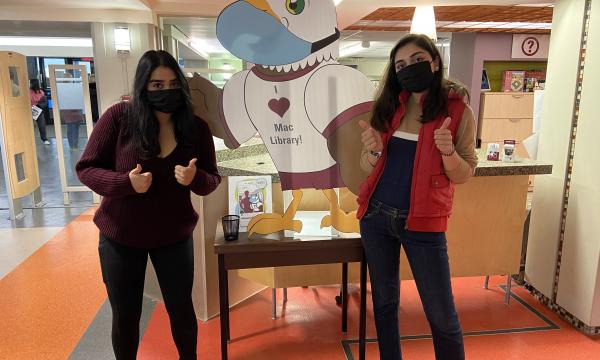 #MaskUpWithMaud at the library
Library users are encouraged to snap a photo with Maud and share on Instagram to encourage others to wear their masks in our spaces.